Gujarat Chief Minister unveils newly carved out Arvalli district at Modasa
Modasa, 25 August 2013
Gujarat Chief Minister Narendra Modi today unveiled the newly carved out Arvalli district at a function at Modasa amidst an atmosphere of éclat and enthusiasm among the people. It is one of the seven new districts inaugurated on Independence Day. He plans to visit each of the seven new district headquarters. He visited Morbi yesterday.
The new district comprises Modasa, Bayad, Dhansura,Malpir, Meghraj and Bhiloda talukas, and includes 676 villages and 306 village panchayats having a population of 10.27-lakh.
He wished Arvalli district having famous Buddhist relics and spiritual centres like Shamlaji-Kalia Thakor would develop fast. It happens to be most educated tribal district in the state. The district now boasts of Gujarat's first private sector solar power plant of 5MW at Kharoda near Modasa.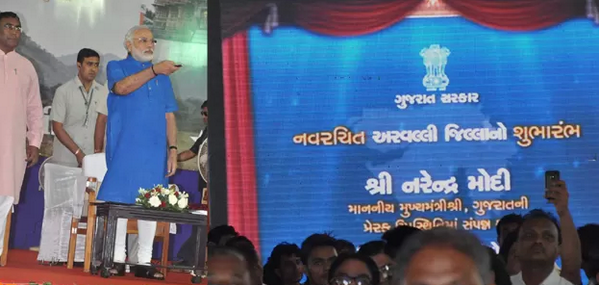 Overwhelmed by huge public jubilation, he said his government will take up an ambitious project to develop underdeveloped areas in the interiors of towns, to bring them in the mainstream of development. He said that his government is working day-and-night not to earn accolade for itself but for Gujarat.
Mr. Modi recalled that people had thrown out a corrupt government in Gujarat during the Navnirman agitation in 1974. He exuded confidence that people from Kashmir to Kanyakumari would now throw out the corrupt Government at the Centre, too. The dignity of the office of Prime Minister has reached its nadir, as backbenchers pulled the strings of collective loot. He called upon the youth to free India from the clutches of corrupt rulers at the Centre in 2014.
While the administration at the Centre reflects inefficiency, that in Gujarat ensured all round development in the state, busy taking the fruits of development to far and wide through decentralization and people's empowerment. He said that development is the mantra of the state government for which the people have elected him thrice with handsome majority. 'Aapno Taluko; Vibrant Taluko' is one such mantra.
Mr. Modi regretted an organized conspiracy to belittle Sardar Patel, a son-of the-soil, the Iron Man of India and an icon of Unity of India. Gujarat has decided to build the Statue of Unity to commemorate him.
Others who spoke on the occasion included Social Justice and Empowerment Minister Ramanlal Vora, District's Guardian Minister Pradeepsinh Jadeja and Member of Parliament Dr. Mahendrasinh Chauhan. Those present included District Panchayat President Hemlata Patel, ex-ministers Jaysunh Chauhans and Praful Patel, ex-MLAs Dilipsinh Parmar, Udesinh Zala, Bhikhiben Parmar, GUDA Chairman Ashok Bhavsar, District Guardian Secretary Jayanti Ravi, Sabarkantha Collector Vanchhanidhi Pani and DDO Nagrajan.