Gujarat Government signs SSA with Honda Motorcycle for Rs. 1100-Cr plant
September 30, 2014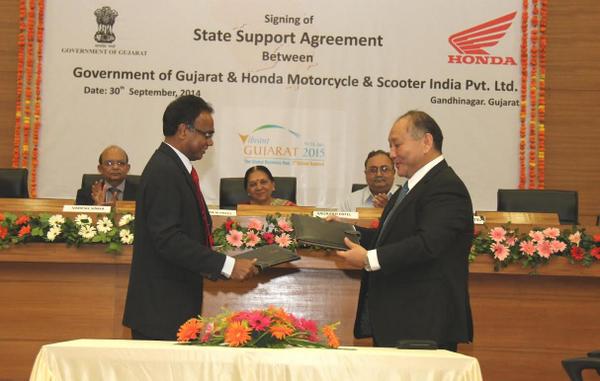 Gandhinagar, 30 September 2014
In the presence of Gujarat Chief Minister Mrs. Anandiben Patel, a State Support Agreement (SSA) was signed today between the Gujarat Government and world renowned two wheeler producer giant Honda Scooter & Motorcycle Company for setting up a manufacturing plant at a whooping cost of Rs. 1100-Crore near Viththlapur in Ahmedabad district.
On the occasion, the SSA papers were signed and exchanged between Gujarat Government's the additional chief secretary (Industry) Mr. D. J. Pandian and Mr. Koito Maramutshi, President-cum-CEO, Honda Scooter & Motorcycle.
The world renowned two-wheeler producer Honda Motorcycle will set up a manufacturing unit at a whooping cost of Rs. 1100-crore. The plant is estimated to provide employments to more than 2,000 youths. The plant is going to manufacture 1.2 million two-wheelers. It is likely to come up over 250 acre of land. Production may start in next two years.
Mrs. Patel termed the Honda's this decision as a landmark in the direction of making the Gujarat as the Auto-Hub of India and a step towards fulfillment of the Prime Minister Narendra Modi's dream of 'Making In India.'
The Chief Minister said, such industrial units are fulfilling their social responsibility by providing employments to local youths, in particular to poor villagers and thus unshackling them from the evil clutches of poverty. Similarly, on its parts the state government has initiated few skill development programmes to make easy availability of trained human resources for such industrial units.
While, Mr. Maramutshi said this project will further strengthen the industrial friendship between Gujarat and Japan.
Gujarat Industry Minister Mr. Saurabhbhai Patel confidently said that following the foot marks of Honda, other industry giants like Ford Motors, Maruti Suzuki and other world renowned companies will surely come here to make their contributions in making the Gujarat as the Auto-Hub of India.
Chief Secretary Dr. Varesh Sinha had termed the agreement as a new milestone in the Vibrant Gujarat Development Yatra.
The occasion was also attended by Gujarat's council of ministers – Mr. Nitinbhai Patel, Ramanbhai Vora, Mr. Ganpatbhai Vasava, and Mr. Babubhai Bokhiriya, Ministers of State – Mr. Pradipsinh Jadeja, Mr. Rajanibhai Patel, Mr. Nanubhai Vanani, Mr. Govindbhai Patel and senior secretaries and officials of the state government.

State Support Agreement:
According to the state support agreement, the government will provide five-year exemption from electricity duty to Honda Motorcycle.
The net tax paid by the company over 180 months will be given to it as refund.
In case Honda buys private land for its project, it could be exempted from paying stamp duty and transfer charges.