Patel Anamat Aandolan leader issues ultimatum to govt
August 12, 2015
Junagarh
Continuing the pro-reservation demonstrations in Gujarat, the politically dominant Patel community today took out several rallies with the largest one in Junagarh town of Saurashtra where the community leaders even issued ultimatum to the government.
The rally of around 20 thousand people commenced near Shivam party plot in Jhanjhmer road. It moved through Girnar main road, ST circle and reached Sardarbaug where a meeting was held before handing of memorandum to collector A K Pandey by the representatives.
Addressing the meeting and later talking to the newsmen prominent leader of the Patidar Anamat Aandolan (Patel Reservation Movement), the umbrella front for the pro-reservation demonstrations, Mr. Hardik Patel claimed, ' reservation was our right and we would take it at any cost.'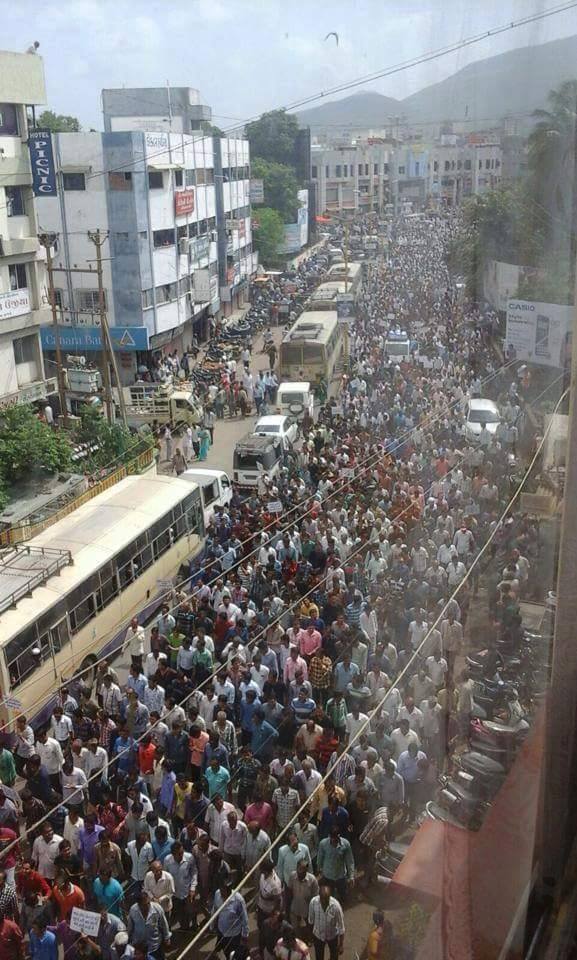 In a daring manner Patel said,' Be it BJP or Congress we would root out the government if our demands are not met with. We will keep expanding our movement in all parts of the state.'
He said, "state government, central government, high court or supreme court, we are not concerned, we just want reservation right for Patels before August 25."
He said, "Patels have never demanded anything during all these years. Now they are on roads not to bag something but to demand their right."
He said if there's need to give life for this cause, he will be the first to give life. He also said that on 21st, number of MLAs, Councillors and other elected members will leave their party and join the pro-reservation movement openly. He said Patels have given 50 MLAs to Gujarat assembly, and when they feel it necessary they can break the government also. He said the reservation agitation is not for children of Naresh Patel(Khodaldham Trust head) or Narayan Patel(Umiya sansthan head), it is for poor people of this community.
Self styled leaders of the Sardar Patel group, a prominent front of the movement, Bhavesh Makhesana and Ketan Kansagara also attended the rally here.
Meanwhile similar rallies were also held at Idar of Sabarakantha district and some other places. The front is demanding inclusion of Patels in other backward classes (OBC) category for reservation benefits.
They have claimed to take out a massive rally in support of their demand in Ahmedabad on August 25.