JugalBirdy of click and strokes at display at Kanoria Art Centre this July in Ahmedabad
June 22, 2017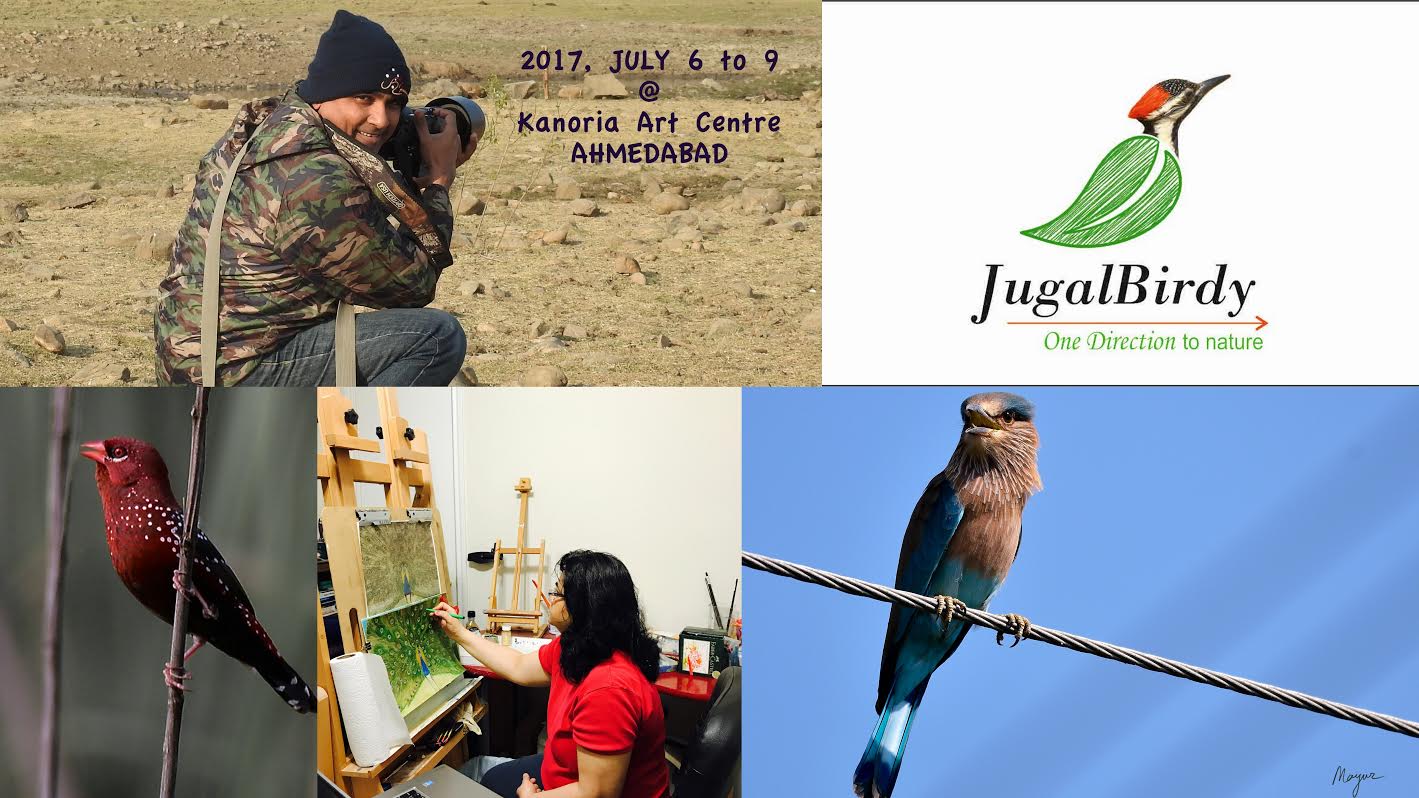 Ahmedabad: Two Non-Resident Gujaratis, and fellow Batchmates from our own Ahmedabad's HL College of Commerce, have decided to join hands and come together for a unique project named JugalBirdy: One Direction to Nature. Friends for 25 plus years, they decided to bring their individual skills and decided to dedicate their work to City of Ahmedabad. Keya is a trained Visual Artist with many exhibitions to her credit in the USA, Mayur whose base in Japan, is an Economist by education, Banker by profession and Bird photographer by Weekends.
They are holding a joint exhibition from July 6 to July 9 at Kanoria Art Center at University area. We interviewed them and tried to understand from them about this unique project.
Welcome, Keya and Mayur…. Could you tell our readers about your project briefly?
Keya and Mayur:
We are trying to present balanced growth and importance of having a green heritage in a very subtle yet profound way filled with love. The project focuses on having harmony between nature and human beings. Every summer we hear cries about the rising heat in cities due to depleting tree cover. Rapid urban growth, deforestation, and lack of emphasis on maintaining minimum Bio-diverse green belt space in cities have wreaked havoc to wildlife population in cities. This is the story in every Indian city, where one-directional growth has disturbed the balance of nature.
Ahmedabad always boasted of vibrant Bird heritage. Yet in recent decade or two, the one directional growth is changing the landscape. While cities are getting more human-friendly, we clearly see the depletion of Bio Diversity and green cover. The depleting biodiversity of Ahmedabad has pushed many beautiful birds out of city limits. We miss their beautiful colors and melodious sounds. Through our art, we are focusing on twenty-one such birds, who were legitimate residents of the city not too long ago, and who now have to take refuge far away from city limits.
This project is a joint exhibition of photographs and paintings of these birds. We hope that visitors to the exhibition will look at the breathtaking beauty of these birds, and be inspired enough to start taking steps such as planting trees and pushing for laws that require a minimum amount of green cover in city planning.
How was this project conceived?
Keya :
Mayur has been an avid nature photographer for many years. Whenever he would post his photographs of birds on Facebook, I would admire them, jokingly saying that someday it would be nice if I could create paintings of these birds. This went on for some time but since I was too busy with other art projects I never got a chance to paint any of the birds. I used to encourage him to publish a book of his bird pictures but he too was too busy with his job. Then one day I first tried my hand at creating a bird drawing from a beautiful photograph of a Kite taken by Mayur. With time, more beautiful bird pictures inspired me further and I proposed to Mayur that we should do a joint art exhibition of the project. Mayur liked the idea but he felt that such a project should be tied to a broader theme, so he conceived the idea of biodiversity and bird habitat, which was very close to his heart. Eventually, further discussions with friends and family led to the creation of the JugalBirdy project.
How did you come up with the name JugalBirdy?
Mayur:
The name JugalBirdy is a play on the word Jugalbandhi. Keya and I are two artists who are bringing together their individual strengths such that the work of each artist may shine individually while still coexisting in harmony with the other artist's work. This is very much like a jugalbandhi in Indian classical music where two accomplished artists bring their talents together to jointly perform a beautiful piece of music. The word 'Jugal' means two. We are a duo of artists, a photographer and a painter, who are jointly going to exhibit our photographs and paintings of birds to shine the light of their beauty. Since our project is all about birds, we played with the word jugalbandhi to come up with a catchy title – JugalBirdy!
How did you come up with the JugalBirdy logo? What does it represent?
Keya and Mayur:
The logo thus shows two aspects of visual art – painting and photography. So the project is aptly named 'JugalBirdy'. The painted leaf portrays bio-diversity and nature. It is combined with a photograph of the striking red head of a golden flameback woodpecker to depict the blending of painting and photography in this project, thereby producing the eye-catching green-red logo. The sub-line 'one direction to nature' gives undivided attention to the cause. It's a tribute to beautiful birds, to nature, to the nature lovers, and inspires all of us to live in the joy of harmony.
What challenges did you face in completing this project?
Keya:
There were a number of challenges from the beginning. At a personal level as an artist, prior to this project most of my work was related to painting landscapes, still art, and portraits of people. So painting birds was a new challenge for me. I prepared for that by drawing birds from photographs and observing various bird characteristics from books on birding, such as The Book of Indian Birds by Salim Ali.
Secondly, from a scheduling point of view, originally this art exhibition was supposed to be held in December 2016. However, due to some logistics issues, we had to postpone it. Since I have school-age children the earliest next opportunity for me to come to India was in June 2017.
One final challenge was transporting 21 paintings and drawings from the US to India. This is the first time I am doing a full scale exhibition in India, so I did not have much experience in transporting paintings over such large distance. After some research, we ended up shipping some paintings/drawings and carrying others with us as part of our checked luggage.
Mayur:
Well to begin with it looked all so enormous. When we zeroed on the theme of picking uncommon beauty of once common birds, I had to dig deep into my own treasure of past clicks. But then choosing rights pics for Keya was a tough call. I had to give her pic where not just the Bird and surrounding are clear but also subject is clear to finer details. A typical weekend will begin and I would have a bird in mind, I will focus to get the best shot of them in their natural habitat. At times, I would go out to click them in depleting habitat and see how they adapt. Many time I come empty handed even after traveling 2 hours one way and at times, I would not be satisfied with my own work. Bird photography is probably the most difficult form of photography art. A slight change in gale or subtle movement of bird can spoil your pic completely.
Being a vigorously traveling Banker it was tough getting the right focus, but then I got immense help on the way from friends, family and many new guides I met on the way.
As an artist what was the most satisfying aspect of this project?
Keya:
As an artist, it was very satisfying to develop a completely new genre of art related to painting birds. Professionally, this provided a lot of growth and development of new skills that will contribute to further growth as an artist. At a personal level, I achieved immense satisfaction in being able to contribute to a higher cause.
Mayur:
Learning about biodiversity and habitat was probably the most humbling aspect of this project. Meeting one of the finest environmentalist, Bird lovers, and nature enthusiast made me rich in knowledge and filled the void. My introduction to bird world happened accidentally; this project became the gateway to strengthen the base. I must mention here, the ride was never a smooth but bonds of 25 plus years with fellow batch mates of HLCC came in very handy. They were our Faith Bank, whenever we felt low on the confidence we could always borrow strength from them.
What do you hope to achieve as a result of this project?
Keya and Mayur:
We love our city. Even though both of us do not live here, our heart and soul dwell here. The city has given us everything from our lovely past to platform for future. This is our humble way to give back a little. This project has a very noble goal of raising awareness among city residents about the importance of maintaining green spaces in order to foster bird habitat and biodiversity in the city. This project would be considered a success if it is able to raise awareness, and motivate people to take conscious steps to reestablish the lost biodiversity in the city. And last but not the least, we hope younger generation will take interest in Birds, Trees and Bio Diversity….
DeshGujarat