Ahmedabad city inscribed as UNESCO World Heritage City
July 08, 2017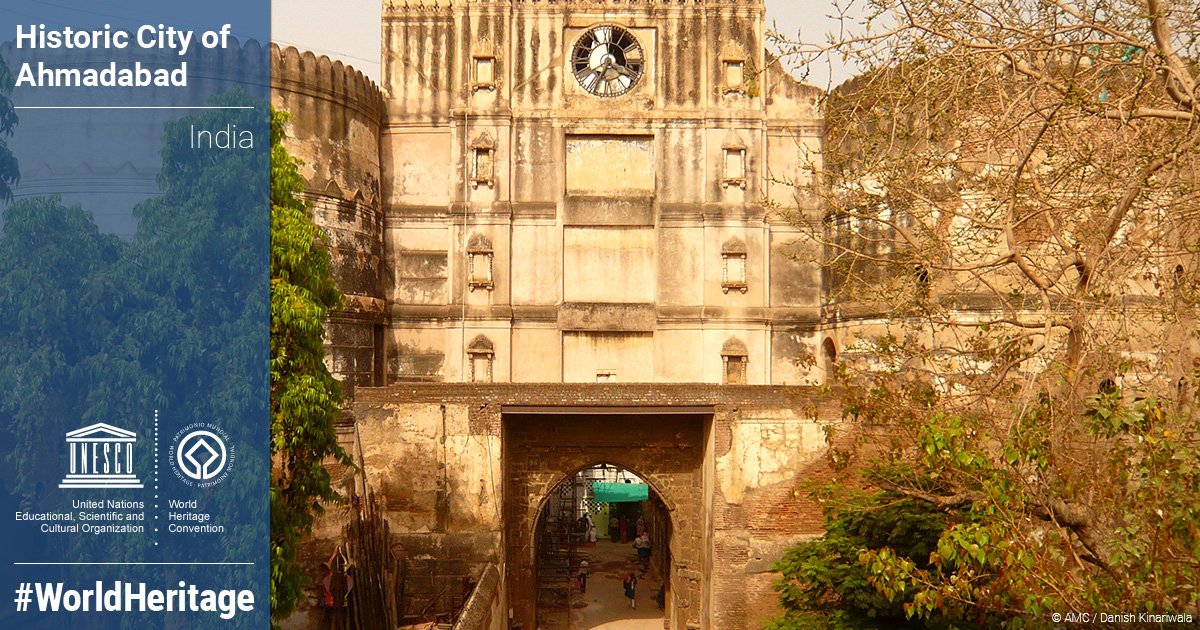 Ahmedabad: The city of Ahmedabad has been declared India's first World Heritage City by the United Nations Educational, Scientific and Cultural Organization (UNESCO).
Ambassador/Permanent Representative of India to UNESCO in Paris Ruchira Kamboj conveyed this news on Twitter.
UNESCO too announced this on its twitter and said: Just inscribed as UNESCO world heritage site – Historic City of Ahmadabad.
The World Heritage Committee is assessing the nomination of 33 sites for inscription on UNESCO's World Heritage List during its 41st session, which is chaired by Jacek Purchla, founder and director of the International Cultural Centre in Krakow, the Polish city that will host the session from 2 to 12 July. The city of Ahmedabad was the only nomination from India this year.
Kamboj in her address to the chair said:
It is truly an honour to stand here with the delegation of India to witness to witness the inscription of a city with over 600 years of unbroken history.
The journey began in 2010 when Prime Minister Narendra Modi proffered the dossier of Ahmedabad to UNESCO.
Ahmedabad is where our Indian heritage speaks for itself.
For over these 600 years it has stood for peace as a landmark city where Mahatma Gandhi began India's freedom struggle. It has stood for unity with its elegant carvings in its Hindu and Jain temples, as well as standing as one of the finest examples of Indo-Islamic architecture and Hindu-Muslim art. And beyond this, it epitomises the United Nation's objective of sustainable development as it accelerates in its development: chosen to be one of India's first smart cities, while preserving its ancient heritage.
As a UNESCO World Heritage site, Ahmedabad will continue to grow and flourish. Its evolution will emolden through simultaneous conservation and development efforts.
Under Criteria(II) and (V) as World Heritage, the inscription of Ahmedabad will allos for the preservation of a historic cit which has harboured India's dynamism and vibrancy.
I would like to thank all Committee members who supported this inscription and saw the beauty of the city – something which so many have held close to their hearts.
CM Rupani, Mayor Gautam Shah and BJP president Amit Shah express happiness
Chief Minister Vijay Rupani, Mayor of Ahmedabad Municipal Corporation Gautam Shah and BJP president cum incumbent MLA from Naranpur constituency of the city Amit Shah today expressed their happiness on Ahmedabad city becoming first Indian city to be declared as world heritage city by United Nations Educational Scientific and Cultural Organization (UNESCO).
In his twit CM Rupani said, "Thrilled to learn that Ahmedabad has been recognised as a UNESCO #WorldHeritage city, first of its kind in India."
Mayor Gautam Shah in his twit said, "Exhilarating moment for #Ahmedabad as city has been declared #WorldHeritage city by @UNESCO#AhmedabadWorldHeritageCity."
BJP president Amit shah in his message said , "
Delighted to know that @UNESCO has declared Ahmedabad as World Heritage City. Proud moment for every Indian. #WorldHeritageAhmedabad ".
Many more twit messages were pouring in.
PM Narendra Modi who was abroad was also likely to greet the people of Ahmedabad for this.
DeshGujarat