Oldest Japanofile Gujarati lady wishes PM Abe on his historic visit to Ahmedabad
September 13, 2017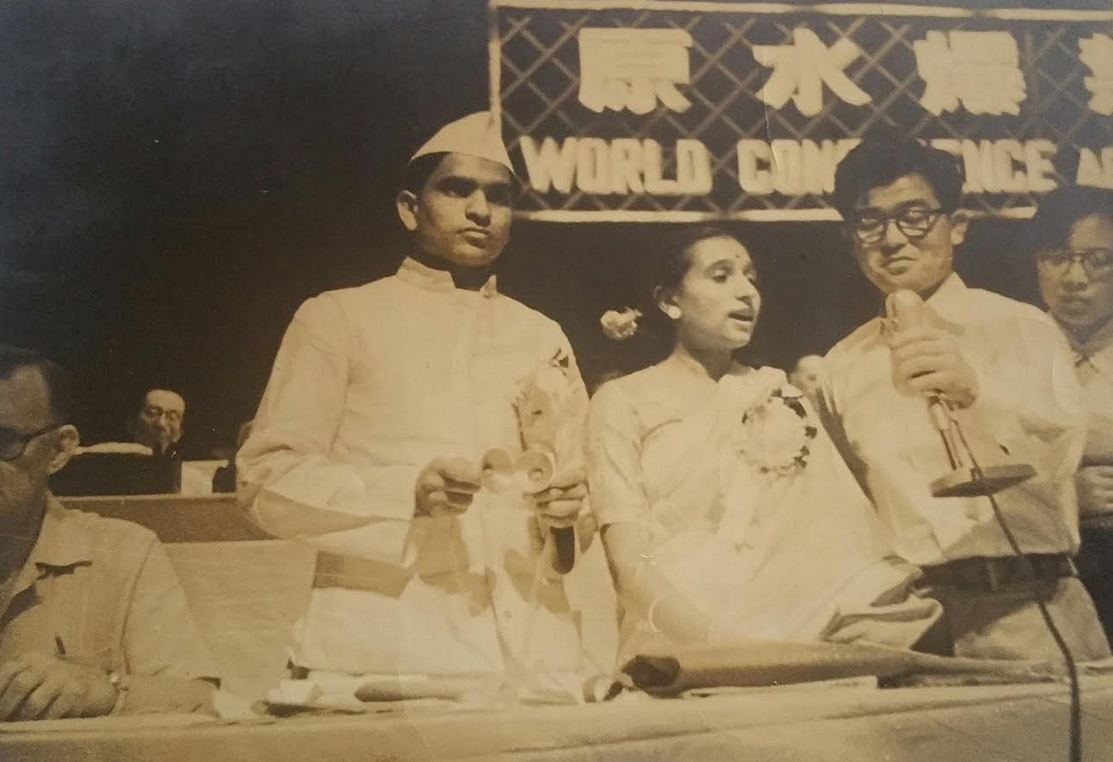 Ahmedabad: Indiraben Somchandbhai Shah (83) is another common lady who lives in Paldi. Until you hear her sing Japanese Songs with absolute fluency. Her memories of Japan began in the early 50s. Hailing from Patan she joined her would be husband to Kobe and had first Indian wedding in Kobe, Japan. Barely 10 years after the war, Japan was very different from it is now. Straight out of Gujarat it was a very tough life. Her husband Somchandabhai was Vinoba Bhave follower and they moved to rural Japan to learn how Japan is rebuilding nation through agriculture. The culture shock was even more telling on young Indiraben then. But she found out in that rural Japan, how good people are.
Soon the couple became a celebrity of the area they lived, assimilating with wonderfully warm hosts. And with that began an unknown yet interesting chapter of one of its kind people to people history between Gujarat and Japan. Their life in Japan was widely covered in media then. For young Indiraben though folk songs came in very handy to imbibe Japanese culture. She would pay back in feasting guests with Indian and especially Gujarati Cuisine. The couple became an integral feature of that of part of Japan, unknowingly becoming a Bridge of Friendship.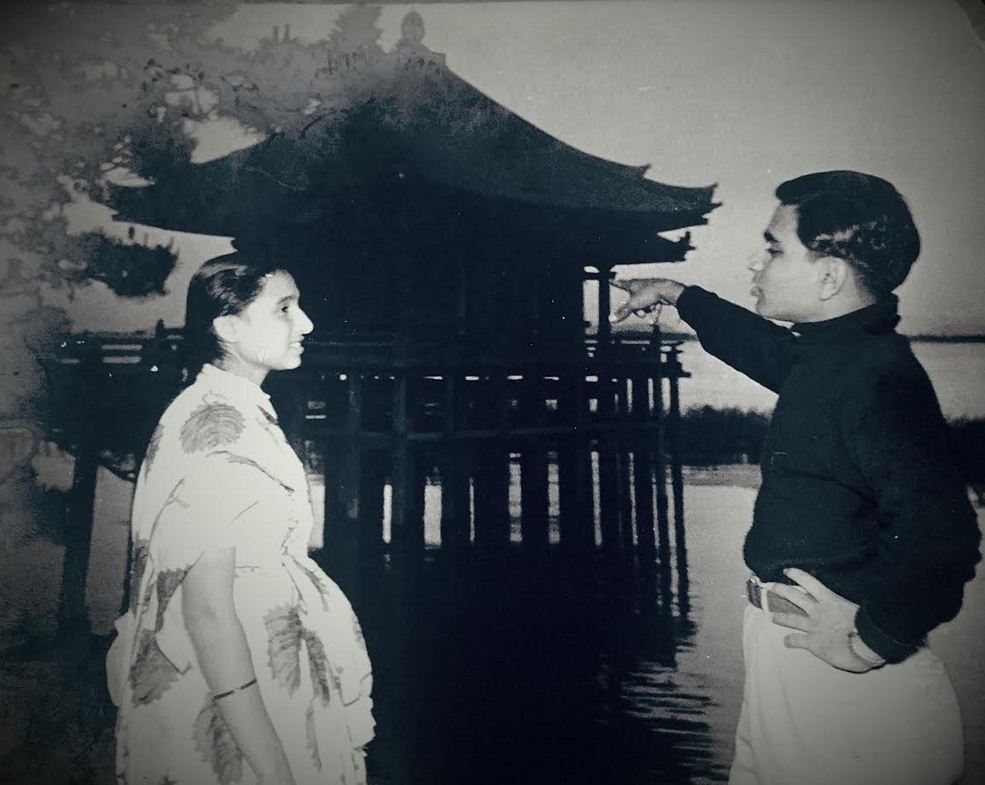 Hiroshima World peace conference
1955 was exactly 10 years after the war ended. Nuclear Bomb had devastated Hiroshima and Nagasaki. And in first world peace conference against Nuclear and Hydrogen Bomb was organized at Hiroshima. The young Indian couple participated and stunned participants by not only singing Gujarati song on peace but also Japaese Song Genbaku no Uta Next year their eldest daughter Usha (Asako) was born in Japan and it only intensified bonding with Japan. The help she received through Japanese ladies then made her grateful for rest of her life.
Back to India
Moving back to India, due to her husband's passion on uplifting agriculture in India, they moved to Rural Gujarat and worked at Krushak Samaj. Japan never left them. In 1960s, Japan was looking to collaborate with India on Agro Technologies. Somchandbahi joined one of the Japanese company Kubota and helped them extend technology transfer to India. Later he worked for Marubeni.
Thanks to perennial relations with Japan, Indiraben house became a common calling point for any Japanese person visiting Ahmedabad. Be it a student, researchers, business people. The family started helping any Japanese if they faced any issues while in Gujarat. All the kids of the house and grand kids grew up listening to stories of Japan and more importantly sleeping peacefully as she sang them beautiful Japanese songs. They all grew with indirect memory of Japan. The influence of Japan was so much on family that her three daughters Usha (Asako), Harsha (Emiko) and Varsha (Ameko) got branded as Usha Japan, Harsha Japan and Varsha Japan in their school. The sewing machine of Fukusuke she bought from Japan is another memory she keeps it close and still uses it to make small purses, revenue of it she distributes to charity cause.
I cannot trust any other country but Japan
In early nineties, when her only son wanted to go abroad for studies, she put down her foot and said, I will only allow if he goes to Japan. The legacy then continued. His son Mayur Shah is now heading one of the largest Japanese Bank's Think-tank function from India and is working on bringing India-Japan closer from Economic perspective. Living in Delhi, her son also spent 15 years in Japan, by having Post graduation from Japan and helps many state governments on their policies to attract Japanese investment as well as guides large Japanese companies for their investment decisions in India.
Cultural exchange legacy passed on

Indiraben's daughter in law Shailee is also taking forward her mother in law's mission. Having lived in Japan herself and experienced warmth firsthand, she is one of the most sought after friend for Japanese ladies in Gurgaon. She teaches Indian vegetarian cooking to housewives of Japanese businessmen and promotes cultural exchange. She recalls her own time in Japan and how she got help from the wonderful Japanese people. As of now she already has taught more than 500 ladies and still counting. As her son Shaimay looks forward to go to Japan again for further studies, Shaileeben feels all the more excited. This will be third generation of Gujarat-Japan collaboration for Shah family.
Looking forward
Life has come full circle for Indiraben. Even in her ailing health, she regains radiance on face while talking about Japan. A big fan of Prime minister Modi and having her roots with Japan, she feel overwhelmed as her own city is getting colored in Japanese flavor. She keeps abreast with news on Japan and knows Mrs and Mr. Abe are the biggest Indofile. Treasured friendship of both PM also reminds her olden days of friendship between PM Kishi and Nehru.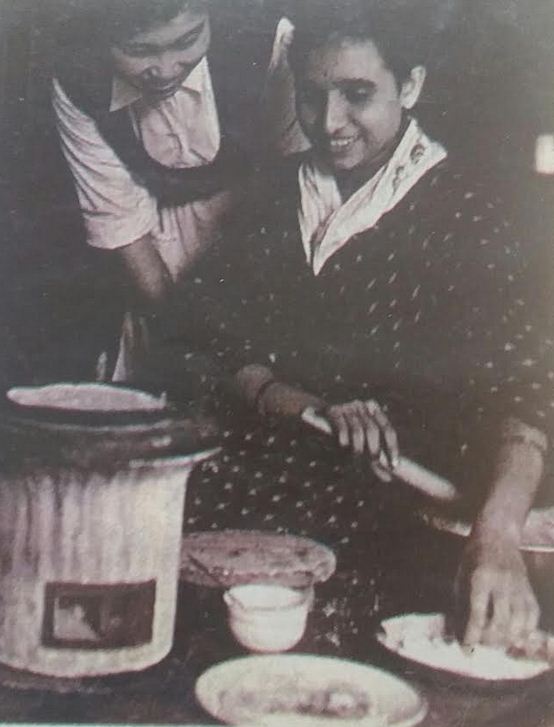 She has this to say to PM Abe. YOKOSO ABESAN… NICHI-IN KANKEI BANZAI.
Welcome PM Abe and long live India-Japan Relationship.
Songs by Indiraben
Songs by Indiraben
1: https://www.youtube.com/watch?v=4dp1QYId1cc
Children song followed by Guajrati version (yuyake Koyake)
2. https://www.youtube.com/watch?v=xxenWSn6Y0s
Another popular children song (Ano ko wa dare…)
3. https://www.youtube.com/watch?v=f5BhQLfALBU
Most popular folk song on Spring. (Haru ga kita..)
4. https://www.youtube.com/watch?v=016vR6ymauw
School song for kids (Otete o Tsunaide)
5. https://www.youtube.com/watch?v=GwOptuMB3oc
Japanse Peace song of Hiroshima (Yurusumaji Genbaku)
6. https://www.youtube.com/watch?v=250i3JVmzUw
Japanese Marraige Song.. (Jugoya Otsuki sama)