Rahul does not understand GST, has not studied it: Jaitley in Gujarat
November 04, 2017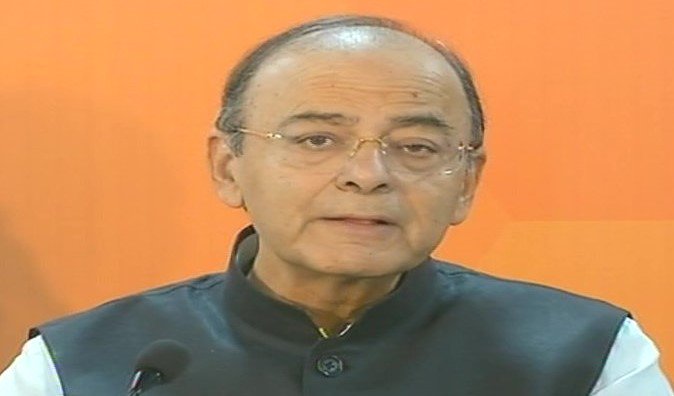 Ahmedabad:
Union Finance Minister and senior BJP leader Arun Jaitley today said that looking at the way Congress vice president Rahul Gandhi was raising the GST issue in Gujarat election, he clearly believed that the congress leader did not even understand this tax regime which was beneficial for the country and was also being praised by the whole world.
Addressing a press conference here Jailtley, who was the in-charge of BJP for Gujarat assembly polls, said, 'I clearly believe that Rahul does not understand the GST. He has not even studied it.'
'Each of the decisions of the GST were also fully agreed upon by the finance ministers of the Congress ruled states. These decisions with consensus were beneficial for the country and were also being praised the world over. Merely by giving a few opportunistic statements on the occasion of election does not mean that you (Rahul) understand the GST,' Jailtley said.
To a query he said that the meeting of GST council was held every month with two prime objectives. One was to discuss the transitional issues and the other to maintain the balance in tax sharing between the state and the center.
He also said that the reforms in GST regime should not be linked with Gujarat elections. 'GST is for long term and for the ease of trade and better taxation system. The alternative to it could be return to the same old and complicated 17 tax system in which inspectors of various departments used to make things difficult for the traders,' he said.
He also alleged that Congress during its regime had never taken big steps against black money. Demonetization has achieved its fundamental goals like increasing tax base, movement towards digital platforms, check on terror funding and less cash system etc.
Jaitley also said that the government was also working in the direction of making election funding a fair funding and removing the 'hush-hush' money system prevalent since last 70 years. 'This time I have also made certain provisions in this regard in the budget. I have also written to all the political parties about it,' he said.
To a query the finance minister said that it was not correct to say that the RBI was still counting the scrapped notes even after expiry of almost a year since demonetization in November last year.
'Everything was in the annual report of the RBI published in June. The current exercise of recounting was for detecting fake currencies,' he added.
DeshGujarat