'Hardik Patel may face rape complaint'
November 16, 2017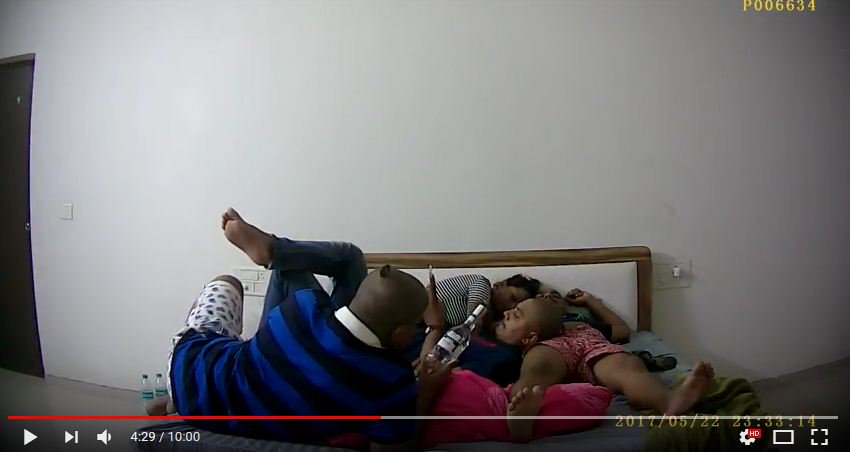 Ahmedabad: Quota stir leader Hardik Patel's aides today claimed Hardik is likely to face rape complaint by a woman soon.
Two videos were out recently online in which Hardik was clearly seen in company of whiskey and women. Hardik's aides who are struggling hard to keep his prestige intact allege that videos were morphed, however at first glance the video tapes look quite real and fewer people actually believe they could be morphed.
After news report in small time newspaper claiming that Hardik would soon face rape case, today Hardik's aides, many of whom are eyeing Congress tickets to become MLAs held a press conference and declared in advance that Hardik could be trapped in rape case soon.
Hardik's aide Dinesh Bambhania who has been accused in number of cheating and fraud cases today said one girl Payal is likely to file rape case against Hardik in order to make him another Narayan Sai(self style God man who is in prison in rape case).
Apparently in order to build advance protection wall, Bambhania claimed there are total 52 CDs that include 22 CDs featuring Hardik Patel and 30 CDs involving other PAAS conveners and leaders. Bambhania said one girl Payal is likely to file rape complaint against Hardik Patel. Bambhania claimed the CDs are morphed outside India at Bangkok. When asked how can he substantiate his this claim, Bambhania had no clue. When asked why Hardik hasn't file FIR if at all he feels CDs are morphed, Bambhania fumbled and later said he will go to high court.
Bambhania then presented a plot without any basis, evidences or remotely believable facts. He said: one Vipul Mansukh Mendapara from Surat was roped in by Gujarat BJP president Jitubhai Vaghani, his aide Vimal Patel and Chief Minister Rupani under Rs 40 crore deal. There are 52 CDs in their possession that are modified outside India. They want to send Hardik Patel to jail like Narayan Sai and finish the agitation. Vipul Mendapara was in economic trouble. One Manoj from Surat cooperated with him. He is supplier of giels. He finalized Rs 50 lakh deal with Payal which was duely signed and the letter of agreement is there in one car with registration number GJ 19 6111. Payal has been asked to file FIR against Hardik. Vipul is on backfoot due to economic trouble. He is facing cheating case too. Vimal Patel, a builder who paid Rs 10 lakh to Narendra Patel who joined BJP first and then left the party and joined Congress recently paid money to Vipul Mendapara. Vipul has bought Rs 60 lakh ornaments and Rs 3 lakh cloths recently. After two CDs are launched, Vimal Patel has taken Vipul to unidentified places and his phones are switched off. Police Inspector, Superintendent of Police and Commissioner of Police have played roles in this. CCTV camera footage was captured and supplied. There's police deployed at Vipul Mendapara's house.
When reporters started asking counter questions and pointed out contradictions in Bambhania's fancy story, he reacted in confused manner.
Hardik aide and Congress ticket aspirant from Morbi assembly seat, Manoj Panara was seen advising media to follow rules and not to show sex tapes 'featuring' Hardik Patel.
DeshGujarat