Row over 'Make Ahmed Patel Wazir-e-Alam Of Gujarat' posters in Muslim areas of Surat
December 07, 2017
Surat: Posters today morning appeared outside the mosque in Udhna darwaja area of Surat making overtures to the Muslim community. The poster in question (included below), apart from Rahul Gandhi, also showed Sonia Gandhi's close aide and Rajya Sabha MP Ahmed Patel. The text of the poster reads:
"To maintain unity within the Muslim community and to make Ahmed Patel the 'Wazir-e-Alam' (Grand minister) of Gujarat, we request the Muslim community to vote only for Congress."
The poster drops a huge hint that Ahmed Patel may be the party's chief ministerial candidate in Gujarat.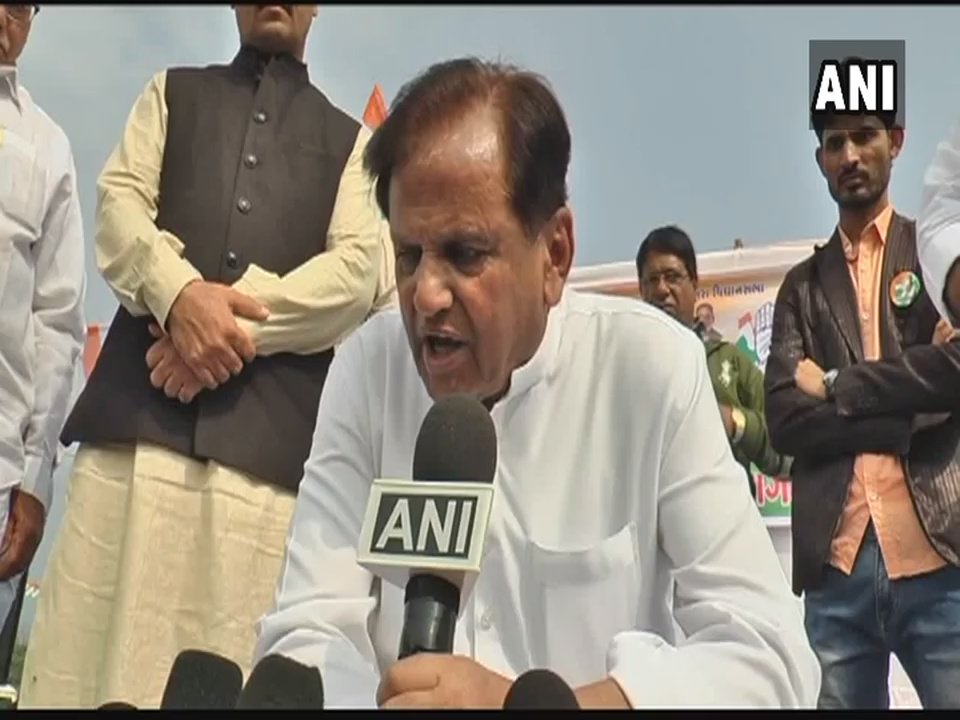 Reacting to this Ahmed Patel today said: This is a misinformation campaign by the BJP as now they know they are going to lose. I was never the CM candidate and neither will I ever be.
On Twitter:
The moot issue is that BJP is trying very very hard to divert the narrative from its performance of last 22 years to a divisive agenda. Hence their reliance on lies & propaganda.But people of Gujarat have made up their mind this time

— Ahmed Patel (@ahmedpatel) December 7, 2017
Putting up fake posters and orchestrating a rumour campaign shows the utter desperation of the BJP. Fearing defeat, do they have to rely on such dirty tricks? I have never ever been a candidate for CM and will never, ever be

— Ahmed Patel (@ahmedpatel) December 7, 2017
What is this chatter I am hearing that Ahmed Patel will be CM if Congress wins in #Gujarat? If true, is this @OfficeOfRG 's plan to ship Ahmed Bhai out of Delhi? Signal for oldtimers to vacate durbar?

— Kanchan Gupta (@KanchanGupta) December 5, 2017
*Shocking-* Pakistan Army DG Arshad Rafiq comes in Support of Congress & Ahmed Patel as Gujarat CM. 👇🏻 pic.twitter.com/uSfLdFul22

— Kalkee.21 Patel (@Bhagava87092761) December 7, 2017
The state goes to the polls on Saturday and then again for phase two on December 14. Counting of votes is scheduled for December 18.