PM Narendra Modi to be the keynote speaker at World Government Summit 2018 in Dubai
January 18, 2018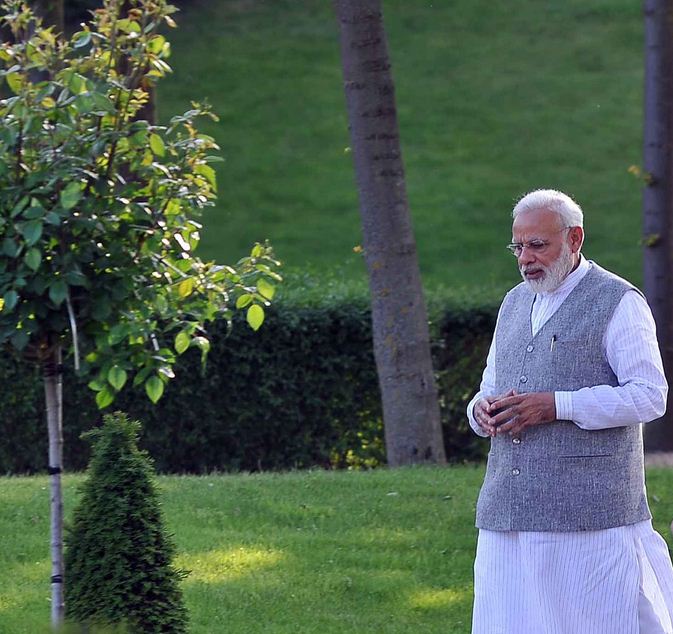 Dubai: Prime Minister Narendra Modi will be the keynote speaker at the sixth World Government Summit in United Arab Emirates(UAE) in Dubai which will start on February 11, in presence of more than 4,000 participants from 140 countries.
This was announced by Mohammad Abdullah Al Gergawi, Minister of Cabinet Affairs and the Future. He said India will be the guest country this year, with honorary guests from India coming in to showcase the country's emerging economic growth, highlight valuable knowledge, skills, and elaborate on the country's unique culture.
Al Gergawi said that India's presence at the summit, with its high-level delegation, is a key part of the summit's annual gathering.
"India has played a great role in space, IT, digital revolution and in producing the best human resources from around the world. We expect India to achieve a great economic and development momentum and be on a par with the world's top countries," he said.
The three-day summit will have more than 150 speakers will address 120 key sessions, Al Gergawi said India carries exceptional experiences worthy of being global models to follow.
About the event
-Global Forum on the Governance of Artificial Intelligence (AI), Space Settlement Forum, and the first international report on global government policies and happiness, with contribution from over 60 experts in the science of happiness. The forum on AI during the summit will allow new experiences to be shared and will see more than 100 prominent figures in AI draw a road map on how AI can improve government procedures.
-20 international global reports about governments and the launch of the first road map that shows what governments will look like in the future.
-Lifetime education and learning, future of health, biotechnology, innovation, science, climate, and other key sectors.
– Participation of 16 international organisations including the International Monetary Fund, the United Nations, Unesco, World Bank, Organisation for Economic Cooperation and Development (OECD), and World Economic Forum.
-More than 100 Arab Youth Pioneers will exchange their experiences and success stories in providing thousands of job opportunities for people in their countries."
-The Space Settlement Forum will explore the challenges and the viability of human settlement on Mars.
-The forum will focus on government policies promoting happiness in societies.
-There will be 25 sessions with more than 500 thinkers, scientists and experts.
-The topics this year will shed light on government policies that work to increase happiness and reduce sadness.
-Held alongside the summit once again will be the climate change forum which will be shedding light on the impact of climate change on humanity and the threat of natural disasters as a result of this phenomenon.
-The global event will see the presentation of the Best Minister in the World Award, Best Government Innovation, and Best Teacher Award.
PM likely to visit other Arab nations
According to the sources, Modi will also visit the Wahat Al Karama monument for UAE martyrs in Abu Dhabi on February 10.
On February 11, he will address a community gathering at Dubai Opera. Around 2,000 people will be invited to attend the event.
Modi may travel to other Arab destinations including Oman and Palestine during this February visit.