Mobs of one community on rampage in Bhudarpura area of Ahmedabad; torch vehicles of other community hostel, tear gas shells lobbed to control the violence
April 17, 2018
Ahmedabad: It was tough task for police to control the Dalit mobs on rampage in Bhudarpura area of Ambawadi in Ahmedabad – West last night.
Bhudarpura – Ambedkarnagar is predominantly a Dalit majority area. Located in this same area is hostel run by Rajput community.
Thanks to caste-pride groups in Whatsapp and Facebook and vicious messages being circulated on those platforms, the State of Gujarat has seen many caste – conflicts and agitations in last few years.
In another chapter in this series, the Dalit mobs attacked Rajput hostel during intervening night of 16 and 17 April. The attack on the hostel building was solid. There was a heavy stone pelting. The students strictly stayed inside the building but their vehicles parked outside were torched by mobs. The hostel building was ransacked.
When two vehicles from fire and emergency services of Ahmedabad Municipal Corporation(AMC) arrived to douse the fire, the mobs gathered outside the hostel attacked fire vehicles. One fire brigade jawan is reportedly injured in this incident.
Those in Dalit mobs justified the gruesome attack on the hostel building of Rajput community claiming that Rajput community youths living in that hostel would frequently celebrate liquor party and harass local Dalit girls.
As Ellis bridge police's strength was not enough to control the mobs, the city police had moved Crime Branch and Special Operation Group to ease the situation. Four to five police jawans were reportedly injured in this incident of clash.
As police detained/rounded up some of the hooligans from rioting mobs, the locals reached Ellis bridge police station and demanded immediate release of Dalits.It is learnt that those detained were released later.
Like in every incident of caste-clash, the caste-oriented facebook and whatsapp groups are active after the incident. A group called 'Rajput Samaj Gujarat' appealed Rajput to give reply to Dalits.
Same way some Dalits who are, visibly into Dalit activism alleged police atrocity and asked Dalits to wake up.
If police and the government both fail to control the caste-pride linked violence propagators, breeding and spreading on social media day-and-night, it will always get tougher tasks to do on the ground.
Fire team returned to seek police cover
One Chaitanya Zala had called the Fire brigade at around 10.30 pm and informed that vehicles were torched at IAS academy near Vandana school. One vehicle of fire brigade was sent to douse the fire. Fire vehicle could reach the spot before police could arrive. The mob was large and it started pelting stones on fire vehicle. Fire staff requested to allow passage but they were threatened by mob. Due to lack of police protection, fire team returned to Chahdawad police chowky nearby, from where fire control room was contacted for need of police protection. Fire control room dialed police control and asked for protection. On arrival of message that more vehicles of hostel building were torched, two more fire vehicles were moved. Due to lack of police cover, the fire vehicles were parked in Law Garden area. They were moved only after police message. One fire brigade jawan was injured. He was taken to VS hospital where he was given primary treatment.
Drunk man in root of the violence?
The incident of violence is said to have started at 10.30 pm around. It continued till 1.00 am. It is believed that a drunk person triggered the violence. According to hostel students, a drunk person entered into the hostel and asked the students to switch off the lights claiming that it was disturbing to him. After some verbal arguments, wife and daughter of drunk person arrived to take him back. The drunk person went outside the hostel and complained that he was beaten up. With this, lot of locals gathered outside and started pelting stones. Police could reach an hour after escalation of violence. Due to lack of police cover, fire brigade could also start its task with delay. Initially only one police vehicle and one fire vehicle arrived, but they returned as they thought the force was insufficient. Stone attack on hostel was going on from two sides. The students had locked their rooms from inside. Three students were injured. They were taken to VS hospital for treatment. Police force arrived after one hour. Tear gas shells were lobbed by police to control the situation. The students could leave the hostel premises after Trustees arrived.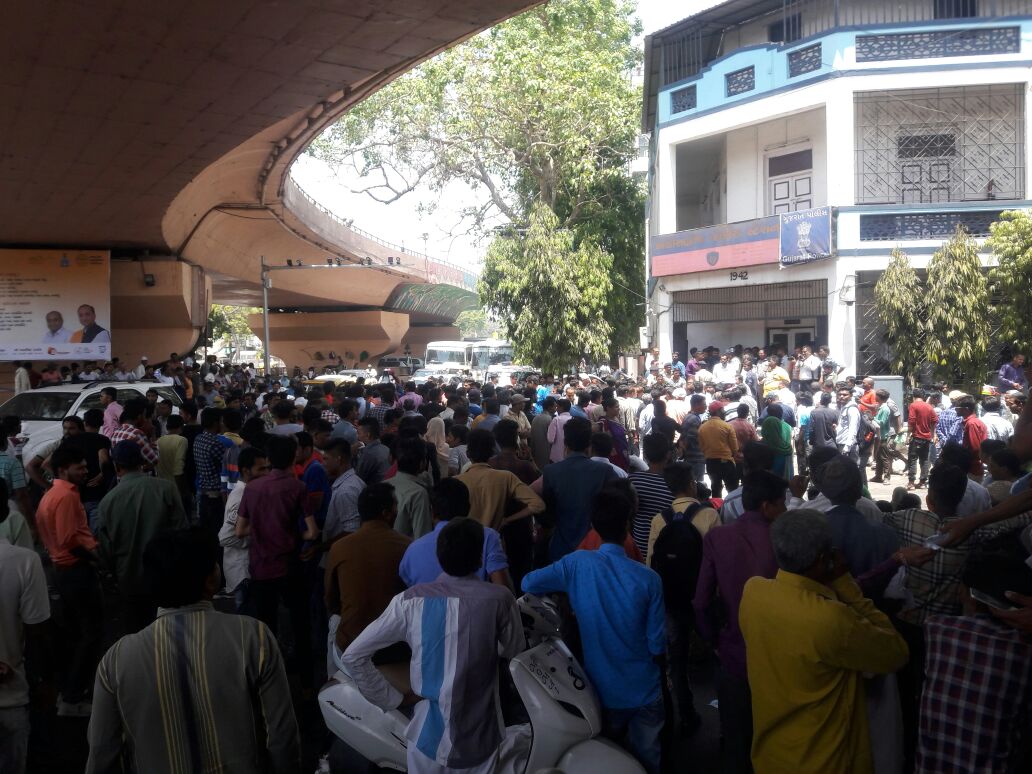 In the afternoon
At around noon, over 100 Dalits from Bhudarpura Ambedkarnagar area gathered outside the Ellis bridge police station and demanded permanent closure of hostel run by Akhil Gujarat Rajput Yuva Sangh. Locals shouted slogans of 'Jay Bhim' (Dr. Bhimrao Ambedkar's initial).
DeshGujarat