Rupani sits in boat, takes part in cleaning drive at a lake body in Dangs
May 17, 2018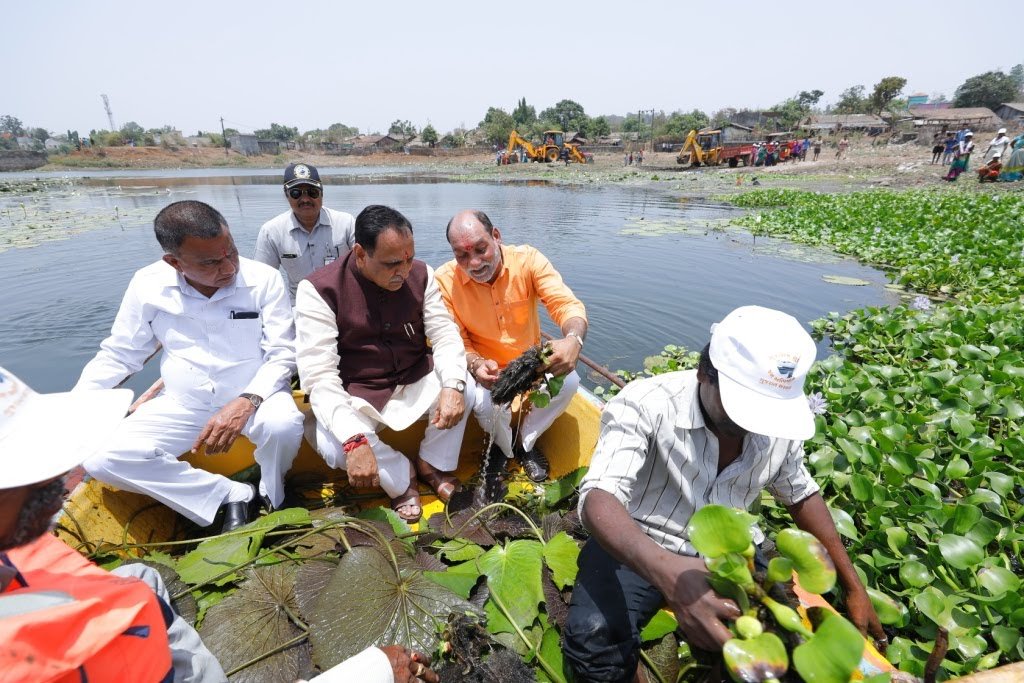 Surat: Launching as a part of Gujarat Government's one-month long, state wide water conservation campaign 'Sujalam Sufalam Jal Abhiyaan' (SSJA) at Ahwa in tribal district of Dangs on Thursday, Chief Minister Mr. Vijaybhai Rupani asserted that the state government is aiming to deport water scarcity from Gujarat through Jal Sanchay Abhiyaan (Water Conservation Campaign).
Referring to the response the campaign is invoking from the common mass, Chief Minister stated that it is getting overwhelming response from the citizens that has made this "Jal Abhiyaan to Jan Abhiyaan" (the water campaign has got converted into the public campaign).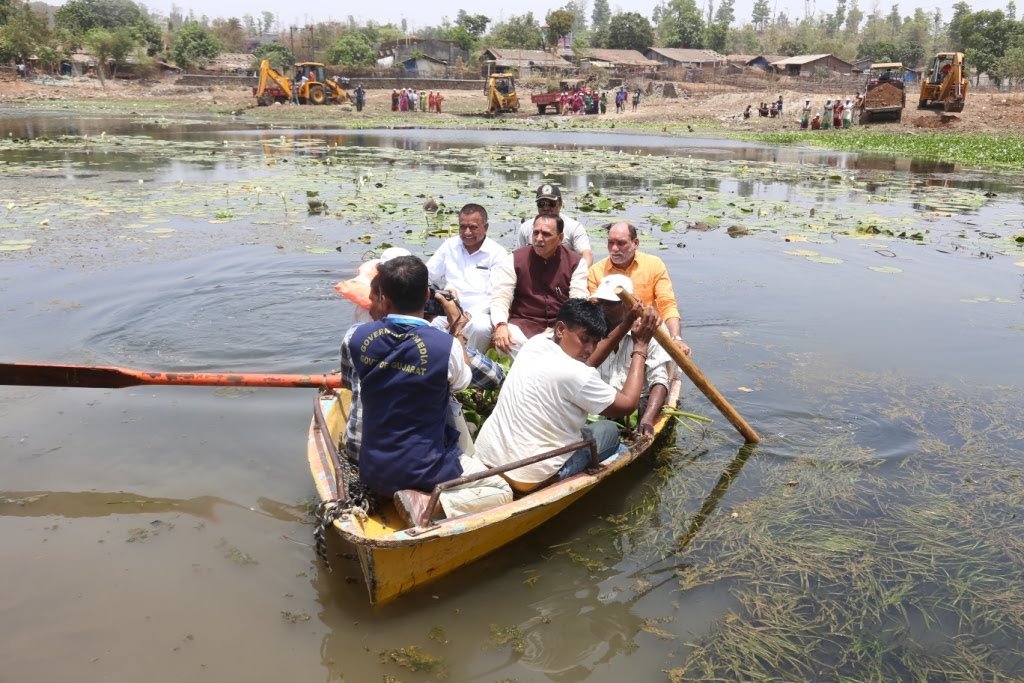 Terming the water as the basic element for the growth, Mr. Rupani further stated that according to forecast of the weather department, the forthcoming monsoon season is going to very rainy, thus, considering it as a blessing from the god, the state government has chalked out a plan of this jal sanchay Abhiyaan with an aim to store every drop of rain waters to recharge the underground water resources and to fill the lakes, canals, dams, water reservoirs and other water storages to their maximum capacity.
Criticizing the dissident elements which are describing the campaign as a election gimmick, Chief Minister said the vision for the Abhiyaan is to give enrich water resources to the future generations. For water conservation in Dangs district as many as 308 works such as deepening of check-dams, khet talawadi, water-shades and others would be carried out at a cost of Rs. 618.13-lakh, he said and added that beside these, a beautification of Ahwa Talav is also undertaken at a cost of Rs. 3-Cr.
Others who spoke on the occasion included in-charge secretary of Dangs Mr. Ramanlal Patkar, Dings' district collector Mr. B. K. Kumar, and DDO Mr. H. K. Vadhwaniya and others. The occasion was also graced by minister of state for health Mr. Kishore Kanani (Kumar), Bharat Pravasan Nigam's director Mr. Karsanbhai Patel, APMC Chairman and former MLA Mr. Vijaybhai Patel, and others.
– Information