PM Narendra Modi addresses Saurashtra Patel Cultural Samaj of USA via video in Gujarati
July 06, 2018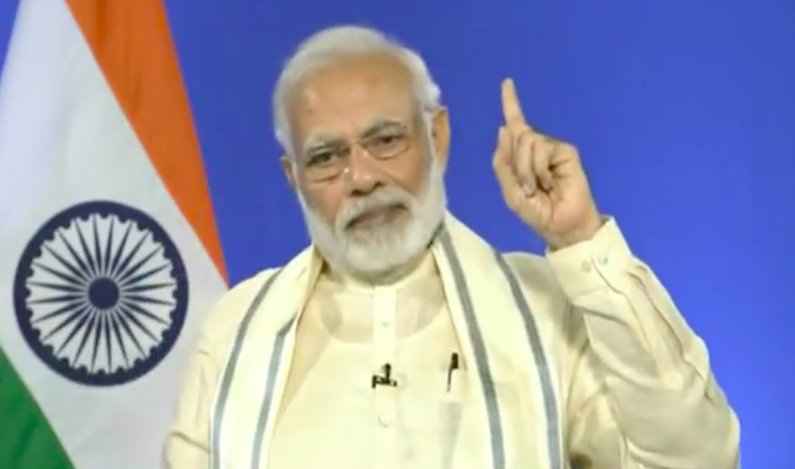 New Delhi: Prime Minister Narendra Modi today morning (Indian Standard Time) addressed Saurashtra Patel Cultural Samaj in America via live video for 25 minutes. The Prime Minister urged each NRI member to send at lest five foreign tourists to India. He also asked Motel Patels to showcase India in TV sets of hotel/motel rooms. Among those present in the function in America was BJP MLA from Ahmedabad Vallabhbhai Patel. Following are highlights of PM's Gujarati address:
Foreigners who know any Indian settled abroad are very well aware that there's no truth in vested interest propaganda worldwide against India. The world knows that an Indian settled in abroad contribute something to nation. They never harm the country. Respect of Indian passport has increased compared to past. Immigration officer would have sparkle in his eye while seeing Indian passport. India's importance has been understood. World is accepting Indian leadership in a way. International solar alliance's headquarters is India. The world admires India's role in environment and climate change. India has created its special place in the world.
Mahatma Gandhi's 150-year anniversary will be marked for entire year starting from 2nd October 2018. We are fortunate that we can say Mahatma Gandhi is ours. Social organisations should make sure that the new generation born abroad know Mahatma Gandhi properly. Each India community member must know Mahatma Gandhi's greatness. Our upcoming events should be held with Mahatma Gandhi in focus.
Dr. Dhaduk in this function earlier called me the second iron man of India. I must say that no second iron man is possible in India. There was one iron man, there's is one and there will be one. And he is Sardar Vallabhbhai Patel. On Sardar Patel's call, the rulers left their positions. Some people attempted to keep Sardar Patel behind the curtain. We are building Sardar Patel's statue in Central Gujarat. This will be the tallest statue of the world. It is double in height compared to Statue of Liberty in America. We have named it Statue of Unity. By 31st October, the works are to be completed, that's an attempt being made by the government of Gujarat. I wish, each Indian worldwide should have a dream that during India visit, the Statue of Unity must be visited with family.
Kumbh Mela will take place for one and half month from January 14. Each day, population matching to total population of Europe will come, take bath and go. This is amazing example of management in itself. But discussions remain limited to naked saints. Those settled abroad for last two-three generations should bring their children and witness the occasion.
We have jumped 42 positions in Ease of Doing Business ranking. We are now under 100 and our target is to move towards the rank of 50, and we are changing laws for that.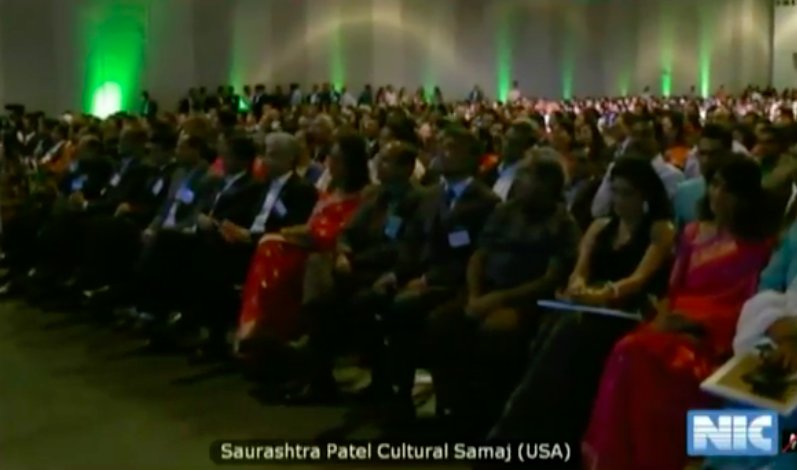 India is celebrating Utsav of Imandari(celebration of honesty). Like Sardar Patel united all princely states, we have united India under one nation one tax regime with GST. We correct and fix the issues related to GST rollout.
Those settled abroad do lot of charity work to give their contribution to native place back in India. You may teach rural children in native place via live video sitting abroad in the night. Each India family settled abroad should send at least five foreign families to India as tourist.
450 aircraft are at service in India so far. In one year 900 new aircraft are ordered. It means air traffic has increased. It doesn't happen without money in pocket. More people now travel in planes compared to AC class in trains. Small places are covered with air traffic.
DeshGujarat