Global hygiene products major Unicharm opens its largest manufacturing facility at Sanand in Gujarat
September 05, 2018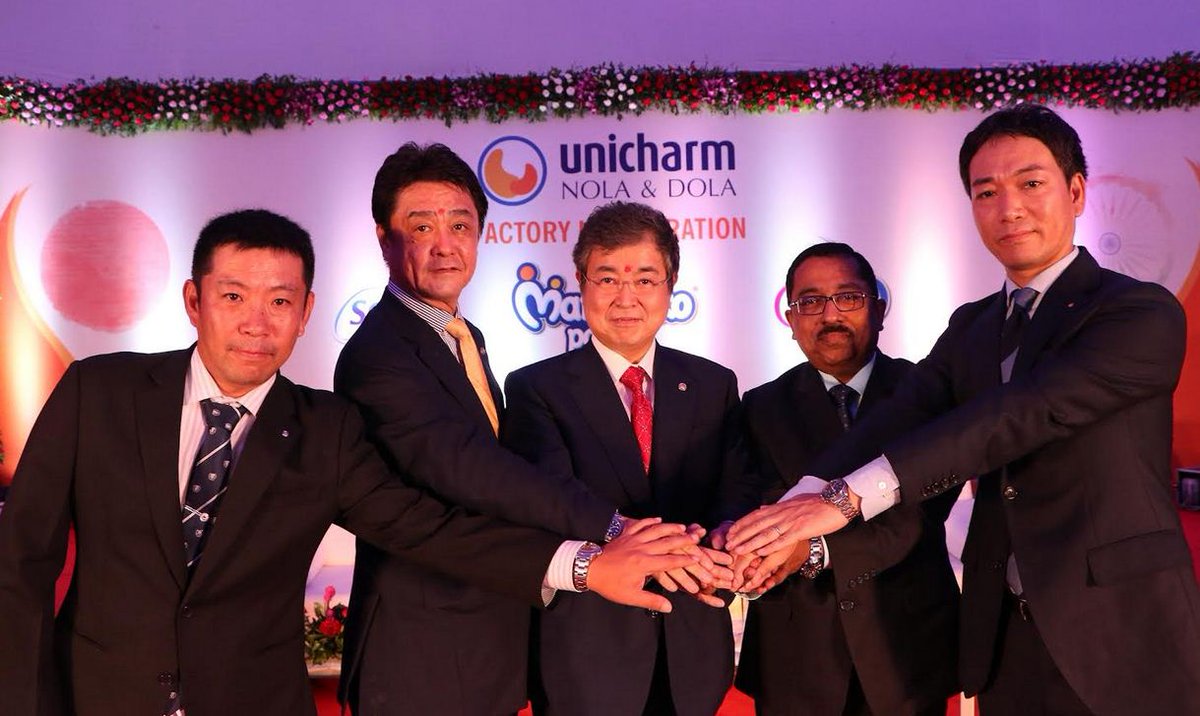 Ahmedabad: Unicharm India Pvt. Ltd., a manufacturer of disposable hygiene products, today opened its largest manufacturing facility in Sanand near Ahmedabad. Spread over 3,00,000 sq. meter, the facility will facilitate the supply of Unicharm's popular products- MamyPoko, Sofy and Lifree- to be able to cater to their rising demand in India, the company said.
In addition to India market, the facility will also be used to export the products to 4-5 key global markets. Unicharm has already signed Indian suppliers for the raw materials for its products. The announcement comes in line with the company's efforts to serve its customers better and become number 1 brand in the hygiene products category in India.
India emerged as one of the leading markets for Unicharm in terms of sales and turned profitable by the Fiscal year ending 2017 and India sales is expected to be +20-25% by the end of Financial Year ending December 2018. The company is aiming for consolidated net sales of 800 billion Yen (INR 512.73 billion*), a net sales compound annual growth rate (CAGR) of 7%, a core operating income margin of 15% and ROE of 15% in 2020. As the company works towards achieving its goals, it has been making a strong progress in India.
On this occasion, Mr. Takahisa Takahara, Global CEO, Unicharm, said, "India is special to us and the love that we've seen here over the past 10 years is overwhelming. Driven by our NOLA & DOLA philosophy, the team has been able to develop products by understanding the needs of consumers and bringing the best hygiene practices, powered by Japanese quality and experience. I am excited to be a part of this important milestone which marks our 10th year in the country and expansion of our operations. "
Mr. Kenji Takaku, Managing Director, Unicharm India, said, "We are delighted to be a part of this historic event. With the opening of our plant in Ahmedabad, we have taken our commitment towards India to a new high. We are also dedicated towards the hygiene and health of the Indian community and aim to deliver quality products and services that customers in India expect. The expansion of our manufacturing base will also open the door for the employment generation and local sourcing in the country. Our partners and consumers have been integral to this incredible journey and we are grateful for their continued love and support."
The company statement said, 'Unicharm is committed towards bringing a positive impact in the local community. The company has been running various educational programmes across India to create awareness around baby hygiene and menstrual hygiene which are in line with the government's focus on promoting hygiene. The company has impacted lives of people, especially infants and mothers, through 1000 engagement sessions on baby hygiene across 300+ locations in Mumbai, Delhi-NCR, Kanpur, Varanasi, Lucknow and Kolkata. It has also educated 2 lakh girls in 1000 schools across India on best menstrual hygiene practices.'
DeshGujarat