Even as normal time of withdrawal of Monsoon (September 15) is just couple of days away, Gujarat still to get over 1/4th of its average rain
September 13, 2018
Ahmedabad: Even as the normal period for start of withdrawal of monsoon from Gujarat is just two days away (September 15 is the normal date), this western state is still deprived of more than one fourth of its average rainfall this year.
However the only silver-lining is that for the past several years (since 2011 to be precise) the onset of withdrawal of monsoon in the state (Which starts from Kutch on September 15 and the process goes on for several days) has been delayed.
Gujarat till date has received only 73.87% of rain and it seems less likely that it would complete its normal quota this year with no likelihood of any good monsoon rain in the coming few days.
Kutch region has seen only 26.51% and two of its talukas have seen less than 10% with Lakhpat so far seeing as low as 3.44%. Rapar has seen 5.65%. The third such taluka (only three were in single digit figures) was Vav in Banaskantha district of North Gujarat with 5.56%. North Gujarat as a region has also seen only 42.93% rain so far.
East Central Gujarat has seen 66.83%, Saurashtra 72.20% and South Gujarat 94.79%. In percentage terms Gir Somnath with 139.85% was at the top while in actual amount term Valsad 2263 mm (101.69%) was number one. Navsari (109.77%), Bharuch (101.84) and Anand (101.80) were the other three districts of more than normal rain so far. Surat, Dangs and Junagadh have seen over 90%.
A met official today said that last year the monsoon had arrived in Gujarat on June 12, three days before normal date of June 15 and the withdrawal had started from September 27, almost 12 days after the normal date. The total rainfall last year was more than 110%.
This year the monsoon had arrived almost a week late on June 22. If it is delayed this year also and a few good spells occur, the gap can be filled to some extent.
Due to scanty rain the state government has ordered release of Narmada water in irrigation canals to save the standing crops in various regions.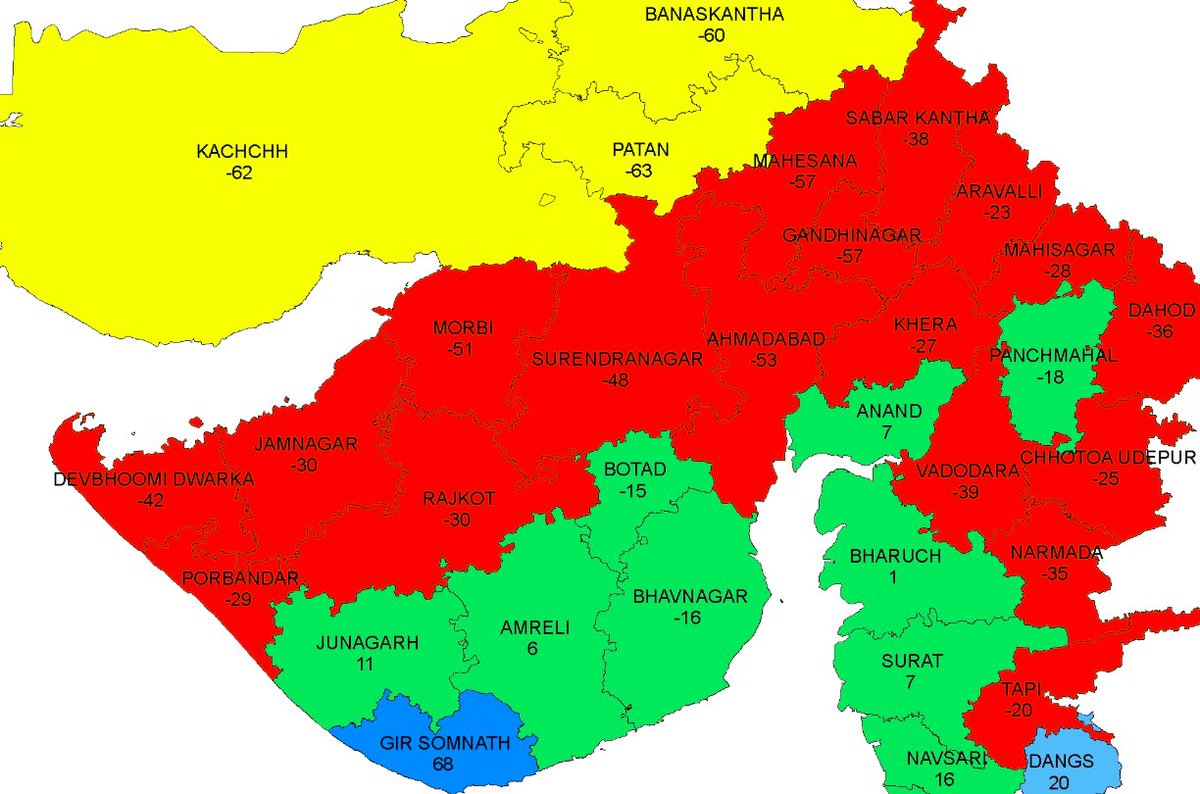 DeshGujarat