Garba of Gujarat enters White House ; Modi, Biden, First Lady of U.S. watch it together
June 22, 2023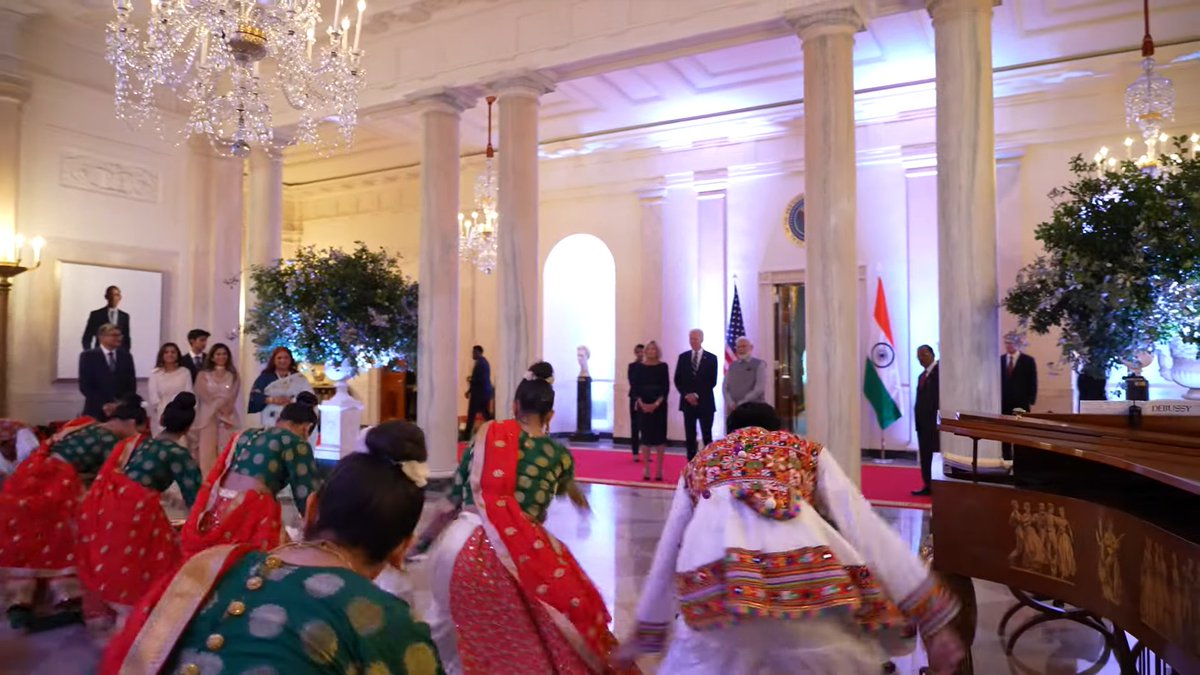 Washington DC: Prime Minister Narendra Modi's visit to the United States witnessed a cultural exchange today as the White House resonated with the rhythms of Garba, a traditional Gujarati folk dance.
The captivating performance took place within the halls of the White House, with President Joe Biden and First Lady Jill Biden in attendance, experiencing the vibrant display alongside PM Modi. As the colourful and rhythmic Garba dance enthralled the audience, PM Modi was also seen taking a moment to personally explain the significance of the Garba to President Biden.
In a tweet later, PM Modi shared a glimpse of his visit to the White House, expressing gratitude to the President and the First Lady for the warm reception and hospitality extended to him.
Thank you for hospitality, @POTUS @JoeBiden and @FLOTUS @DrBiden. pic.twitter.com/m1z2GcHrw9

— Narendra Modi (@narendramodi) June 22, 2023
Earlier in the day, Prime Minister Modi's visit was marked by a meeting with First Lady Jill Biden and a visit to the National Science Foundation in Alexandria, Virginia. The day culminated in a private dinner hosted by President Joe Biden in Washington, DC, where Jill Biden revealed details about the forthcoming state dinner at the White House, to be jointly hosted by herself and President Biden in honour of Prime Minister Modi.
This visit has been a series of notable events, with Prime Minister Modi having led the International Day of Yoga celebrations at the United Nations Headquarters in New York during the initial leg of his US visit. As the second phase unfolds, PM Modi is set to engage in bilateral discussions with President Biden and deliver a speech to a joint session of the US Congress, solidifying the diplomatic ties between the two nations. DeshGujarat