Holy month of Shravan begins, Gujarat gears up for series of festivals
August 07, 2013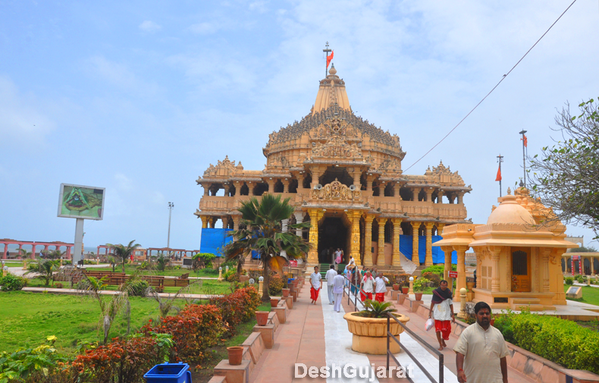 By our correspondent, Somnath, 7 August 2013
Holy month of Shravan begins today. Besides thousands of small Shiv mandirs, Gujarat has two Jyotirlinga – Shri Somnath mahadev mandir at Somnath and Nageshwar mandir near Dwarka. Both will attract lacs of visitors during the holy month which ends at 5th of September.
The month of Shravan will witness several festivals. Raksha bandhan will be celebrated on 20th of August, Nag panchami on 25th, Janmashtami will be celebrated on 28th. If we consider other public holidays and festivals which are not related to Shravan but falls in Shravan this year – Ramzan Eid will be celebrated on 9th of August, Independence day on 15th and Parsi new year Pateti on 18th.
During Shravan month, large section of Hindus in Gujarat observe fasts. Many sants and sadhus choose to consume only fruits and milk during this entire month. Some Hindus choose to grow beard. Particularly on every Monday, Shiv mandirs attract large number of visitors. Many of them offer milk to Shivalinga. At Somnath, one has to be ready to stand in a long queue for darshan particularly on Mondays of Shravan month. Many villages witness fairs during Shravan, particularly on the last Monday of Shravan.
Track all news and features of Shravan month on http://deshgujarat.com/tag/shravan .We have escalated 'faith' category to front page ajex menu for easy accessing of religious news and features.
Photos of Somnath mandir on first day of Shravan