Prominent philanthropist Dipchand Gardi passes away, Modi expresses grief and sorrow
January 07, 2014
Mumbai, 7 January 2014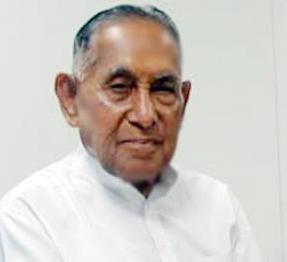 Gujarat's one of the prominent philanthropist Dipchand Gardi is no more. He was 98.
Born on 25 April, 1915 Shri Gardi donated crores of Rupees for various education institutes and hospitals across western India.
His family runs Rukshmaniben Dipchand Gardi medical college and 1,000 bed hospital in Ujjain. He was the biggest donor of Saurashtra University.
He was honored with doctorate by Saurashtra University. The state government had given him the status of state guest. He was instrumental in setting up Sharda gram sankul in Mangrol.
Dipchandbhai's son Rashmibhai is doctor in America. His second son Hasmukhbhai is solicitor in Dubai. Dipchandbhai's grand son Binoy manages grandfather's work.
Gujarat Chief Minister Shri Narendra Modi expressed grief and sorrow over sad demise of Shri Gardi.
Congress leaders Ahmed Patel, Arjun Modhwadia and Shankersinh Vaghela have also condole the death of Shri Gardi.
Gujarat's Muli village is observing bandh today to condole Shri Gardi's death.
Some of the initiatives:

-Dipchand Gardi chair in north Gujarat university
-Dipchand Gardi school in Padadhari(Rajkot)
-Dipchand Gardi Dharmada Trust iin Mumbai(to help poor patients)
-Dipchand Gardi Seva Ratna award
-Dipchand Gardi old-age home near Rajkot
-Rukshmani Gardi blood bank
From his interview published in a Gujarati daily four years back:
At the age of 12 he sought capacity to donate every day Rs. 1,000 before Mandavraiji idol at Mandavraiji mandir near Muli in Surendranagar district of Gujarat. In young age, he came to same mandir again and sought blessings to have a capacity to spend daily Rs. 1 lakh to serve the society.
Shri Gardi told interviewer:
-I am 94 and healthy, but I never did exercise, and my food habits were irregular. Sometime I would take dinner at 2.00 am.
-I have no golden ring either in my finger or in my cupboard. I can live with one pair of shoes for eight years. If someone gives opportunity to serve, I thank him.
-I have not seen any play or film. I am not member of any club in Mumbai. Life is an art. There's no pleasure greater than service to needy.
-When Indira Gandhi was PM, Maharashtra's then leader Vasantrao Patil came to my place and requested me to accept a very prominent position, but I refused him, because it could obstruct my daily routine of meeting needy people at 11.00 am onwards.