A memorial dedicated to the battle of Bhuchar Mori ready to open
September 03, 2015
Jamnagar
Then Chief Minister Shri Narendra Modi had laid foundation stone for Bhuchar Mori Maha Yuddh memorial at Dhrol in Jamnagar district in year 2007.
The present Chief Minister will inaugurate the memorial on Friday, September 4.
The memorial has been developed by Shri Bhuchar Mori Shahid Smarak Trust and Akhil Gujarat Rajput Yuva Sangh.
7.1/2 ft tall statue of Vir Shahid Patvikunvar Jam Ajaji will be unveiled on this occasion. Horse race, sword show, Shaurya raas will be performed during the programme.
About Bhuchar Mori battle: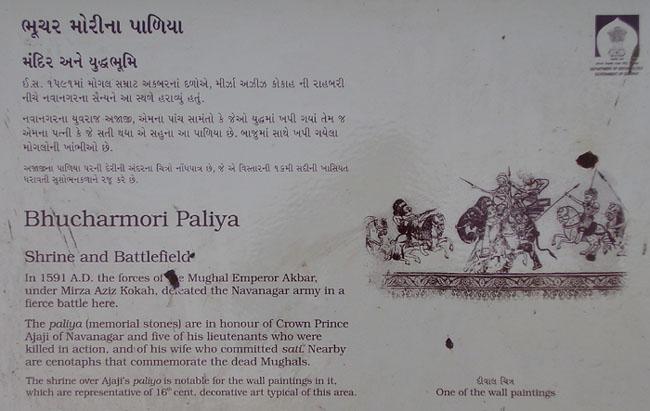 A fierce battle at Bhuchar Mori was fought in 1591 A.D(according to gujarati calendar Vikram Samvat 1648), which is on the outskirts of Dhrol, near Rajkot between the forces of Jam Sataji, the ruler of Nawanagar state(currently known as Jamnagar) , and Mirza Aziz Kokah, the Suba (Governor) of Emperor Akbar in Gujarat during the Mughal Era .This depicts the bravery and Rajput tradition or Dharma. Nahnoo Muzafar Shah III, the Sultan of Gujarat, having lost the battle against Akbar, was seeking asylum from princely states. and Jam Sataji offered him asylum. Emperor Akbar, got angered by this and deputed Aziz Kokah with his warriors, weapons and infantry to capture Muzafar alive.Jam Sataji the ruler of Nawanagar remained determined on protecting Muzafar true to his Rajput Dharma (tradition).In the unavoidable war that followed, lakhs of soldiers from both sides laid down their lives, fighting bravely. Javerchand Meghani in his book Samarangan said that, when the battle ended, the blood from the bleeding bodies flowed like a river and and it changed the whole color of the earth over there into red which is still the color of soil at the place
Some of the Paliyaa (memorial stones) are still planted in the memories of the brave Rajput soldiers who martyred during the war. There's also a memorial stone of Kumar Ajaji, the brave son of Jam Sataji( The ruler of Nawanagar), who left his Marriage midway for Bhuchar Mori along with the guest who came to attend the marriage ceremony. During the battle Kumar Ajaji the Rajput Prince fought bravely before falling in the battle field. The bride, insisted on committing Sati, self-immolating herself with the head of her beheaded husband in her lap. Jesaji Vajeer was an adviser and also a very close friend of Jam Sataji. He led from the front and fought relentlessly till his lat breath. Naag Vazeer was son of Jesaji Vazeer and childhood friend of Kumar Ajaji. During the battle of Bhuchar Mori even though both his arms got chopped off, he continued to kill people. Maheramanji Dungarani, Dahya Lodak and Bhanji Dal were the other close aides of Jam Sataji who gave up their lives. Poet Jhaverchand Meghani has written a book called Samarangan(the battlefield) in 1938 to narrate this epic battle.