Gujarat CM dedicates Sir PN Road, Veterinary clinic built by Reliance at Jamnagar
January 21, 2016
Moti Khavdi, Jamnagar
Chief Minister Anandiben Patel today dedicated Reliance Industries Ltd's Corporate Social Responsibility(CSR) projects that include a main district road and veterinary clinic.
A 30-km long all-weather road which has been named as Sir P.N road connects State highway number 25(Jamnagar-Dwarka) and State highway number 27(Jamnagar-Porbandar) or in other words Padana Patiya to Changa Patiya. Several villages and Reliance refinery is located on both sides of the road. This road has eight small bridges and two major bridges at Sasoi(272 meter) and Panna(100 meter) and two railway crossings. The road will be helpful as alternative highway to reach Dwarka from Rajkot bypass.
Chief Minister dedicated this road at Padana Patiya in presence of Minister Shri Babubhai Bokhiria, RIL group president and Rajay Sabha MP Shri Parimal Nathwani and Senior Vice President Shri Dhnraj Nathwani among others.
Chief Minister also visited Pashu Chikitsalaya (veterinary clinic) for its inauguration. Amid chanting of mantras the veterinary clinic was opened after Gau Puja.
The clinic will provide free of cost diagnose and treatment services.
Equipped with laboratory, laminar flow, hot air oven, incubator, operation theater, auto clave, surgical equipment, animal weight machine, pharmacy, animal shade, stable, fire safety equipment, the clinic has also facilities of mobile clinic and specially developed ambulance. Jamnagar has total 8.25 cattle. The clinic and mobile facility will serve daily 3-4 villages. This 24-hour clinic has 2 doctors, 3 assistants and caretakers/govaals. Training camps, awareness and education activities.
Local MP Smt Poonamben Madam was present on this occasion.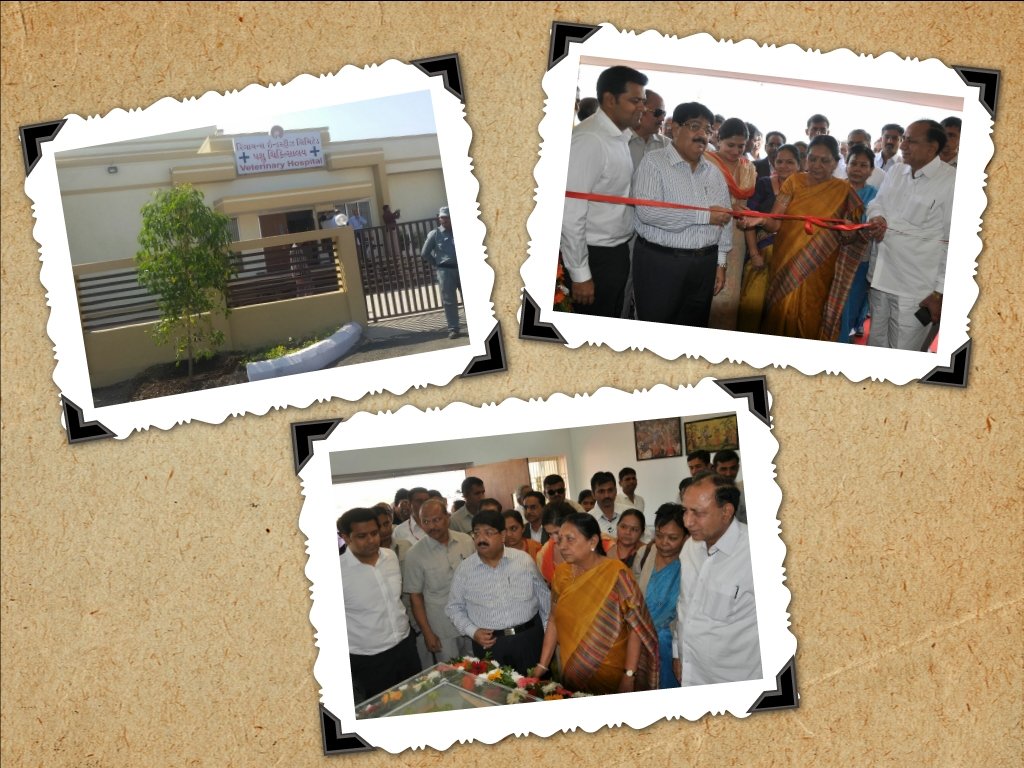 Shri Parimal Nathwani in his address gave credit of these works to Reliance team members and Chairman of the company Shri Mukesh Ambani.
He said the highway road has been built at a cost of Rs 86 crore. There was no veterinary clinic in this area and therefore it has been built by Reliance under CSR activity. District Collector has recently cleared a land to develop 40,000 square ft medical center (hospital) in Khambhaliya mainly to serve the victims of accidents in this area. Reliance team will develop this medical center.
Nathwani said whether it's BJP or Congress, development should be our aim.
He said Reliance spend Rs 1 crore under Corporate Social Responsibility works in each village located next to it every year. The company does CSR activity as per the suggestion of villagers. There's Samras atmosphere in this district. Generally we find disputes between the Industry and its neighbors. We believe that villages located next to our plant are our neighbors. They are with us, they will be with us and we are with them.
Shri Nathwani praised the Chief Minister for her experience and contribution in each area, her day and night work without caste and class bias, her visits to district and her development works in Gujarat at a speed of cyclone.
Shri Nathwani handed over the road built by Reliance to state government by offering a certificate to Chief Minister. On naming the road as Sir PN Road, Shr Nathwani said that Reliance officials and Chairman Shri Mukeshbhai lovingly call him Sir PN, and therefore the road has been named as Sir PN.
Rs 25 lakh cheque was handed over to Chief Minister for Chief Minister's fund for Swachchata.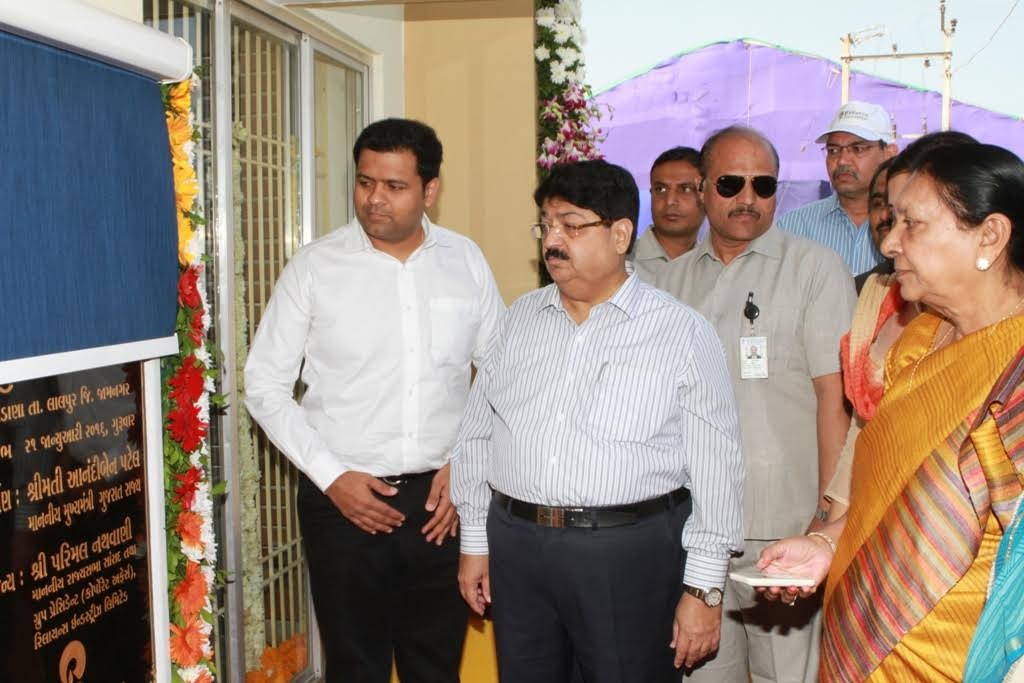 Chief Minister Anandiben Patel in her speech said the road has been handed over to the state government, but she expects that maintenance of this road should be done by Reliance only.
"What could be the scenario of this district if Reliance was not there," the Chief Minister said starting her speech.
She said the new road will make it possible to travel to Dwarka from Rajkot side bypassing the city of Jamnagar.
Chief Minister took note of Reliance's social, health related and other rural development works in her speech.
The Chief Minister expressed pleasure that while nationwide there's decline in number of cattle, in Gujarat there has been increase in number.
She shared details of new agriculture insurance scheme's benefits. She also spoke about state governments' recent decision to allot land to new APMCs at 10% coast of Jantri.
Chief Minister spoke about importance of skill training for youths for better employment opportunity. She said this year 50,000 job openings will be there in the government. One who becomes Talati can become Prant(province) Officer in future. One who be becomes constable can become SP in future.
Jamnagar city Mayor, ex-Mayor, district BJP president, minister of state Vasuben Trivedi, local MLAs and dignitaries were present on this occasion in function.
– DeshGujarat

Official communication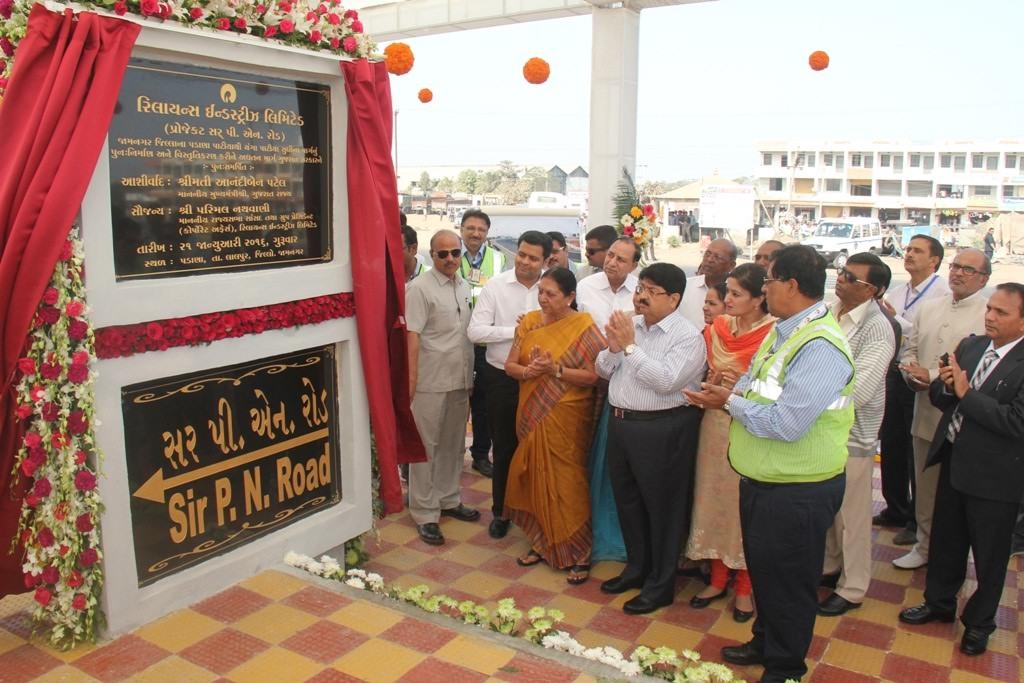 Gujarat chief minister Smt Anandiben Patel inaugurated Veterinary Hospital and Road from Padana Patia to Changa Patia built by RIL on Thursday. The inauguration has added two more projects of Reliance for the welfare of the people of surrounding villages of the world's largest refinery complex.
Road from Padana Patia to Changa Patia (Project: Sir PN Road): RIL has constructed a 30 kilometer long road for State Government's Road and Building Department. It connects Panada Patiya on State Highway 25 and Changa Patiya on State Highway 27. It is a two-lane all weather road, which can be expanded as a four lane road. The road is built at cost of
Rs. 86.96 crore. The road connects 8 villages and provides direct benefit to more than 2 lakh people. Moreover, two major bridges have been built to cross rivers the Panna and the Sasoi. Besides, 8 minor bridges and culverts have also been constructed. The Road crosses railway tracks at two places.
The construction of this link road will improve connectivity of the 8 villages with other villages and also Jamnagar and Dwarka, etc. It will reduce travel time and provide quick access to the emergency services, market places, health facilities, educational institutes, etc. It will help in bridging the urban-rural rift. This road will allow the commuters to bypass Jamnagar city, while commuting between Rajkot and Dwarka. As a result, Jamnagar city will witness fewer vehicles entering into the city leading to reduction in traffic and congestion and pollution.
Veterinary Hospital: Animal Husbandry is one of the important means of livelihood for people in Gujarat. Reliance has patronized many Gaushala (Cow Sheds) in the villages located on the outskirts of the refinery. Taking into consideration the need to provide timely treatment to the livestock, Reliance Jamnagar has created an only of its kind veterinary hospital. Located on a newly constructed road from Padana Patia to Changa Patia (Project Sir PN Road) by Reliance in proximity of State Highway 25 and Padana village, the Veterinary hospital building is spread over 13456 square feet land.
The facility consists of main hospital building, cattle shed, stable, bio-medical waste room, fodder storage and staff quarters equipped with modern amenities. Besides, residential quarters have been constructed for doctors and paramedical staff and thus the service is made available 24X7. The hospital is equipped with x-ray room, laboratory, pharmacy, operation theatre, library and other associated infrastructure.
Along with the veterinary hospital, service of a mobile veterinary van will be made available to take care of animals at their doorsteps on regular basis.
On this occasion, RIL's Group Senior Vice President (Corporate Affairs) Shri Dhanraj Nathwani presented a cheque of Rs25 lakh to the Chief Minister's Swachchhata Nidhi to support cleanliness drive.
Shri Nathwani, on this occasion, also declared to build, maintain and operate a modern hospital in 40,000 square feet area for the villagers of the surrounding area. He thanked the Government of Gujarat for sanctioning this project and giving opportunity to Reliance for implementing the same.
Chief Minister of Gujarat Smt Anandiben Patel also visited Reliance Industries Ltd's SEZ refinery and obtained details of the world's largest grassroot refinery.
Along with Agriculture Minister Shri Babubhai Bokhiriya, High and Technical Education Minister Smt Vasuben Trivedi, Jamnagar MP Shri Poonamben Madam, MLA Shri Dharmendrasinh Jadeja, Shri Chimanbhai Sapariya and Shri Meghjibhai Chavda, senior officials of the state government and senior officials of RIL attended the function. The inauguration function was attended by more than 2500 resident of the villages in vicinity of the refinery.