'Double-bonanza' this Uttarayan; cold-wave to take brief brake, wind likely to blow at good speed
January 13, 2017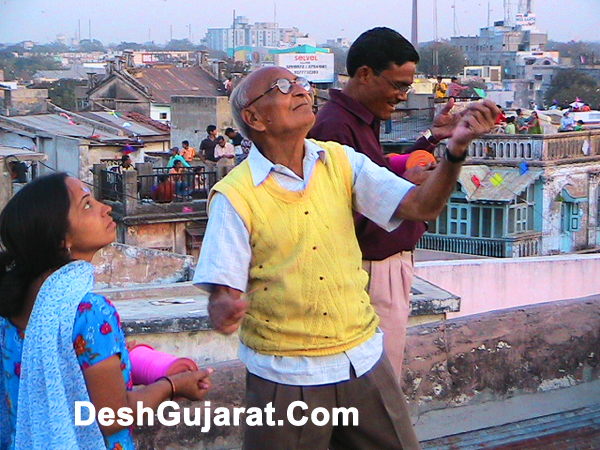 Ahmedabad: There is good news and a 'double bonanza' of sorts for Amdavadis this Uttarayan, weather-wise.
In the city, where presence of 'wind' becomes more of a concern than improvement in temperatures, on this festival of kites, there seems to be a double bonanza this time around; the biting cold-wave will vanish and the wind will be good.
The met department today that the cold wave conditions will take a brief brake exactly on the days of Uttarayan and Basi Uttarayan (on January 14 and 15). And what is more the all-welcome wind is not going to vanish.
Ahmedabad Met center Director Jayanta Sarkar today said that the average wind speed is likely to 12 to 15 km per hour on the coming two days. It will be mostly Northeasterly to Easterly. 'At times the wind speed will go up and at time it might come down a bit', he said adding that the cold wave is also going to vanish from today and after a brief brake, it is likely to recur after January 16.
'The system which had caused the cold-wave conditions during the last two days has eased up now, so there won't be any further dips in temperatures in the next 2 days , however, owing to another system over Jammu & Kashmir the cold-wave might return after January 16,' the met Director said.
Normally for a good kite flying experience the wind speed of 10kmph is fine. Innumerable colorful kites soar high-up in the sky of Ahmedabad and elsewhere in Gujarat on Uttarayan and Basi Uttarayan.
Two local kite lovers Prakash Dave and Parin Patel said that 'wind' takes the center-stage of discussion on the eve of Uttarayan. 'Wind makes us all so happy and kites fly higher on these two days when these flying pieces of papers (kites) actually represent the 'joy and mirth' of people. Lack of wind means lack of joy, so we are all very happy and bracing ourselves up for some good 'kite-fight' also from our roof tops, he said.
Meanwhile in the last 24 hours, Vadodara with a minimum temperature of 6.5 degree Celsius left Naliya (6.8) behind to become the coldest place in Gujarat, The minimum temperature there was 6 degree below normal. In Ahmedabad the temperatures slightly improved with minimum temperature of 11.1 degree C (yesterday it was 10.6).
In last 24 hours the Minimum and Maximum temperatures at various places was recorded as following –
AHMEDABAD 23.8, 11.1, RAJKOT 26.8, 12.1, DEESA 24.8, 7.0 VERAVAL 28.0,12.0, VADODARA 25.2, 6.5 BHUJ 28.5, 10.2, SURAT 27.0, 12.6, NALIYA 27.4, 6.8 KANDLA 25.9, 14, AMRELI 26.0,8, BHAVNAGAR 24.4, 15.4 DWARKA 26.4, 14.4.
DeshGujarat