Goondagiri by Hardik Patel and supporters at Surat college
March 10, 2017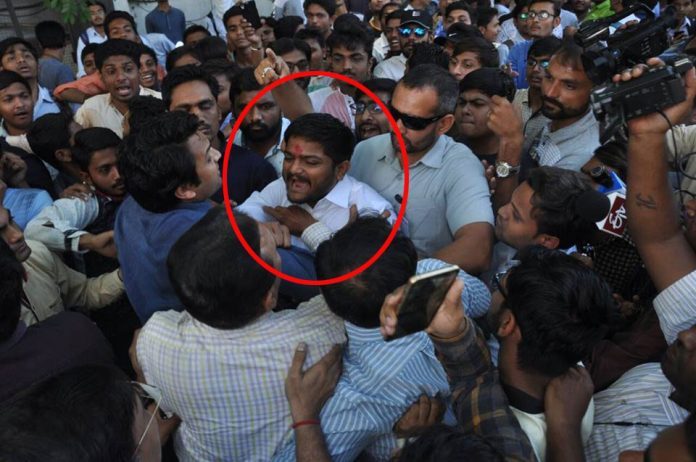 Surat: In another instance of open goondaism displayed by Patidar Anamat Andolan Samiti leader Hardik Patel and his supporters, a college principl was kicked in stomach within the college campus.
The incident took place at Dharukawala college in Kapodra area of Surat on Thursday. Hardik Patel and his supporters including Alpesh Kathiria who is wanted by police reached Dharukawala college and insisted that he and his supporters should get entry inside the campus. Hardik and supporters smashed the gate and entered inside the campus where exam was going on. When trustee Babubhai requested them not to enter inside as exams were going on, he was kicked at his stomach. Hardik Patel himself also started manhandling the college professor and principal who were trying to rescue Babubhai from PAAS goons. Meanwhile police rushed to the college and safely rescued professor, trustee and principal from the hold of PAAS goons.
Neither the trustees have filed police complaint in this matter, nor police have detained or arrested anyone. Hardik and goons had created the atmosphere of fear in the college campus.
Hardik was in Surat for weekly appearance at Crime Branch as per the court directive.
It is learnt that one student Vaibhav Vatalia had invited Hardik and his supporters to speak in college campus. When college administration came to know about this, it called Vaibhav to college office and told him that when exams were going on, Hardik can't be allowed to speak in the campus. Any such programme should take place outside the campus.
Hardik and other PAAS cadres made an issue out of this. They claimed that PAAS cadre student was harassed by college management and pressurized to pull back from agitation activities.
Hardik is booked by Gujarat Police for number of offenses in different cases of crime. He is on conditional bail at present.
DeshGujarat