Second Astronomy Festival to be held in Ahmedabad on 21-23 April
April 11, 2017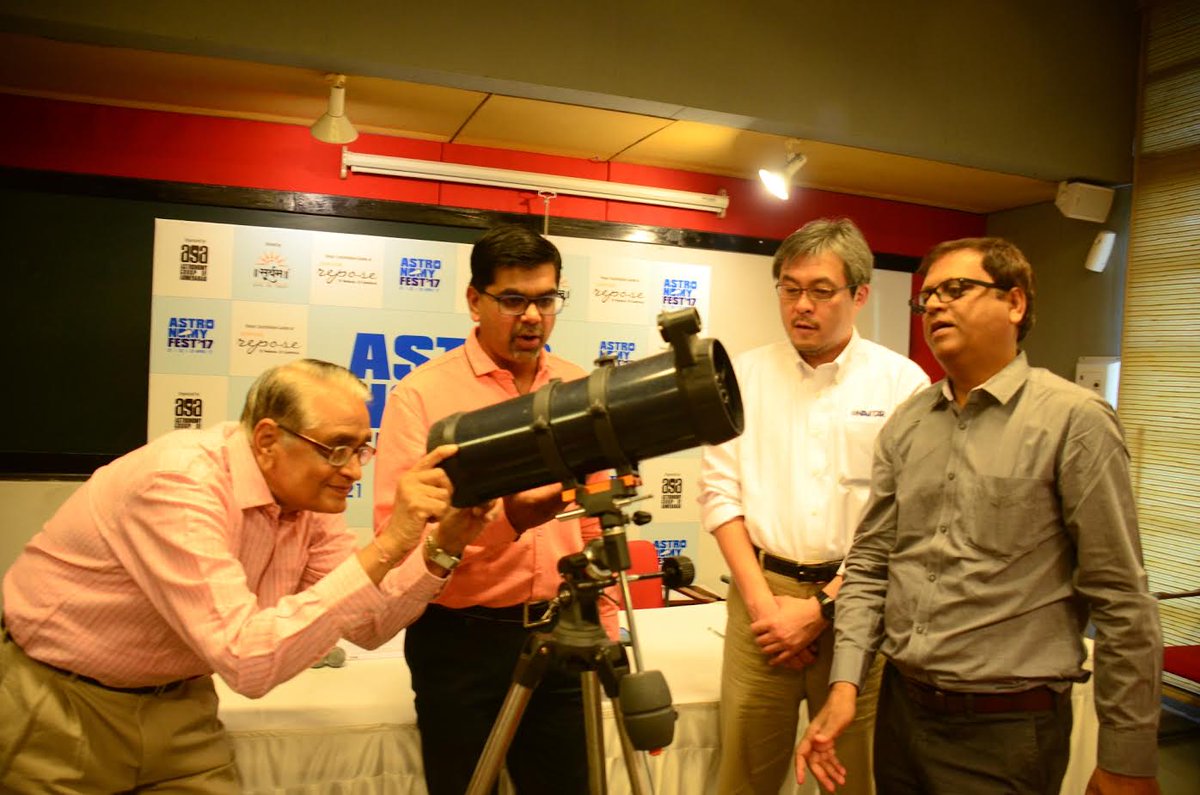 Ahmedabad: Astronomy Fest- 2017 will be held in Ahmedbad during April 21-23. The celestial aura of the universe will unwind as a diverse range of activities and workshops will satiate the astro-inquisitivity of Gujarat. Organised by the Astronomy Group of Ahmedabad (AGA), the galactic event will be held at the Constellation Garden at Suryam Repose, near Thol Village in Ahmedabad. The festival has been curated by well-known astronomer and science Communicator, Mr. Dhananjay Raval.
Dr Anil Bhardawaj, Director, Physical Research Laboratory (PRL) Ahmedabad will be chief guest at the 'Astronomy Fest 2017'.
'Astronomy Fest 2017' Highlights
·      Display of meteor dust particles, Dinosaur egg and Dinosaur bone in this event with detailed descriptions
·      Display of a magnificent sundial along with a detailed description of the ancient time-tracking system.
·      Sky watching at crystal clear dark sky location with various types of telescopes
·      Full dome planetarium film festival
·      Lecture series by famous scientists
·      Talk show by amateur astronomers
·      Astronomy model making workshop
·      Day time astronomy
·      Feel the nature- activities include feeling Aroma and Labyrinth Garden
"The first edition of the Astro-fest had brought to our attention an unquenchable curiosity among Amdavadis to dig deeper into the vast knowledge store of the outer space. With the huge line-up of exhibits, sky watching activities, films, lectures, workshops and more, the 2nd Astro Fest will be counted as one of the most unforgettable and unique experiences of 2017," said Mr. Dhananjay Raval, President, Astronomy Group of Ahmedabad (AGA).
Activities like nature trail, model making and day-time astronomy at the Astro-Fest, 2017 are organized at the venue. Nature activities such as 'feeling aroma garden' and 'feeling labyrinth garden', full-dome planetarium films, experts-led sessions and night sky watching will keep all enthralled.
Noted experts from cult institutions such as Dr. Hari Om Vats, Prof. Narendra Bhandari, Dr. Vishal Joshi from PRL, Prof. Ramesh Pandya and Dr. C. M. Nagrani from ISRO are expected to grace the sessions. Dr. Brij Mohan Thakore from S. P. University and Ar. Kapil Agrawal are also likely to attend. The event is open to all above 6 years of age.
The Astronomy Fest, 2017, is being hosted by the Suryam Grou. The Constellation Garden at Suryam Repose, a weekend home project of the Suryam Group has been dedicated exclusively for the event.
DeshGujarat