Top rank of RSS including Dr. Mohan Bhagwat in Ahmedabad
April 15, 2017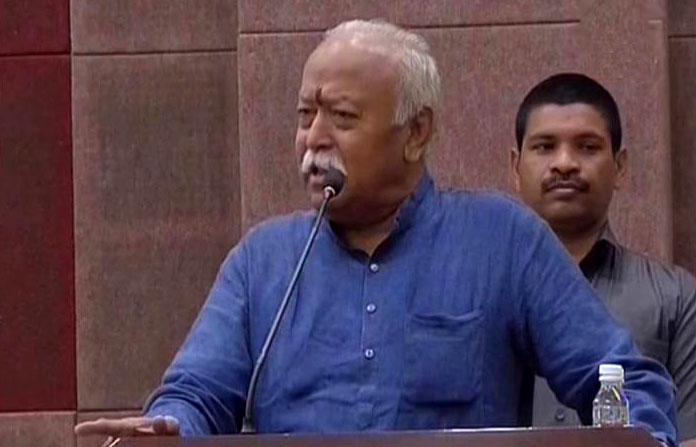 Ahmedabad: Entire top rank of Rashtriya Swayamsevak Sanngh(RSS) barring Shri Bhaiyyaji Joshi is in Ahmedabad today. RSS chief Mohan Bhagwat along with Shri Sureshji Soni and Dattatreya Hossable are attending Bharatiya Vichar Manch's two-day national seminar on 'Decolonisation of Indian Mind' at Prakash High School auditorium in Vastrapur area of city in presence of over 600 other participants, of whom nearly 300 are from Ahmedabad.
Shri Bhagwat was on the stage in the opening session of this seminar in which Shri Sureshji Soni gave key note speech. Shri Bhagwat, Sureshji Soni and Dattatreya Hosabale attended lectures delivered by Professor Kapil Kapur(Retired, JNU), Indumati Katghare and others sitting in audience.
Professor Makrand Paranjape, Dr. Prasann Deshpande, Dr. Rakesh Mishra, Professor Rakesh Sinha, Dr. Chandrakapash Trivedi, Dr. Shankar Sharan are among others who are going to address the seminar which will conclude tomorrow at 6.00 pm with concluding speech of Dr Mohan Bhagwat.

From Shri Sureshji Soni's address(highlights in rough translation):
– In India, a building block of all formations is family. Varieties have origination in one. Confrontation is not obvious situation. We have 'Brahmatva' in which man, woman, sur, asura everything merge. Family is root element of India. In European sociology, individual's liberty/rights is supreme element. If there's no adjustment with my happiness, the institution breaks down.While Poland, Russ etc couldn't stay united because various ethnic groups couldn't stay together, in India we stay together. Even in India identity resistance is going on these days including that of Patidars, Jat etc. Our ancestors have said that Astitva(existence), Asmita(pride) are fine but Ahankar(ego) should not come in-between.
– Exploitation became instrument because of the mentality that progress will be achieved only through lobh and lalach. Daya, Karuna are not worth, they are useless things obstructing progress.
– What is 'rule of law'? Around 1,000 years ago, in order to rule the aboriginals of Britain, 'rule of law' was introduced to separate them from natural resources. Rule of Law works through only two factors – argument and evidence. So what if you are innocent, if you can't put proper argument and evidence, you will be termed as guilty. While argument and evidence are only two things that matter in court, morality is not considered at all in present rule of law.
-The way urbanization is going on in Gujarat, it is possible that in next ten years, Gujarat will be 70% urbanized state. We have belief that village is family. What shall we say for urban India? Apartments or residential society as family?
– Year 2014 victory of BJP indicated not just another political victory but it indicated change in people's mentality. By 17th of May in 2014 the verdict was very much clear and on 18 May 2014 the British daily Guardian's editorial said: Britain has finally left India. Britishers ruled India through some thoughts which continued in India even after they Britishers left India. But now there's a change. The British daily observed.
-Whenever we want to change something, we have feeling of conflict with it. Everything on their side is wrong, and everything on our side is right. We think in such term. The journey of time doesn't go in reverse direction. Whatever was there will not return. It's not true that everything in old time was good and everything in modern time is bad. Deendayalji used to say that take 'Baaharka deshanukul karke lijiye aur desh kaa yuganukul karke lijiye.'
-Indians, wherever they went only brought love and peace contrary to west that finished the aboriginals in Australia and America, captured the land and developed it. Now time has change, the early tactics can't be executed in countries like India, and therefore the attempts of manipulative practices remained only way out for them.
-When Romans broke temples of Jews, India offered Jews shelter. Fire worshipers Parsis were given shelter by India. When Israel got freedom, it invited jews to come and settle in Israel from all over the world. Jews settled across the world for 18,00 years returned to Israel. 15 lakh Jews returned to Israel from 104 nations. There was a book published by consulate of Israel in India on this. The preface of this book mentioned Jews as quoting that wherever they stayed for shelter, they were harassed and faced genocide with only exception of India. That was because of seeds, values and darshanik concept of India.
DeshGujarat