Chennai airport's photo and day-long social media attacks on Ahmedabad airport! Big handles too proved Webkoof!
July 27, 2017
Ahmedabad: In common world, one who displays foolishness is called Bevkoof, and in the world of internet, one who shares, forwards, retweets fake details, meme or photograph is called Webkoof.
Look who were the Webkoofs today on twitter!
In year 2015, Chennai airport had suffered flood right on the termac. Various photographs of flooded Chennai airport were widely circulated on social media in those days.
Last night Ahmdabad witnessed over 7 inch rain. Some people today circulated year 2015 Chennai flood photograph as Ahmedabad airport picture.
Some big handles joined the bandwagon without applying mind or going through any check!
Gurgaon based private weather agency Skymet tweeted the photograph and attributed it to Ahmedabad airport.
Gujarati news channel TV9 Gujarati tweeted the photograph as Ahmedabad airport. The channel perhaps made same mistake on TV screen too.
All India Radio's Ahmedabad centre also dis same mistake.
Then went on usual baby cry of those anti-BJP or those anti-Gujarat model. They started attempting humor. Some said bring boat for Ahmedabad airport and some other said there should be seaplane deployed at Ahmedabad airport.
IndiaTimes used this photograph to show gravity of situation at Ahmedabad airport!
And here is India Today.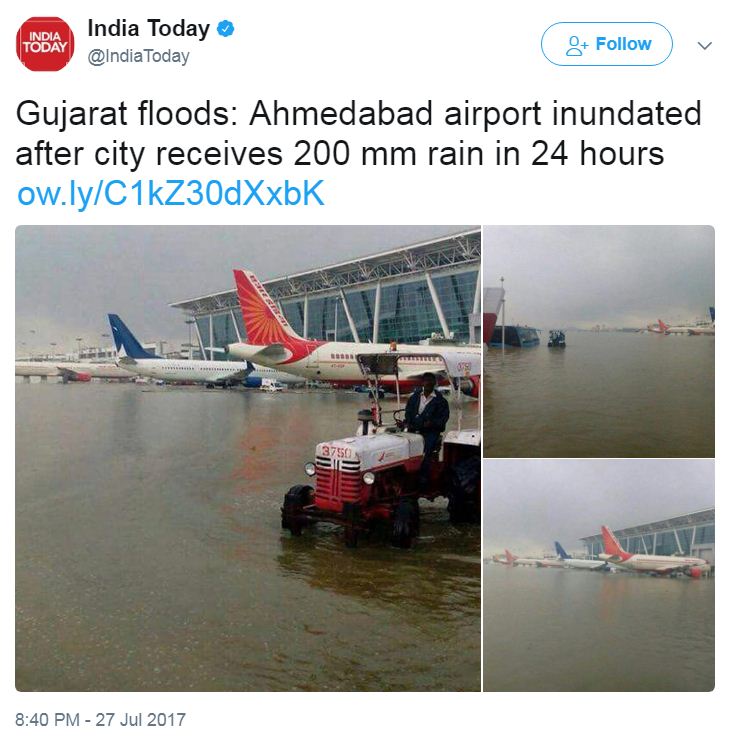 Congress cadre was obviously active, how you can expect Aapians to skip the opportunity?
That AAP IT incharge Ankit Lal to joined the bandwagon.
And what was the reality? The airport in photograph was about Chennai airport in 2015!
https://twitter.com/S118869/status/671957716319907840
PHOTO Flights to & from Chennai remain suspended as flash flooding floods Chennai Airport. #AirLiveNet pic.twitter.com/AbfrtERh16

— Brendan Grainger (@S118869) December 2, 2015
And the fact, Ahmedabad airport was functioning routinely today.
Read the story: https://t.co/lAPLJdcWGq
DeshGujarat