Major dailies publish Chennai airport flood photo as Ahmedabad flood, Smriti seeks explanation from PTI
July 28, 2017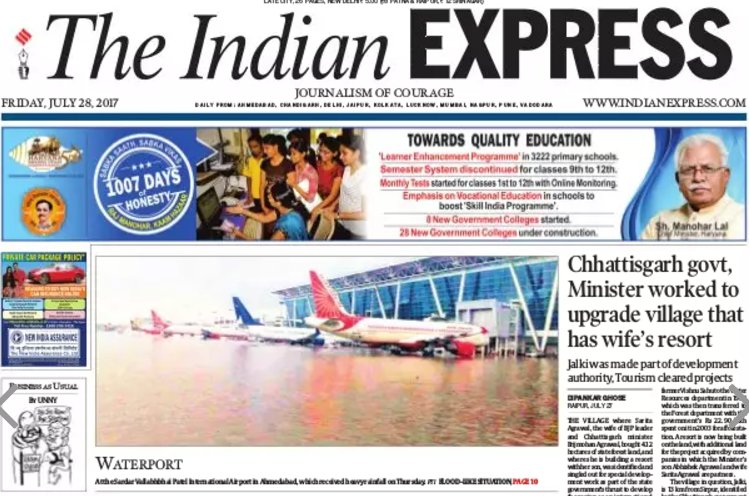 Ahmedabad: Union Information and Broadcasting minister Smriti Irani has sought explanation from India's premier news agency Press Trust of India(PTI) for circulating year 2015 Chennai flood photograph as Ahmedabad airport flood photograph.
Year 2015 December Chennai airport flood photograph was widely circulated on social media throughout yesterday as Ahmedabad airport flood picture. The city of Ahmedabad had over 7 inch rain yesterday. The photograph was published by various online news websites such as India Today and India Times. Both however removed the photograph as there was lot of protest on social media over this major error.
However news agency PTI picked up the photo as Ahmedabad flood picture and circulated it to newspapers. As a result some major newspapers have published it today prominently. The Indian Express has published this photograph on the front page across all editions. Gujarat Samachar, Hindu Business Line are among some other newspapers that have carried this photo as yesterday's Ahmedabad airport flood situation.
In this connection, union Information and Broadcasting minister Smriti Irani today tweeted:
Attention: photographs of Chennai flood have been used and passed off as Ahmedabad @PTI_News kindly alert all news establishments. It would be prudent @PTI_News to get an explanation as to how this happened.
The photograph was also tweeted by All India Radio News Alert twitter handle for which Prasar Bharti CEO Shashi Shekhar today in his tweet assured actions.
Attention: photographs of Chennai floods have been used and passed off as Ahmedabad @PTI_News Kindly alert all news establishments.

— Smriti Z Irani (@smritiirani) July 28, 2017
It would be prudent @PTI_News to get an explanation as to how this happened.

— Smriti Z Irani (@smritiirani) July 28, 2017