Fake call center involved in duping US citizens busted in Vadodara, 6 from Ahmedabad nabbed
September 20, 2017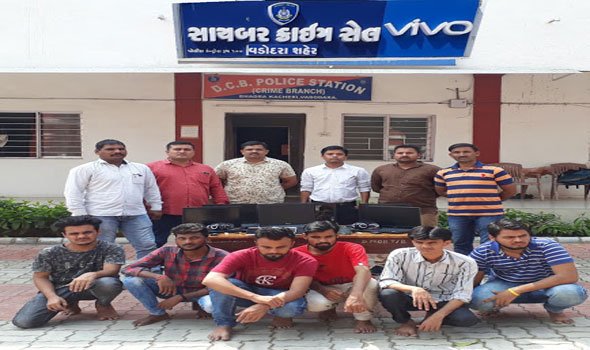 Vadodara: The crime branch of Vadodara police has nabbed six residents of Ahmedabad from a fake call center involved in duping US citizens situated in Gotri area here during a late night raid,' PI D J Chudasama said today.
He said that based on a tip off the fake call center being run from flat number B/101 in Viskanza apartment near Natubhai circle was raided past mid night. Six people identified as Aamir S Pathan (resident Suva Panki ni Chali Gomtipur Ahmedabad), Shahrukh J Khichi (res- Hakim ni Chali Bapunagar, Ahmedabad), Sajid Khan L Pathan (res- Vali ni Chal Bapunagar Ahmedabad ), Vilas L Somya (res-Sardarnagar Ahmedabad), Shivkumar A Yadav (res- Vatva Ahmedabad) and Rahul R Prajapati (res- Vatva Ahmedabad) were nabbed from the spot.
8 laptops, 7 headphones, one router and one magic jack along with some other items were recovered. Those nabbed were all paid employees of the call center which was being operated by jointly by Sohail Ansari of Bapunagar Ahmedabad, Hemantpal resident of Sararpur in Ahmedabad and a resident of Vadodara Kunal Rai. Police was trying to nab them as well.
Chudasama said that they used to call the US citizens in the name of well known finance companies GE capital and E Loan and dupe them with the help of magic jack device.
He said that detailed investigation to find out as to how many US citizens they had duped and what was the amount involved was going on.
DeshGujarat