Times Now – VMR opinion poll predicts 118-134 seats to BJP in Gujarat
October 26, 2017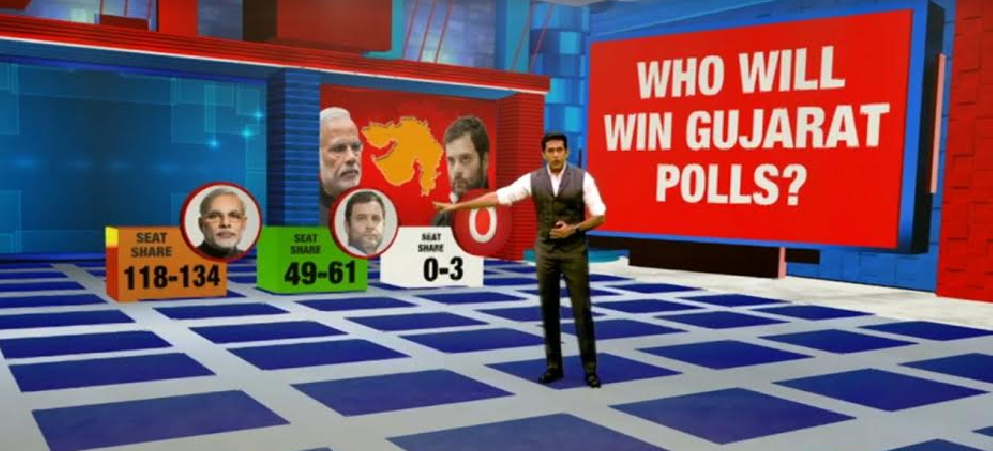 New Delhi: The English news channel Times Now in collaboration with VMR in its opinion survey conducted across Gujarat ahead of the Gujarat Assembly elections predicted an upper hand for the BJP. The survey is based on a sample size of 6,000 respondents spread across all regions of the state. The survey has a margin of error of plus, minus 3 percent.
The survey projects that the BJP could secure around 118-134 seats (52 percent of votes) in the Gujarat assembly elections. The Congress could secure around 49-61 seats (37 percent votes).
BJP is predicted to increase its vote share by a significant 4 % compared to previous assembly polls. When compared to its performance in the 2014 General Assembly elections. There is a noticeable drop in BJP's vote share as well, from 60 % in 2014 to 52 % in 2017.
Around 46% of the respondents believe that the proposed Sardar Vallabhbai Patel statue enhances the 'Gujarat Asmita' while 21% believe that it is merely a poll stunt.
Around 81% of the respondents stated that they will continue to vote for the BJP in Gujarat because Prime Minister Narendra Modi is the son of the soil. In 2012, this sentiment was at 60% which means Prime Minister Narendra Modi has brought 20% extra strike rate confirming Gujarat takes pride in Narendra Modi's Prime Ministerial status.
Earlier, an opinion poll conducted by ABP News had predicted over 140 seats for BJP in upcoming Gujarat polls while India Today had in its opinion poll predicted 115 to 125 seats for BJP.
DeshGujarat