How do people of Gujarat vote in assembly elections – article 2 of series
November 08, 2017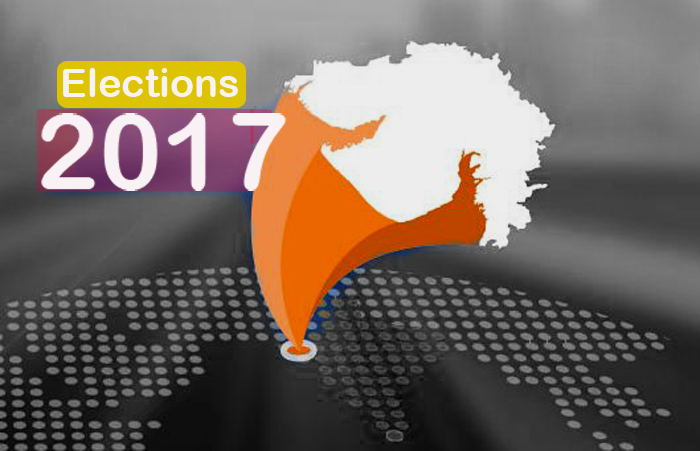 By Japan K Pathak
Previous article in this series:
How do people of Gujarat vote in assembly elections part-1
So when do voters in Gujarat change the existing government? And when they don't? Is there any pattern?
Gujarat took birth as separate state in 1960, and since then the state has witnessed 12 assembly elections. It happened only on two of 12 occasions that people refused to re-elect the government that they had elected in the previous election.
After birth of Gujarat State, in 1962 people elected Congress to power which was reelection of Congress as earlier in 1952 and 1957 Gujaratis had elected Congress only to power. The voters in Gujarat reelected Congress to power in 1967 and 1972 elections too, but in 1975 elections they didn't reelect Congress, which was a breakthrough.
Then Congress regained power in Gujarat in 1980 elections and was again reelected in 1985.
But then came another breakthrough. In 1990 people rejected incumbent Congress government and elected Janata Dal – BJP alliance to power. From then on, BJP continued to be reelected to power in Gujarat, be it 1995 or 1998 or 2002 or 2007.
Gujaratis generally tend to vote for incumbent govt unless very strong reason
Year of election
Elected party
Choice same as last election
Choice changed
Factors
1952
Congress
Yes
No
1957
Congress
Yes
No
 1962
 Congress
 Yes
 No
 1967
 Congress
 Yes
 No
 1972
 Congress
 Yes
 No
 1975
 Janta alliance
 No
 Yes
Navnirman agitation, 3-year drought,Extreme anger against key face(Chimanbhai) of govt over corruption, price hike and more
 1980
 Congress
 No
 Yes
 1985
 Congress
 Yes
 No
 1990
 Janta-BJP
 No
 Yes
 Anamat agitation, 3-year drought, extreme anger against key face of govt in the State(Madhavsinh) as well as Centre(Rajiv Gandhi) over corruption(Boforse and drought relief scam), Anamat memories, law & order(Abdul Latif), nationalist issues(Kashmir, Babri Masjid) and 'appeasement' issues
 1995
 BJP
 Yes
 No
 1998
 BJP
 Yes
 No
 2002
 BJP
 Yes
 No
 2007
 BJP
 Yes
 No
 2012
 BJP
 Yes
 No
*Note: Gujarat was established in 1960. The results of 1952 and 1957 in this study reflect the verdict in Mumbai state assembly elections but strictly from present geography of Gujarat State(mainland Gujarat area which was part of Mumbai State, Saurashtra State and Kutch State areas)
So there were two major breakthroughs; first one in 1975 and another in 1990, when people shifted their loyalty to another political party. I don't consider 1980 come back of Congress as breakthrough because in 1975 people had given fragmented verdict in which Congress too had good chunk of seats.
Pattern suggests that business minded spirit of Gujaratis very much reflects in election results as well. People here prefer political stability which is one of the most important ingredients for healthy business environment and growth. People generally are tend to go along with by-default choice available. They generally vote for continuance and incumbent government.
So what exactly happened to stability loving people of Gujarat in 1975 and 1990? Why people stopped believing in the incumbent governments?
Well, the governments had messed up with people very badly, committed big blunders.
Key ingredients of change, or say backdrops of shifting of power in both cases:
– Violent anti-government agitations involving all sections of society and worst law and order situation in the State
– Agrarian crisis mainly linked to famine
– Tremendous anger against key face of government
– Crony corrupt image of the government and pathatic law and order situation
People rejected incumbent government led by Madhavsinh

Congress government was elected to power in Gujarat in March 1985 under the leadership of then Chief Minister Madhavsinh Solanki with huge number of 149 of 182 seats. This was a remarkable and historic victory indeed.
But soon after that, there was a 190-day long Anamat(reservation/quota) andolan(agitation). It was against execution of portion of Rane commission's report on reservation policy(details in the foot note). Anamat andolan compelled Madhavsinh to resign, but it took months.
Congress MLA from tribal belt, Amarsinh Chaudhary replaced Madhavsinh. Under Amarsinh, Gujarat witnessed 3-year long drought between 1986 and 1988. Out of around 18,000 total villages in Gujarat, 13,390 were affected by drought in 1985-86. Effectively, over 15,000 villages were facing water scarcity. 2 crore people (total population of Gujarat was around 3.5 crore) and 1.2 million cattle were affected. One Nanjibhai of Janvada village sold his 15-year-old child in Amdavad's Kubernagar area for Rs 500. Collector of Rajkot himself had filed a report of crores of rupees of corruption in government run Rafaleshwar cattle camp.
As if backdrop of Anamat agitation and 3 drought seasons were not enough, the law and order situation had made life worse for common citizens. There were 89 incidents of bomb blasts in just two and half years period of Amarsinh Chaudhary's rule. Pirzada, an ex-MLA from minority community in Wankaner died in bomb blast. Health minister Vallabhbhai Patel was murdered in public. MLA Popatbhai Sorathia was killed in another murder incident. Two persons were killed in police firing while agitating against state decision to transfer then Rajkot Municipal Commissioner Jagdishan. Farmers had marched to assembly house and attacked then former CM Madhavsinh Solanki. Criminal mafia Abdul Latif fought civic election in Ahmedabad from five different wards and won.
On economic side, budget deficit in 1988-89 was whopping Rs 343 crore. To cover it, Rs 170 crore worth of taxes including Entry tax and Turnover tax were imposed. In 1989-90, deficit figure was brought down to Rs 248 crore, but it was still huge, especially in light of the fact that in 1980s, revenue expenditure was up by 5-fold, and deficit 7-fold!
And amid all mess narrated above, memories of Anamat riots were very much fresh in the minds of the voters in Gujarat, thanks to the leading Gujarati daily Gujarat Samachar whose office building was torched allegedly on the directions of the higher ups in police and in power corridors.
In such circumstances, people of Gujarat were in search of any viable alternative. Thanks to the roots of Jan Sangh, BJP was in power in Surat Municipal Corporation and in some other civic bodies. There were 11 BJP MLAs too in the assembly. On the urban front, Congress had tasted series of defeats in the Municipal Corporation polls. BJP won the Ahmedabad Municipal Corporation for the first time in 1987. Surat was captured little earlier and Rajkot too had joined the trend. Good governance and clean image of Amdavad Mayor Jayendra Pandit, oratory of then general secretary(organization) of state BJP Narendra Modi, nationalistic and pro-Hindu stands further popularized the party. Congress had lost one Lok Sabha by-election in tribal Gujarat in that period.
People of Gujarat always keep close watch over national issues. The issues like Ram janma bhoomi/Babri masjid, terrorism in Kashmir, situation of Kashmiri pundits, section 370 in Kashmir, Shahbano case, terrorism in Punjab, emergence of the leadership of VP Singh and Advani, growing unpopularity of Rajiv Gandhi due to Boforse case, other issues like Shanti sena debacle in Sri Lanka, sentiment against dynastic rule etc played significant role in shifting the voters to alternate options that were BJP and VP Singh.
In 1989, the Congress party under Rajiv Gandhi lost Lok Sabha polls. Congress could win only 3 out of total 26 Lok Sabha seats in Gujarat. Amarsinh Chaudhary was asked to resign, and Madhavsinh Solanki was placed again as CM on direction of Rajiv Gandhi. With this, Anamat agitation revived in public mind.
Congress's hardcore pro-Kshatriyas stand was out and open. Powered by Kshatriya Harijan Adivasi Muslim(KHAM) theory, Madhavsinh had sidelined Patidar community(Patels) in the state(roughly around 15-20% population of State). In fact Madhavsinh's cabinet had not a single Patel minister! Lakshmipura convention of Kshatriyas in Vadodara further strengthened the Kshatriya dominance plank floated by Solanki led Congress.
BJP leader Vallabh Kathitia once told me that BJP's then grass-root leaders including Suryakant Acharya and others had formed committees against gundaism in villages of Saurashtra. Most of these committees were dominated by local Patidars(Patels) as members. Protection at village level against dominance of Kshatriyas (patronized by CM Madhavsinh) was main agenda of this move.
In 1990, voters of Gujarat elected an alliance of Janata Dal led by VP Singh and BJP led by Advani nationally. While Chimanbhai was the face of Janata Dal in Gujarat, the BJP had not introduced any particular CM candidate prior to election. Narendra Modi was popular as intellectual organization man and as an impressive orator. Shankersinh too was a strong party president. But just after the election, the party introduced Keshubhai Patel as CM/Dy CM candidate. Keshubhai until then, was largely known only in Saurashtra.
There is an impression that national events only were responsible for defeat of Congress in Gujarat in 1990. Yes national events played a key role, but face can not be denied that Congress had to face defeat anyway in Gujarat, for messing up with the people during Anamat andolan, 3-year drought, pathatic law and order situation, anger against Madhavsinh and lot more. BJP's victories in Civic polls in 1987 must not be forgotten in this context. We can safely conclude that people were searching option of Congress right during the Anamat andolan in 1985 itself. They waited for five years, and in the meantime got many more reasons.
On Anamat andolan in brief:
A commission for upliftment of social and education wise backward class in Gujarat was formed on 20th April under retired High Court Judge C.V.Rane.
Rane commission gave its report on 31 October 1983, in which two main recommendations were made:
1. OBC and other 63 socially and education wise backward classes should be considered eligible for government jobs under reserved quota.
2. To implement this, 18% reservation should be added to (then) existing 31% reservation. Thus the total percentage of reservation should be 49%.
The commission had clearly made recommendation that those having maximum annual income of Rs 10,000 only should get the benefits of this.
Madhavsinh Solanki delayed implementation of commission's recommendation for 14 months and later when assembly elections were announced, he declared the Rane commission report and added that his government would implement it, apparently for electoral gains.
Madhavsinh govt announced increase in reservation percentage as per Rane commission report, but at the same time Solanki refused to consider other recommendation of Rane commission that only those earning less than Rs 10,000 annually should get benefits of reservation.
This triggered anger among public in February 1985. After an interval for assembly elections(March 1985), the anger turned into a full scale agitation. Madhavsinh made announcement to postpone the execution of Rane report for one year, but situation went out of control. Army was called, PM and Union Home Minister had to rush to Ahmedabad, 23 houses were burnt to ashes in Dabgarwad area of city. In total, 180 were dead during the Anamat riots, 6,000 were displaced, 1600 incidents of arson were registered, Rs 2200 crore loss was suffered.
People rejected incumbent government of Chimanbhai

After Chimabhai came to power as Congress Chief Minister, Gujarat witnessed three years of drought (1972-74).
During this period started Navnirman agitation. The agitation started against hike in food bill in Morbi engineering college in December 1973, but later expanded to state level with issues like price rise, shortage of grains, high level of corruption and politics of manipulation. The andolan had single agenda of removal of then Congress government led by Chief Minister Chimanbhai Patel.104 persons were dead, 310 were injured, 1450 rounds of fire were registered during 73-day-long Nav Nirman andolan.
Navnirman turmoil went worst in January 1974 when incidences of firing, curfew, arson, loot were witnessed in Ahmedabad, Vadodara, Modasa, Visnagar, Surat, Saurashtra and other parts. By the end of the month 43 cities were under curfew. Army was called to control the situation.
As many as 405 Navnirman samitis were formed across the state. By the end of January 1974, as many as 44 persons were killed in firing. Gujarat bandh call was given on 25 January, and it was successful in all 16 districts.
The agitation initially started by students and it was later joined by doctors, lawyers, intellectual class, teachers and entire middle class.
It is open secret that section of Congress party was sympathetic to Navnirman Andolan.
On 13 January, 23 Congress MLAs sought exit of Chimanbhai Patel. Ratubhai Adani went to Delhi with signatures of 38 MLAs. On 7 February, 4 ministers of Chimanbhai govt – Amul Desai, Divyakant Nanavati, Amarsinh Chaudhary and Navinchandra Ravani presented 15-point charge-sheet and asked Chimanbhai to step down within 48 hours. Chimanbhai expelled them from ministry. On 8 February, government employees announced strike from 11 February.
On 9 February Chimanbhai held a press conference and resigned.
Though Chimanbhai gave resignation, the assembly was declared suspended and not dissolved, and therefore people continued the agitation demanding total dissolution of the existing assembly. Large groups of agitators started visiting every Congress MLA's house to demand resignations. This phase of agitation started from 9 February and resulted into resignations of 95 MLAs before the end of February. But the centre was still adamant and not ready to accept the demand of dissolution of Gujarat assembly.
Army was called in to control the situation on 26 February. Morarjibhai Desai sat on indefinite fast on 12 March at Gujarat Vidyapith demanding end of violence in Gujarat and dissolution of assembly.
The centre had to declare dissolution of assembly on 15 March. Morarjibhai concluded his fast.
Then there was President's rule which was again unpopular.
On 6 March 1975 Morarji Desai held foot march to Rajbhavan to submit a memorandum with 5.5 lakh signatures to Governor demanding immediate announcement of elections. On 3 April, a rally organized by Sauarashtra-Kutch Sanstha also marched to Governor with same demand.
On 7 April Morarjibhai sat on fast at his Delhi resident demanding end of President's rule. This attracted countrywide attention, and finally on 13 April Indira Gandhi announced that Gujarat assembly elections will be held in June.
In elections, Janata Morcho(a front against Congress) won 86 seats, while Congress won 75 seats, Chimanbhai Patel's Kisan Majdoor Lok Paksh(Kimlop) won 12 seats while independents won 8 seats in 181-member assembly house. Congress could win 75 seats because as we said in this article above, one faction of Congress party was sympathetic to Navnirman. Then it was very well known to public that Indira Gandhi was not in favor of Chimanbhai Patel. Navnirman andolan was largely against Chimanbhai Patel, and as Chimanbhai was no more with Congress, the party could save itself from greater loss. But then losing the government in election was not small loss either.
Are there strong ingredients of change now looking at pattern described above?
– In present term of government, agrarian crisis in Gujarat was at its peak for a brief period in later portion of year 2014 over the issue of lack of satisfactory support price of cotton. Situation of insufficnent rain was also felt in the same period. However that is past now as the last monsoon has brought sufficient rain. When monsoon is good, the government needs to ensure good prices to farmers. Chief Minister Rupani had recently declared higher support prices for groundnut and other crops before the election schedule was declared by Election Commission.
– Violent anti-government agitation took place in Gujarat later half of 2015. Looking at the pattern, it will have its impact on election. However, contrary to anti-government agitations in 1970s and 1980s, that changed the government, Patidar quota agitation was actively participated only by one community and not all sections of society. It however touched all sections due to curfew, closure of bus services, ban on mobile internet services, highway blockade etc. In the backdrp of sad farmers and violent anti-govt agitation the results of year 2015 local elections were not in favor of BJP in district and taluka panchayats. That violence of year 2015 will show its impact over upcoming assembly polls but the impact will be limited to a portion of one community. Anti government agitations by Dalits and Thakors were relatively smaller and brief and limited to Congress core vote bank. They may not have any major impact over upcoming assembly polls so far BJP's chances are concerned.
– There's no tremendous anger against the key face of government – be it Narendra Modi in the Centre or Vijay Rupani in Gujarat. Popularity of Modi has somewhat impacted post Goods and Services Tax(GST) implementation, but his good works, good intentions, clean image and Gujarati background balance that loss. After all Narendra Modi is product of Gujarat and Gujaratis. Then there's no strong option which is acceptable at this juncture. Some portion of Patidar community may see futuristic option in Hardik Patel, but for most Gujaratis Hardik remains villainish and negative face thanks to year 2015 violence.
– There are no organized gangs operating in Gujarat at present. Small crime is there like every other place, but major gangs are finished and major (newsy) incidents of crime have been tracked and solved regularly in very efficient manner. Frequent occurrence of riots is matter of past. Gujarat has been almost free from terror acts in past few years. There have been complains about small and local crime issues(liquor, gambling den, illegal lending, local goons) and BJP will suffer in micro areas where people think, goons don't fear police.
Looking at the past occasions when people overthrew incumbent governments in Gujarat in the backdrop of years of famine in row, worst law and order situation and months-long violent anti-government riots participated by all sections of society in which dozens of people lose life, overall there are no visibly strong enough ingredients this time around that may prompt the voters of Gujarat to change the government in 2017. GST is an issue, anti-govt sentiment in section of rural young Patidars is an issue, people want jobs, farmers want good prices and less input cost, people want roads to last monsoons, they want lower level corruption to go, they aspire for developed world like urban living but, they don't find hope in alternate option available, and in the past, incumbent governments have even after some damages suffered, survived even greater difficulties.
Lastly a caveat. As I wrote in previous article of this series, established patterns are not unbreakable.
Contact me on japanpathak (at) deshgujarat (dot) com