Campaign for second and final phase of Gujarat assembly polls ends, Modi-Rahul leaves for Delhi
December 13, 2017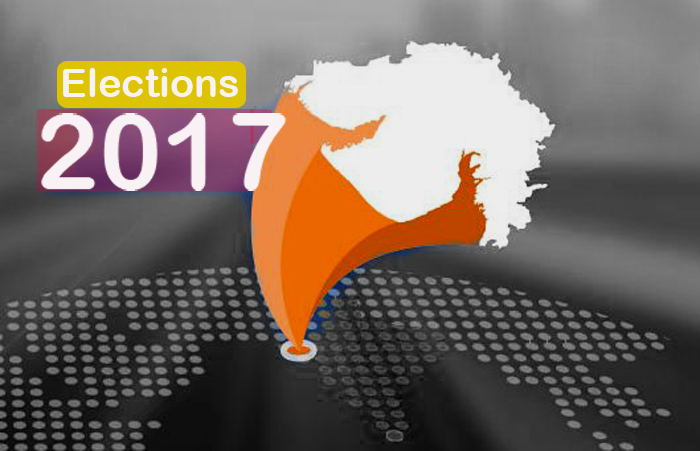 Gandhinagar:
The hectic and comparatively bitter campaign for the second and final phase of Gujarat assembly polls to be held on the remaining 93 seats of 14 districts in North and Central Gujarat on December 14 ended at 5 pm this evening.
Chief Electoral Officer B B Swain said that the campaign has ended at 5 pm ie 48 hours prior to the polling. Now the outsiders can't stay in any of the constituencies without a valid reason or proper authorization.
Of the seats going to polls 52 were won by ruling BJP, 39 by Congress and one each by NCP and Independent in the last assembly polls of 2012.
Like the first phase, the steering for campaign for ruling BJP was in the hands of PM Narendra Modi who organized altogether 15 rallies while that for main opposition Congress was led by its leader Rahul Gandhi who also held over a dozen rallies in North and Central Gujarat. Now the candidates were doing door to door visits.
However the campaign has turned more bitter with scathing attacks and counter attacks from both sides.
While BJP continued to maintain that development was its main and sole poll plank and Congress tried to attack it on various issues including the alleged failure of issues like demonetization and poor implementation of GST etc, yet the narrative changed from both sides.
BJP alleged that Pakistan and terror elements were trying to interfere in Gujarat elections. The issue of Mani Shankar Aiyar calling PM Modi 'Neech' also became prominent. BJP also alleged Congress of communal consolidation of votes after its cast based equation making.
Congress also took a retaliatory posture and hit back at many issues. Bitter questions and counter questions were thrown at each other. Though other leaders were also in to the campaign including ministers and former ministers yet the center stage was with Modi and Rahul. PAAS leader Hardik Patel was also organizing several rallies and road shows against BJP.
On the last day of campaign today both Rahul and PM Modi visited different temples. While Modi took a flight in the sea plane and reached Ambaji temple after a road show of sorts from Dharoi to Amabji, Rahul visited Jaganath temple here and also addressed a press conference. Both left for Delhi before the end of the campaign period from Ahmedabad airport.
PM Modi would come back to Gujarat to cast his vote on the polling day at a booth in Ahmedabad.
For the second phase there are a total of 851 candidates in the fray with DY CM Nitin Patel (Mahesana) , Minister Bhupendra Chudasama (Dholka), Shankar Chaudhary (Vav), Pradeepsinh Jadeja (Vatva) (All BJP) and Alpesh Thakor (Radhanpur), Siddharth Patel (Dabhoi) (both Congress) and congress supported independent Jignesh Mewani (Vadgam) etc being the prominent faces.BJP has fielded 93 candidates, Congress 81, BSP 75, AAP 8, JDU 14, NCP 28 Shiv Sena 17 and 170 form non recognized parties apart from 350 independents.
Maximum 34 candidates were in Mahesana while minimum 2 in Jhalod (ST) constituency. By area, the smallest is Dariapur (6 Sq.Km.) and the largest one is Radhanpur (2,544 Sq.Km.). By size of the Electorate, the smallest is Limkheda with 1,87,245 electors and the largest being Ghatlodia with 3,52,316 electors. Of the constituency 86 were with an electorate base of over 2 lakh. More than 50% of the electorates were below 40 years of age of which a little over 15% were under 25. The total number of voters was 22296867 of whom 10748977 were females and 455 third gender. Total 24575 booths have been made for the polling which would take place from 8 am to 5 pm.
Notably in the first phase in which 977 candidates including Vijay Rupani (Rajkot West), BJP state president Jeetu Vaghani (Bhavnagar West ), former Congress president Arjun Modhwadia (Porbandar) and senior leader Shaktisinh Gohil (Mandvi) were in fray, 66.75% voting took place.
The name of 14 districts going to polls and number of assembly segments in them in corresponding bracket is as follows Ahmedabad (21), Banaskantha (9), Patan (4), Mahesana (7), Sabarkantha (4), Aravlalli (3), Gandhinagar (5), Anand (7), Kheda (7), Mahisagar (2), Panchmahal (5), Dahod (6), Vadodara (9) and Chota Udepur (3). Counting will be held on December 18.
Meanwhile re-polling on six booths Jamjodhpur (2 booths), Una (2 booths), Nizar (1 booth) and Umbergaon (1 booth) of first phase would also be held with the second phase poll. It has been necessitated as the presiding officers had not removed mock-poll data before the commencement of the actual polls.
DeshGujarat