Land of Gujarat is a carrier of "Holiness, Divinity, Ethics": President Mr. Ram Nath Kovind
January 22, 2018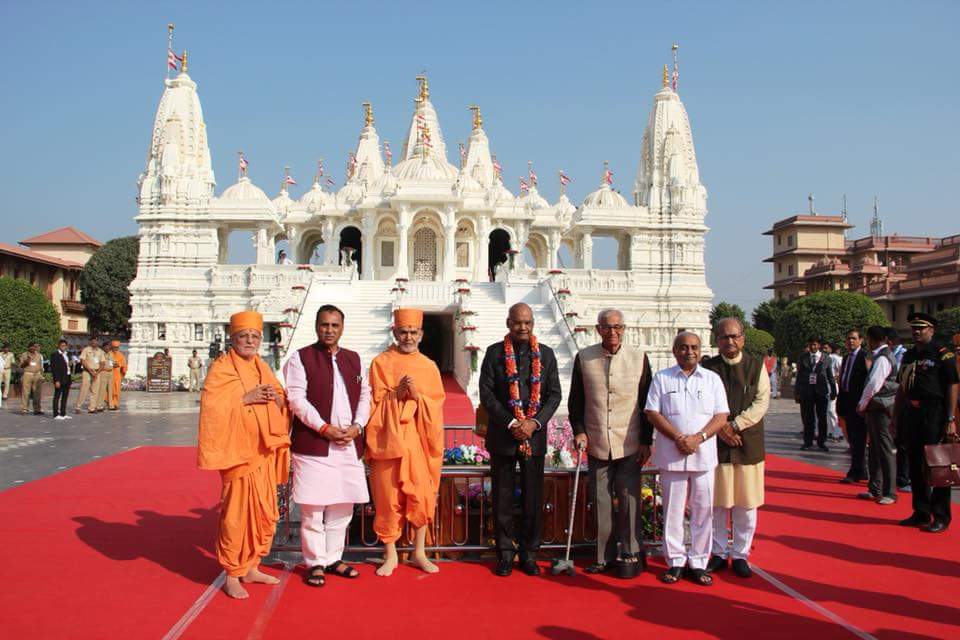 Rajkot: President Mr. Ram Nath Kovind today lightened the lamps and made Pooja, Archna of Shree Aksharderi at world famous Akshar Purshottam Temple in Gondal town, near Rajkot. The President also sought blessings for all-round development of the nation and happiness, peace and prosperity for the people.
Mr. Kovind was accompanied by Gujarat Governor O. P. Kohli, Chief Minister Mr. Vijaybhai Rupani, deputy chief minister Mr. Nitinbhai Patel, and Education minister Mr. Bhupendrasinh Chudasama. The president was welcomed by children, chief priest Mahant Swami and others at the temple. The temple is celebrating an 11-day long mahotsav on completion of its 150th year. It was recently renovated.
The president said that the institution has made spirituality as the foundation for welfare of humanity. The practicality and spirituality have been working in exemplary tandem in Gujarat. The state was inspirational land for great leaders like Mahatma Gandhi, Sardar Patel and Morarjibhai Desai.
Mr. Rupani said the occasion would make every lasting memory of trivedni sangam of 'Nation-State-Religion' for the state.
Those who spoke on the occasion included Saint Mahant Swami, Swami Anand Swaroopji and others. The BASP has set up over 1300 temples across the world for making cultural activities and services to humanity.
– Information