'There should be a TV channel dedicated to best practices across the country and the world'
March 10, 2018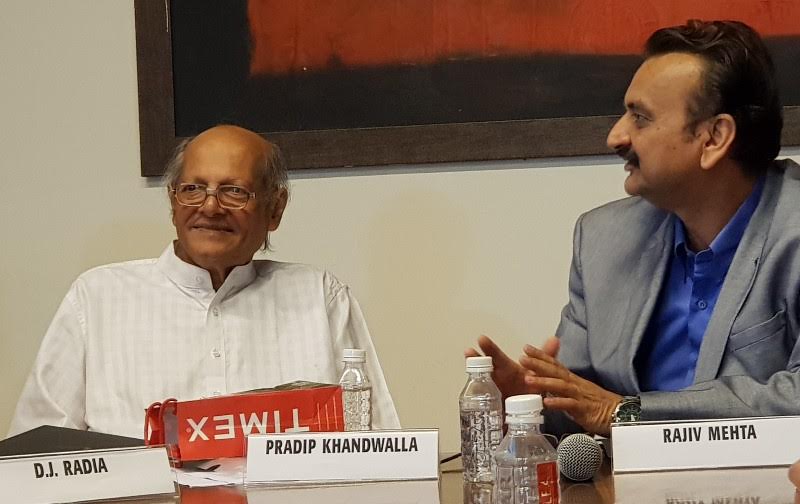 Ahmedabad: There should be a dedicated TV channel featuring all best practices happening across the country and the world, said Professor Pradip Khandwala, former Director of IIMA, interacting with media persons ahead of launch of his book 'Fast Forward Toward Civilizational Greatness Agenda for India'. Professor gave example of China where a national radio station, as early as in 1950s had practice to dedicate half an hour slot to feature the innovations happening across the country.
Khandwala's 383-page book, to be released by Governor of Gujarat, mentions study of number of good practices across the world that can be replicated elsewhere to create a good, human, innovative, creative society with performance excellence.
During the interaction, Professor Khandwala gave glimpses of number of good practices that he has mentioned in his book, such as the concept of New Public Management which is adopted by number of countries including Britain, Singapore Kenya and Korea, under which, the governments hire professionals instead of civic service officials and government ministries function in a mode of agencies. He also gave example of Educom which serves thousands of kids through activity based learning.
Professor said democracy should not be an excuse for slow speed of implementation of public projects, as there are good examples like Mr. E Sreedharan and Konkan railway execution also available happening efficiently within same democratic framwork.
Speaking on his book, Professor Khandwala said, 'when w waken, we are bombarded by negative news of terrorism, bombing of civilians, murder and rape, scam, discord, corruption, incompetence but is this really the world we inhabit? Isn't there also a world of goodness, constructive creativity and benign achievement that is waiting to be noticed and reported? This book probes the civilizational sickness we seem to bestuck in, reveals the good world, and most important, proposes what can be done to reverse the malignancy and restore health.'
'The book argues that advance towards civilizational greatness is possible for all nations. That is to say
D, any nation, given certain choices, can become progressively more humane, creative, and achievement excellence oriented. Examples of how several nations have advanced on this road have been provided.'
'The book looks at insights and innovations concerning child-rearing practices, schooling, and education in colleges and institutes of higher learning to advocate what needs to be done to promote civilizational advance. '
It explains how movers and shakers with a social conscience – social entrepreneurs – can be groomed and how they can turn into social leaders with beneficent society-wide impact. It describes the excellent work done by a number of civil society institutions and the lessons their working hold for much more widespread excellence in civil society.'
'It argues what research indicates persistently – that business enterprises that blend their greed for profits with social concern and find innovative ways of doing this win in the market place. The book proposes a model of excellent business civilization.'
'Governance, or rather malgovernance is the bane of many nations, especially developing countries. And yet in these developing countries there are several examples of sterling performance by mission-charged government bodies. The reasons why they succeed suggests that what has come to be called 'agencification' and 'New Public Management' – professional, dedicated, accountable administration of government bodies – is the way forward for excellence in governance. It has been adapted to their context by over 50 developing and developed countries with good results. The book highlights several design flaws of democracies and suggests remedial measures that would make democracies vibrant and effective in developing countries.'
'The book looks specifically at India, how modernized, its successes and failures as a nation, and what can be done to speed up its evolution as a great modern civilization. It specially advocates partnership between government, civil society, and business to spread rapidly humanness, constructive creativity, and performance excellence. It also proposes the design of an ambitious program of grooming a million change agents a year for this same purpose.'
The book is published jointly by Academy of Human Resources Development, and Ahmedabad Management Association.
DeshGujarat