Gujarat Assembly Speaker suspends Congress MLAs Dudhat and Der for 3 years, Thakor for 1 year
March 14, 2018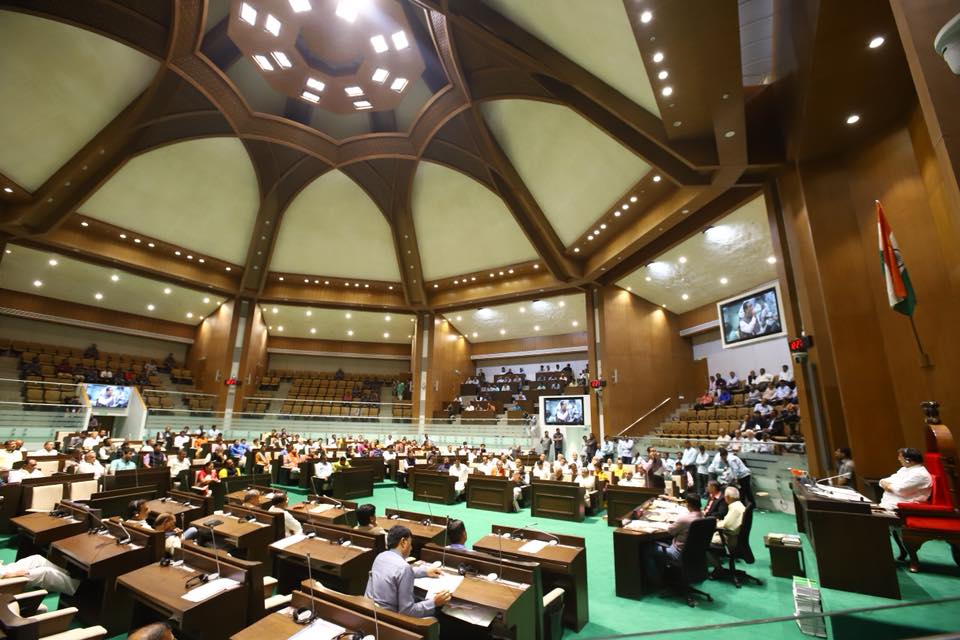 Gandhinagar:
Gujarat Assembly speaker Rajendra Trivedi today finally suspended Congress MLA Pradip Dudhat and Ambrish Der for 3 years each while party MLA Baldevji Thakor for 1 year in connection with the incident of attack and abuses in the house today.
Suspended MLAs will not be allowed to remain member of any committee. They will not be allowed to enter the assembly complex without prior permission of Speaker.
Trivedi accepted a proposal put forth by the Dy CM Nitin Patel
after the 'indecent' incident in assembly regarding suspension of the 3 Congress MLAs.
Trivedi in fact said he was of opinion that said MLA should be suspended for full term.
The proposal supported by minister for legislative affairs sought an 'exemplary punishment' for their act which had put a black blot in the legislative history of the state.
Dudhat had snatched a mic to attack fellow BJP MLA Jagdish Panchal in the house and Congress MLA Ambrish Der had openly hurled abuses at the speaker while Thakor had allegedly threatened BJP members.
Soon after the house assembled again following the adjournment in the wake of the incident, Patel put forth the proposal saying that the whole house has earned a bad-name owing to the act of merely 3 to 4 members. They should be given exemplary punishment. Minister for legislative affairs supported the proposal.
Meanwhile, Congress objected to the proposal saying that BJP MLAs Panchal and Harsh Singhavi, who had instigated the Congress MLAs should also be suspended from the house for a period of 3 years.
Panchal on the other hand said that he never abused anyone and if Congress proved it he would resign from the assembly.
Speaker Trivedi accepted the proposal and said that the treasury bench (ruling party/government) was lenient in seeking only 3 years punishment as he himself was willing to suspend the guilty MLAs for 5 years. He also said that the 3 suspended MLAs can't enter the assembly premises without prior.
After the decision of the speaker, Congress staged a walk-out from the house.
Meanwhile, Congress state president Bharatsinh Solanki termed the decision as non-democratic and in-parliamentary.
DeshGujarat