Muljibhai Patel Urological Hospital marks 40 years of specialty renal care by completing 1070 successful robotic surgeries
March 14, 2018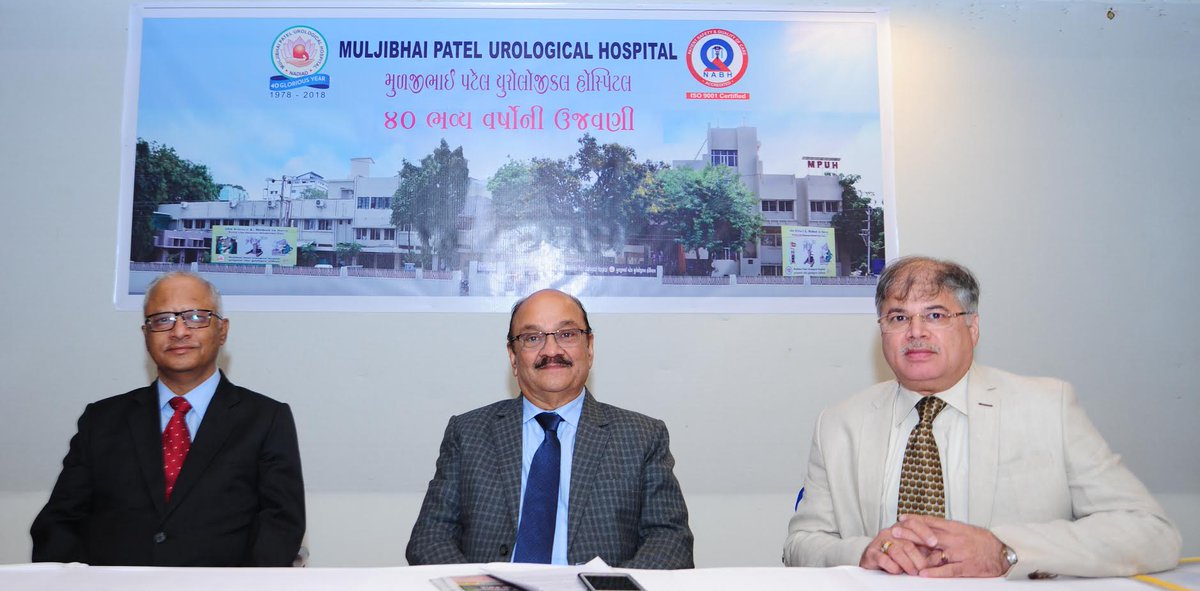 Ahmedabad:Muljibhai Patel Urological Hospital (MPUH), Nadiad has announced the completion of 1070 successful robotic surgeries in March 2018, marking its 40- year celebration of excellence in providing specialty renal care.
At a time when India needs 2 lakh transplants a year, the existing number in India is only 8000 annually. The hospital has proposed an effective State Organ and Tissue Transplantation Organization (SOTTO) like Tamil Nadu, Andhra, Kerala and Maharashtra for the state of Gujarat. The hospital has formalized a plan to provide a single window for services for all prospective transplant cases under one roof of transplant tower.
"The biggest challenge is availability of deceased organs across centers because of lack of awareness. Unlike other states, our state does not have Public Private Partnerships to ensure that organs of the deceased are distributed justly and equitably to all transplant centers so that the best recipient gets this scarce valuable resource," said Shri Rohit J. Patel, Chairman, MPUH.
He further said that MPUH is the first centre in Gujarat to start renal transplant way back in 1980. Its team of expert doctors and care specialists has successfully done 3000 transplants, where patients have the longest survival time of 35 years. Also, 3,28,000 cases of dialysis has been dealt with by MPUH.
"Our graft survival rate is comparable to any good centre in the world. We have been routinely offering the option of robotic renal transplants for suitable patients. As we complete 40 years of existence, we pledge to take forward the good work and make strides in research and development," he said.
Moreover, being a high- volume centre for robotic surgeries, already having simulator for laparoscopy and stone surgery, MPUH is now in the process of acquiring a simulator for hands- on training on a robot.
"Credited to have installed the first Da Vinci Si Robotic Assisted Surgery system in Gujarat, MPUH has spearheaded the fastest growing robotic surgery program in West India. It features among the top few robotic programs in India that has completed more than 200 operations for renal preserving surgery for kidney cancers," said Dr. Mahesh Desai, Managing trustee, MPUH.
"Led by founders Late Shri Jairam Das Patel, Ochhavlal Mohanlal Parikh, Harshadbhai N. Dalal and Prahalad Patel, through the last 40 years the trend of 90 % open surgery in urology has dropped to 8% only at MPUH. The hospital has treated 30,000 kidney stones cases," added Dr. Desai.
Years of study and efforts have been put in to benefit ailing patients. We have added world class infrastructure and factored in advancements in healthcare. We have put extensive efforts in research and training and published our results in peer reviewed international journals. (total 340 articles).We have trained 41 nephrologists and 70 urologists who have spread out and are providing services to kidney patients all over our country as well as globally," said Dr. Mohan Rajapurkar, Director (Post Graduate Studies & Research), MPUH.
Considering the popularity of the teaching program at the Jayramdas Patel Academic center at MPUH, in-principle approval has been granted by the National Board of Examination to increase the number of seats for Urology from 4 to 6.
"Team of doctors at MPUH has been instrumental in initiating transplant programs at Bharti Vidyapeeth, Sangli, KEM Hospital, Pune and Paras Hospital Patna. We have been pioneers in laparoscopic donor nephrectomy," said Dr. AK Rastogi, Medical Director, MPUH.
DeshGujarat