Guttermouthgiri at Malvan, neither in accordance to culture of Gujarat, nor as per the guidance of Sardar Patel
May 27, 2018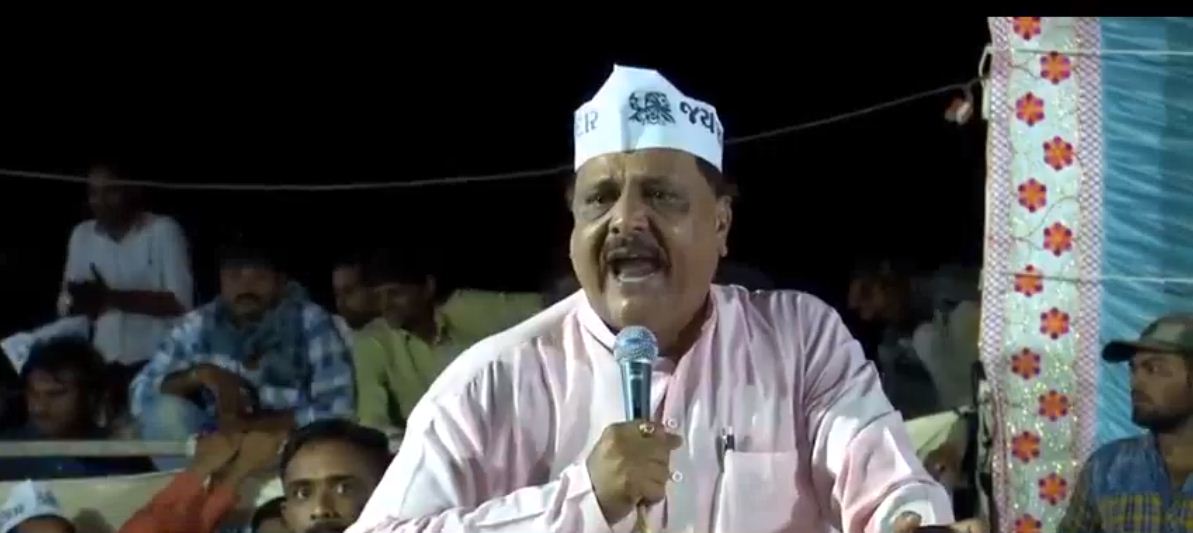 Gandhinagar: Utterances and remarks by a Congress leader in Patidar Mahapanchayat event at Moti Malvan on Saturday were neither in accordance to the culture of Gujarat, nor in accordance to the guidance of the great leader Sardar Vallabhbhai Patel.
The apparent social engineering attempt aiming to detach Patidar community voters from mainstream Hindu-Gujarati voters loyal to BJP was organized one-year ahead of Lok Sabha elections obviously to benefit the Congress party in related Lok Sabha seat area. Congress's handy tool for such job since 2015 – Hardik Patel was the core face of the event.
OK, so what exactly did Congress MLA from Lathi and former Lok Sabha MP Virji Thummar said from mic?
He said addressing the state BJP chief Jitubhai Vaghani, 'your mother is not Patidar perhaps, if you were born from Patidar mother's stomach, you would not utter such words about Hardik.'
Thummar referred to BJP chief Amit Shah as taklu (bald) and went on to say, 'your mother has no strength'.
'I want to tell you 'taklu'(Amit Shah), Hyderabad Nizam had to leave Hindustan and Junagadh Nawab too had to leave, your mother has no strength(taari maa ni takat nathi),' Thummar said in reference to Amit Shah.
Thummar continued to cross the limits that are generally maintained in public life of Gujarat and said, ' you were distributing Mangalsutras in Karnataka, but give one Mangalsutra of Jashodaben(Prime Minister Narendra Modi's estranged wife), and we will then congratulate the BJP for that.'
Other Congress MLA who was asked to speak on the mic was Tankar MLA Lalit Kagthara.
Kagthara spoke how he had tasted several defeats in the elections previously before the Patidar agitation and how thanks to a 23-year old Hardik he could win the assembly election last year. Kagthara asked the gathering, 'I want to request you all, all of you just close your minds, stop thinking at all and just(blindly) respond to Hardik's call, come out, go to villages without giving a thought. Just stop thinking and obey what Hardik says.'
Kagthara targeted supreme religious bodies of Patidar community – Sidsar and Unjha and questioned why the trustees of these organization should offer garland to Chief Minister Vijay Rupani and give welcome to Prime Minister Narendra Modi.
One of speakers in this gathering targeted Rupani for being Jain in veiled manner. Gopal Italiya who had hurled a shoe at minister Pradipsinh Jadeja was this speaker. He in a way questioned how come a person whose community has no strength to ensure victory in even a district panchayat, can become Chief Minister and rule over a community that has strength of over a crore.
Italiya in his address said Mohan Bhagwat, Modi and Amit Shah are enemies of Patidars. He went on to say that RSS was worse than terrorists if you compare both. (You may have look at Italiya's presence in this event of Muslims in Juhapura area of Ahmedabad. He is standing with Shabnam Hashmi. We had published an article about how Hashmi's NGO was funded by Church and other foreign organizations https://www.facebook.com/BBCnewsGujarati/videos/1076896999116764/ In same video you can also see Gagan Sethi, whose foreign funded NGO's details were published by us in the past. Even Hardik had visited Juhapura later. The social engineering attempt appears Muslim(via you know who) – Dalit(via Jignesh Mevani) – Patidar(via Hardik Patel) combo against mainstream Hindus. Didn't you notice Congress party's another social engineering attempt to detach Lingayats from mainstream Hindu in Karnataka?)
One Hindi speaker in this function called Hardik Patel as Ishwari Shakti(divine power) and said those who left Hardik were donkeys. The speaker in his address asked to stop proceedings of assembly and stall the house.
Geeta Patel who had sought Congress ticket to contest from Ahmedabad based assembly seat in her speech said, 'we offer milk to snake on Nag Panchami but when that snake is found in our street, what do we do? We kill it. We need to kill these snakes(BJP)'.
In year to come, as the assembly polls come more closer, more trash will be in offer from such social engineering agenda public meetings backed, participated (and probably sponsored) by Congress.
Gujaratis had voted for BJP across all 26 Lok Sabha last time to elect a Gujarati Prime Minister. The agenda of Congress apparently has been to propel sub-identities like Patidars, Dalits, Thakors, Saurashtra, farmers etc to divide the Gujarati – Hindu vote. Malvan Patidar Mahapanchayat seems first of such events post Gujarat assembly polls in year-long schedule.
DeshGujarat