Author, Narmada Yatri Amrutlal Vegad passes away in Madhya Pradesh
July 06, 2018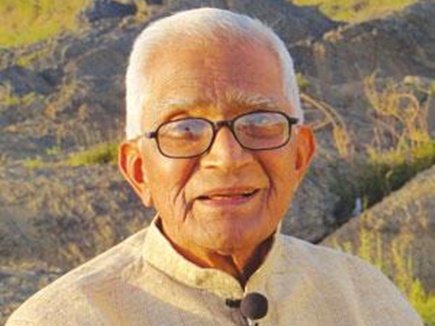 Ahmedabad: Renown author, painter and Narmada yatrai Amrutlal Vegad passed away today at Jabalpur in Madhya Pradesh. Ailing for last some time, Vegad was on ventilator support.
Hailing from Madhapur in Kutch but settled in Jabalpur in Madhya Pradesh, Amrutlal Vegad was born on 3rd October in 1928. He had penned down narration of his over 4,000 km long Narada parikrama in Gujarati and Hindi. The narration was later translated in English, Bengali and Marathi.
After diploma in fine arts from Kalabhavan Shantiniketan in 1948-53, he received Bachelor of Arts degree in 1955. He worked as art teacher for drawing in Kalaniketan at Jabalpur.
Vegad was presented several awards including the award of Gujarat Sahitya Academy for his book related to Narmada parikrama. He was honored with D.lit by Makhanlal Chaturvedi journalism university.
Madhya Pradesh Chief Minister Shivrajsingh Chouhan in his tweets paid tribute to late author.
मां नर्मदा के जीवनदायनी असीमित स्वरूप को रंगों और शब्दों में अभिव्यक्त करने वाले मूर्धन्य साहित्यकार श्री अमृतलाल वेगड़ को श्रद्धांजलि। आपका जाना पर्यावरण, साहित्य और नर्मदा सेवकों सहित देश के लिए अपूरणीय क्षति है। ईश्वर से प्रार्थना है कि दिवंगत आत्मा को शांति प्रदान करें। pic.twitter.com/iDU6z5A0oD

— ShivrajSingh Chouhan (@ChouhanShivraj) July 6, 2018
श्री वेगड़ ने 82 वर्ष की आयु तक नर्मदा व सहायक नदियों की 4000 क‍िमी से भी अध‍िक की पदयात्रा की और "सौंदर्य की नदी नर्मदा" सहित वृत्तांत की उनकी तीन पुस्तकें ह‍िन्दी, गुजराती, मराठी, बंगला अंग्रेजी और संस्कृत में प्रकाश‍ित हुई हैं। ये साहित्य ही नहीं, समाज की अमूल्य धरोहर हैं।

— ShivrajSingh Chouhan (@ChouhanShivraj) July 6, 2018
DeshGujarat