Tata International DLT launches India's first intelligent trailer at TT&T Expo in Gujarat
August 03, 2018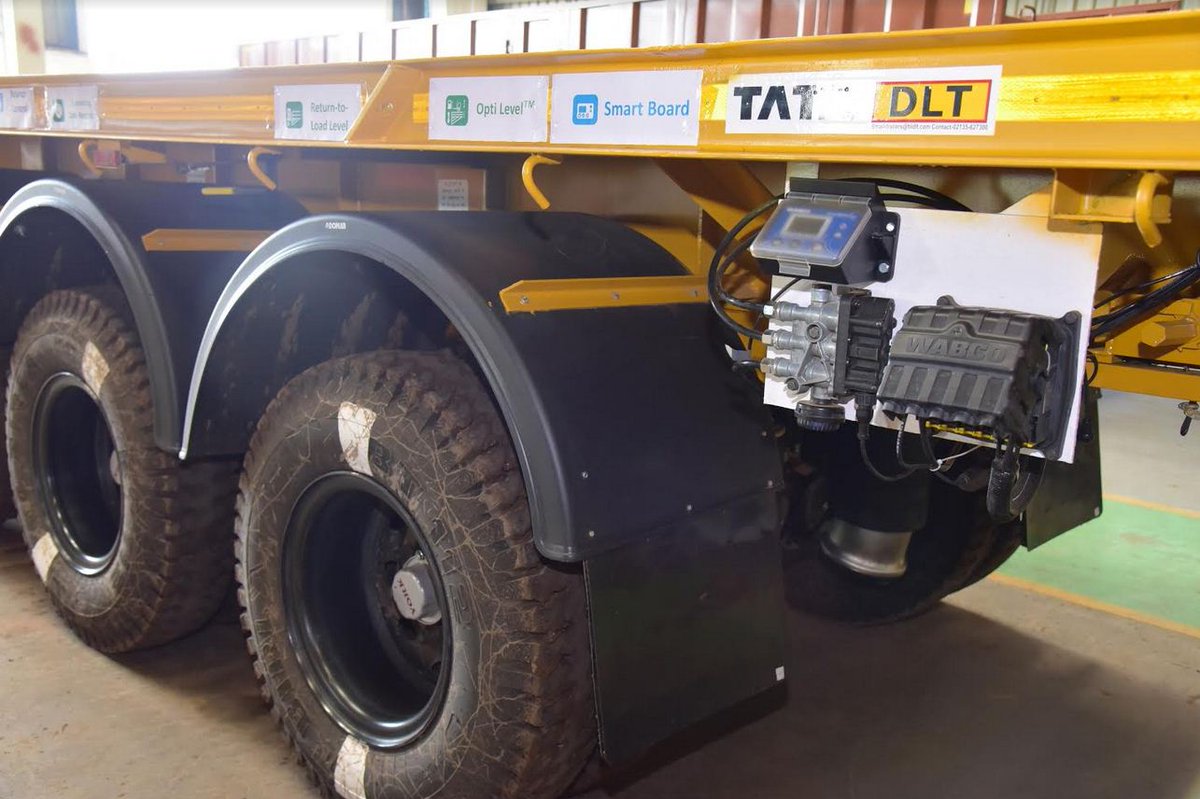 Gandhinagar:
Tata International DLT today launched India's first intelligent trailer on the inaugural day of 3 day Truck Trailer and Tyre Expo at Gandhinagar.
Tata DLT's Intelligent Trailer is fitted with state-of-the-art technology that provides data required for optimizing operation and maintenance of trailer to the operator as well as the fleet manager, thereby reducing the dependence on manual tracking. The Intelligent Trailer will help in reducing the number of road accidents and delivering enhanced operational efficiency to the trailer market. Tata International DLT is India's largest trailer manufacturer and is considered to be one of the biggest brands for trailers and truck bodies in India. The company is also India's first AIS 113 manufacturer certified by Automotive Research Association of India (ARAI), along with having TS-16949-2009 and ISO 9001:2008 certifications for 25 types of its trailers.
Mr. Rajeev Batra, Chief Executive Officer, Tata International DLT said, "We are delighted to launch India's first Intelligent Trailer today. The intelligent flatbed trailer is the first in a series of intelligent trailer types that we are set to launch. These are lightweight trailers customized to give higher payload, thus increasing profitability. As market leaders, it has always been our endeavor to keep innovation at the forefront of our product offerings and develop revolutionizing products for our customers. We hope to continue to progress towards our vision of being a complete solution provider in Trailers and Transportation Industry with competitive advantage in cost, quality and delivery."
The Intelligent Trailer aims to enhance trailer safety, security and efficiency; and offers significant added value for India's trailer manufacturers, fleet operators and cargo owners. It leverages the capabilities of trailer anti-lock or electronic braking control systems to provide a platform for up to 40 innovative trailer operating functions.
The Intelligent Trailer paves the way for India's trailer industry to upgrade from basic braking systems to the next level of advanced braking and suspension technologies required for higher levels of vehicle automation. The advanced T-EBS (Trailer Electronic Braking System) optimizes stopping distances and controls trailer brake and suspension functions, the system also enables the trailer to connect drivers, fleets and cargo owners to rich sources of onboard systems and operational information.
Established in 2005, Tata International DLT Private Limited is a joint venture between Tata International Ltd and Dutch Lanka Trailer Manufacturers Ltd, Sri Lanka, a Tata Enterprise. Headquartered in Waki, Pune, the company manufactures products under the brand name Tata DLT. The company also has manufacturing facilities in Ajmer, Jamshedpur and Nigoje, Pune.
The company manufactures all kind of standard trailers such as flatbed, skeletal, sidewall, semi low-bed, bomb-cart; special trailers such as truck chassis carrier, car carrier, tractor carrier, tip trailer; curtain slider, coil well trailer; customized trailers for equipment manufacturing companies and special trailers for defence requirements. These models encompass almost all heavy applications.
Tata International DLT has a fully equipped design centre, capable of meeting specific demands of customers; four manufacturing facilities with an annual capacity of more than 8,500 trailers, strategically situated in the major trailer markets of Pune, Rajasthan and Jamshedpur and an extensive marketing, sales and service network across India. More than 25,000 trailers manufactured by Tata International DLT are running on Indian roads, serving various applications.
In the event today Vasan Ahir, President, Akhil Gujarat Truck Transport Association (AGTTA), SK Mittal, President, All India Motor Transport Congress (AIMTC), Bharat Gandhi Darshan, President, Hydraulic Trailer Owner Association (HTOA) were also present.
DeshGujarat