Watch invitation card of stone laying for Ahmedabad Metro project
March 13, 2015

Ahmedabad, DeshGujarat
After long delay, finally the works for Ahemdabad Metro Project phase-1 are going to be launched with ground breaking ceremony in Vastral area of Ahmedabad on March 14th. The construction company will first build a service road for passage to local people and then will start building corridor. Presented here are images of invitation card of the function.
DeshGujarat earlier told you that the first work order Ahmedabad Metro rail project was awarded on 31st of January this year. Rs. 278 crore work order awarded involves Vastral-Apparel park stretch of Metro rail project.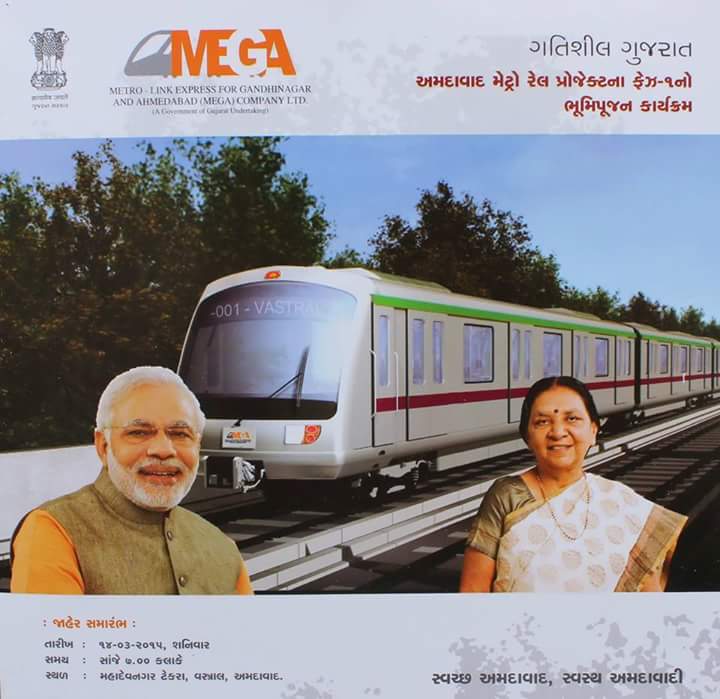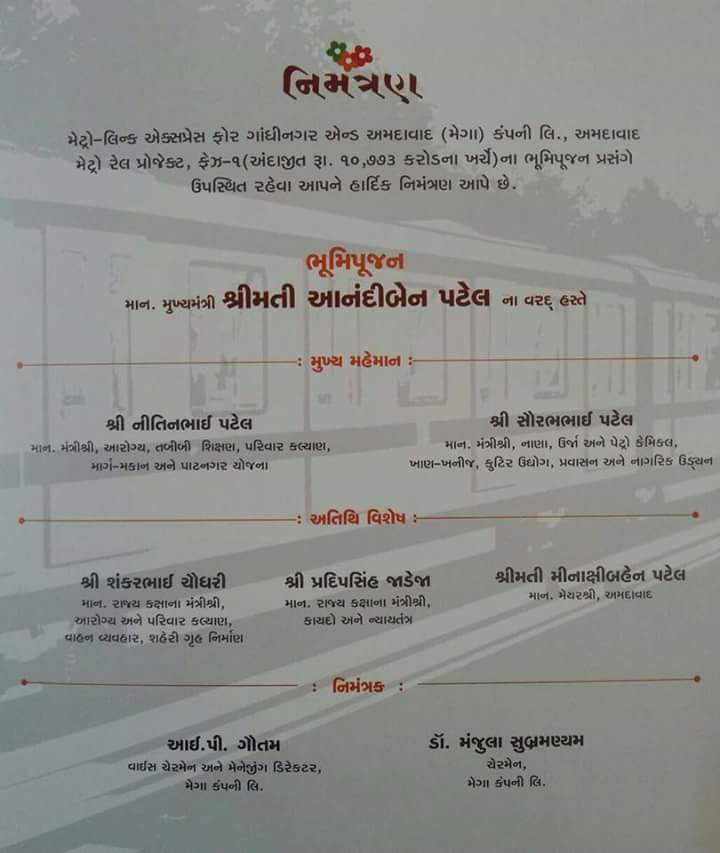 Gujarat government arm Metrolink Express for Gandhinagar and Ahmedabad – MEGA company had invited tender for "construction of Elevated Viaduct from Vastral Gam to Apparel Park upto Ramp Start in Reach R-1 (Excluding the portions of Metro Rail Stations) including construction of viaduct for portion leading upto interface location of Metro Depot (East West Corridor) in Khokhra area from diverting point near Apparel Park Metro Rail Station".
Vastral village – Apparel Park(Khokhra) stretch is 6 km long. It is part of the first phase of Metro rail project connecting Vastral gam and Thaltej gam in east-west direction.
The tender was made public on 20 October. It was only for construction of elevated viaduct on 6 km stretch. There will be total 7 Metro stations on 7.5 km route, construction of which will be covered in separate tender. Distance between two stations will be around 1200-1500 meter. From all over the nation, total 9 companies had participated in this tender process. Technical bid was opened on 18 December last year. After scrutiny of technical qualification, 4 agencies were found successful. Later, financial bids were opened on 22 January 2015. After scrutiny process, Mumbai based J. Kumar Infracon Projects ltd was found lowest-1(L1) in its offer with Rs. 278 crore bid. L&T, Simplex, Soma companies stayed at second place on third and the fourth position respectively. In a meeting of the board of directors held on 31 January 2015, J.Kumar Infraprojcts ltd was issued a letter of acceptance. The work as per the tender details will be completed in 27 months period.
MEGA plans to operate 4-6 coaches to begin with at 45-100 km/hour speed.
About phase-1
Metro rail North-South corridor(APMC market to Motera stadium) and East-West corridor(Thaltej village to Vastral) are part of Metro rail project phase-1.
Phase-1 route length is 35.956 km, of which 29.621 will be over surface while 6.355 km route will be underground. 28 stations will be over the surface and 4 stations will be underground.
North-South corridor will begin at Motera stadium. It will pass through Sabarmati police station, power house, RTO over-bridge, Ranip 132 ring road, Ranip cross road, Vadaj AMTS bus-stand, Usmanpura, Ashram road, New Gandhigram, Madalpur, Paldi, Anjli, Vasna and end at APMC.
East-West corridor will begin at Thaltej village and pass through Doordarshan kendr, Gurukul road, Gujarat University, Commerce six roads, Stadium, Ashram road, Shahpur, Ghikanta, Kalupur railway station, Kankaria east(Gomtipur), Apparel park, Amraiwadi, Rabari colony, Vastral, Nirat char rasta and Vastral village, which will be the last station.
The project above is likely to be completed in year 2018.
© Copyright DeshGujarat. All rights reserved. Republication or redistribution of any DeshGujarat content, including by framing or similar means, is expressly prohibited without their prior written consent.