Bestu Varsh, Gujarati New Year Vikram Samvat 2079 begins; Sal Mubarak, Nutan Varsha Abhinandan, Happy New Year Gujarat
October 26, 2022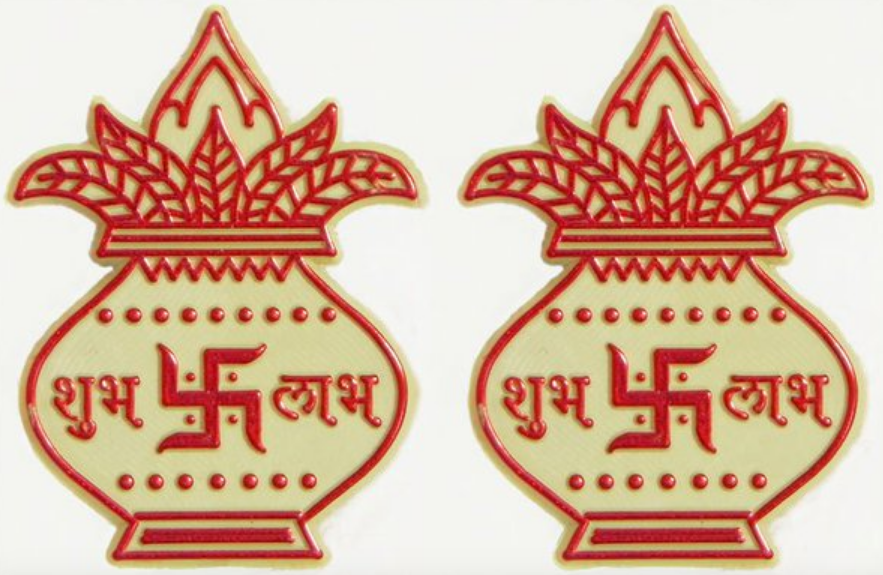 Gandhinagar: It's the biggest festival of Gujarati people during the year today. It's a new year day as per Gujarati Hindu Vikram Samvat calendar.
While Vikram Samvat calendar is also used by the people in several north Indian states and it is also the national calendar of neighboring country Nepal, the Gujarati Vikram Samvat calendar is different from others. The new year in Gujarati calendar is celebrated a day after Diwali. This year however it is on the second day after Diwali.
One can see footfalls in temples increased by 10-fold on the new year day which is popularly called 'Bestu Varsh' in Gujarati. People do clean their houses and decorate with Rangoli art on the side of the entrance to welcome the guests on Bestu Varsh.
Relatives, friends visit places of one another to convey greetings of 'Happy New Year' or 'Saal Mubarak' or 'Nutan Varsha Abhinandan'.
While in other states, Diwali festival is celebrated for just one day, in Gujarat the festivities of Diwali festival continue for five days for sure and even more. It starts with Dhan Teras and ends at Bhai Beej(Bhai Duj).
The markets are mostly closed during this period. They reopen on 'Labh Pancham', the fifth day of Gujarati new year. 'Labh Pancham' is considered auspicious mahurat to reopen the business after Diwali break. Gujarati tourists can be spotted at all major tourist destinations across the world during this period.
However, due to coronavirus outbreak, this year long trips outside the state and the country, door-to-door visits to convey new year wishes, visits to temples etc will be in low volume.
At each Gujarati home, Diwali special sweets and shacks are cooked and served to guests. The people wear new dresses. Houses are decorated with Asopalav torans (made of Asopalav leafs) and marigold flowers.
The new Gujarati Vikram Samvat calendar year 2079 will be full of lot of new developments for Gujarat. The year will see heightened political activities in connection with upcoming State assembly elections. The year will see further progress in the works for Surat Metro rail project and Ahmedabad Metro rail project phase-2. A new diamond bourse in Surat is likely to open this year. The Statue of Unity tourist site will have further more addition of tourist attractions. It may also see hydrogen run buses fro Vadodara.
More Ropax ferry service routes are expected to start this year. All works on flyovers on Ahmedabad – Gandhinagar route at SG highway are likely to complete this year. Similarly few other highway works including that of Ahmedabad – Rajkot and Ahmedabad – Chiloda are likely to complete this year. A journey from Ahmedabad to Udaipur is likely to be smoother and speedier as massive road expansion works underway at present are likely to complete this year. Works for All India Institute for Medical Sciences (AIIMS) hospital in Rajkot are likely to complete this year. Work on gold plating of the 111 foot statue of Shiva in the heart of Sursagar lake is likely to complete this year. The campus of the Indian Institute of Skills may be readied this year at Nasmed near Ahmedabad.
Chief Minister Patel – following the same routine established by Shri Narendra Modi as Gujarat Chief Minister – would visit Panchdev Mandir in Gandhinagar and perform puja on new year day. He will then visit Nagar Devi (the Goddess of the city) Bhadrakali Mandir in Ahmedabad and have darshan.
Ravishankar Maharaj, who inaugurated Gujarat state in 1960 had penned down how the festival of Diwali and Gujarati New Year was celebrated over 100 years back.
Ravishankar Maharaj writes: As Diwali is considered the last day of the year, people would rest, and pause their routine activities. Even poor person would cook good dishes of food. Laddu was cooked very commonly at every home. Businessmen would rope in Brahmins to worship their account books of new year. Ink pot, account book and pen (kalam in those days) were worshiped. Businessmen would take pledge before Brahmins, that they would never enter anything wrong in the account book using the ink and pen they worshipped. On the new-year-day, everyone would wake up early in the morning and hug one another to convey heartily good wishes. One would consume sweets and visit temple in new year morning. In the evening all villagers would gather at one place where Brahmin would read 'Saar patrika' in which review of the last year and forecast of the next year would be read out. On this day, younger ones would serve the elders. There was a general feeling that if the first day of a new year passes well, the entire year would be equally good. Ethics and dharma were very much the part of routine life of people.
DeshGujarat