Why Punsri is selected as the best village panchayat in Gujarat?
November 07, 2011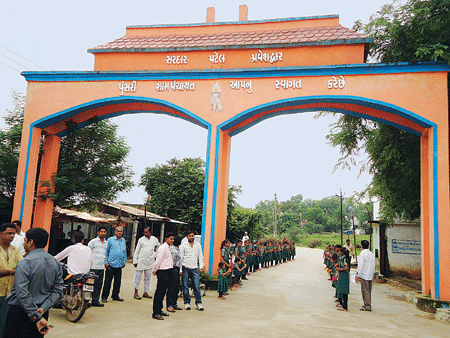 Ahmedabad, 7 November, 2011
Gujarat Chief Minister Shri Narendra Modi will give away prizes to state's best performing panchayats on 16 November at Mahatma Mandir in Gandhinagar.
In this award ceremony, the best village prize will be given to north Gujarat's Talod taluka's Punsri village.
On one side when there's a trend of migration taking place from villages to cities, Punsri village in north Gujarat's Taloda taluka stands apart. Here the local gram panchayat has provided many facilities to village people including a modern school, mineral water supply, local bus service, loud speaker covering entire village, gutter project, clean primary health care center, 8 kinder garden schools, banking facility, toll free complain receiving phone service, among others.
Punsri village has around 6,000 population. The village has about 1500 houses.
Punsri has its own bus service. Villager can buy ticket of Re 1 to use this bus. For female students, bus service is completely free. Bus service covers three small suburbs. Women come to deposit milk to milk bank couple of times during a day through this bus. A 35-seater bus was bought through 100% funding of the District Rural Development Agency(DRDA). Cost of running the service is managed through ticket sales.
Punsri has 120 loud-speakers covering each corner of the village. Villagers listen to prabhatiya in the morning and bhajan and bhakti songs in the evening. Also important announcements like telephone bill, power bill, results of 10th and 12th are made through these speakers. Unique feature is that the village sarpanch can pass on any announcement from his mobile phone. To set up this system Rs 4 lakh were spent from corpus.
Under Rs 30 lakh reverse osmosis(RO) plant project a 20 litre jar of clean water for Rs. 6.00 is supplied to every doorstep of the village by employing two youths. This is not-for-profit project, but in social functions the charge is Rs 20 per jar, which is the market rate. This initiative was taken because of TDS level of 1400 in naturally available water in the village. The plant is run by village youths. It was set up by panchayat.
Punsri has four primary schools and work is going on to make all classes air conditioned.
There are RCC roads in entire village. Those who pay tax get gift. The panchayat started with giving plastic dustbins as gifts. Tractor visits each home to collect waste. There's nearly 90% tax collection achieved.
Punsri has one 'asthi bank'. Pots containing ashes of all those cremated are taken to Haridwar once in a year to release in river Ganga.
Door to door garbage collection work is practice regularly in this village.
If anyone has some issue or problem related to local administration, he/she can dial toll free number 864 and talk to Panchayat.
Village panchayat has built a well-maintained and clean shopping center too in Punsri.
Next things planned in Punsri are air conditioned hall with 300 seats and CCTV cameras covering entire village.
You may raise a question that from where the fund came to implement all this. While some fund was received through various government schemes, a part of fund for the projects came from corpus. The village talati prepared a proposal to sell plots of village panchayat land to the villagers. Around Rs 30 lakh corpus was created through which developmental works were done.