Stop release of film Padmavati: Kshatriya, Rajput leaders of Gujarat BJP to ECI
November 01, 2017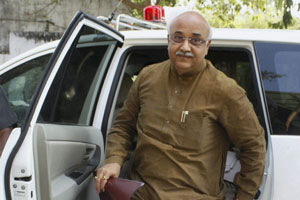 Gandhinagar: Gujarat BJP leader IK Jadeja today said the party will request the election commission to delay the release of upcoming Hindi film Padmavati.
Jadeja said, 'Padmavati's character has been wrongly projected with Allauddin Khilji in upcoming Hindi film. Sentiments of people are hurt in many states across the country due to this fictitious projection of historical characters. There's election season underway in Gujarat and if there's any attempt to create some wrong dispute, the election commission should see that the film release is stopped. Election Commission and Censor Board have power to decide till what time the film should not be allowed to release here.'
Jadeja said, 'Education minister Bhupendrasinh Chudasama, Minister of State for Home Pradipsinh Jadeja, party leaders Kiritsinh Rana, Bharatsinh Parmar, Jaydrathsinh Parmar, Balvantsinh Rajput etc met and jointly decided to make representation before the Election Commission that the film which wrongly link Padmavati to Allauddin Khilji by twisting historical facts should not be allowed to release.There is strong sentiment against the film across the state particularly in Rajput/Kshatriya community that loves its cultural heritage.'
'History has been twisted, censor board should check the history and then also check the content in the film and then should see that only correct historical facts are presented in the film,' Jadeja said.
'Padmavati never met Allauddin Khilji. There could be many other fabricated things in the film,' said Jadeja.
He said a letter to Election Commission will be sent demanding delay in release of film Padmavati.
DeshGujarat