Powerful Jamnagr rural lady Poonam Madam leaves Congress,joins BJP
November 22, 2012
Ahmedabad, 22 November 2012
Update: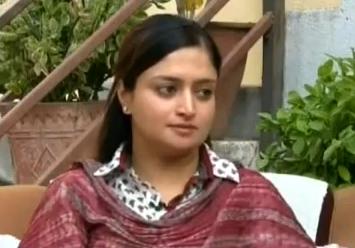 Poonam Madam has been selected as BJP candidate from Khambhalia seat. The BJP has dropped existing MLA for this.
________________________________
In a major setback to Congress in Jamnagar rural belt, powerful local woman leader Poonam Madam has resigned from the primary membership of Congress party today.
Poonamben has announced to join the BJP.
Poonam Madam was likely to contest the election from Jamkhambhalia seat in Jamnagar district on Congress ticket. Her name also was in the panel, but she was not declared candidate in the first list yesterday.
Poonamben Madam is daughter of late Shri Hemantbhai Madam who was 6-term MLA of Khambhalia. Late Shri Madam also became Mayor of Jamnagar thrice.
Gujarat BJP President RC Faldu welcomed Poonamben Madam's decision to join the BJP.
Sidelights:
-Khambhalia taluka Congress president Alabhai Jogal, Youth Congress district general secretary Parbatbhai Suva, district Congress general secretary Rambhai Detharia, Youth Congress vice president Keshrisinh Jadeja etc have resigned from Congress in support of Poonamben.
-Pooamben's father was four-time independent MLA from Khambhalia during 1972-1990.
-Poonab Madam was only a primary member in Congress for four years. She never held any position in the party.
-Jamnagar Congress MP Virkam Madam is Poonam's distant uncle.
-32-year-old Poonam Madam is married to a former defense officer Parminder Mahajan.
-Poonam Madam's distant uncle Vikram Madam was not happy with the rise of Poonam in politics. While Poonam Madam was in Congress's probable candidates list for Khambhalia seat, Vikram Madam was lobbying for Ebhabhai Karmur's candidature.
-Poonamben's grandfather Rambhai Madam was active in Aahir community work in the field of education.
-Poonam Madam was based in Delhi till 2009, but later she settled in Khambhalia.
-Poonam Madam originally belongs to Kalyanpur. Her great grandfather settled in Jamnagar.
Related stories:
Narendra Modi attends Kankeshwari devi's Ram katha in Aahir community dominated belt of rural Jamnagar
In pictures: Sehwag, Pathan, Munaf, Pragyan Ojha, Parimal Nathwani grace the function of Saurashtra Night Cricket Tournament
Letter to Revenue minister:Provide fodder to larger farm owners too