What is the truth in 12 lakh jobs claim of Kejriwal Govt in Delhi?
September 01, 2022
By Kushagra Tiwari
Gandhinagar: AAP Chief Arvind Kejriwal does not make promises, instead, he provides guarantees ahead of the elections. One of those many guarantees he is announcing in poll-bound Gujarat is about jobs and employment. On 1st August, Kejriwal declared a guarantee in Gujarat that if AAP comes to power, they will provide 10 lakh govt Jobs. He also claimed that his government has given 12 lakh jobs in Delhi.
However, Kejriwal and his party's claim that they have provided 12 lakh jobs in Delhi is turning out to be a sham as the details shared by the Delhi govt in reply to an RTI (Right to Information) query presents a different picture. We went through the claim of both AAP and its opposition to do a reality check and found these facts.
Despite Kejriwal's claim of 1.78 lakh jobs, RTI only lists 3980 Delhi Govt Jobs
Delhi Chief Minister Arvind Kejriwal after the Budget speech by his Deputy Manish Sisodia in March 2022, had said "Delhi Govt has provided around 12 lakh jobs. Out of these 12 lakh jobs, 1.78 lakh were govt jobs, and about 10 lakh are private sector jobs."
आज देश के आम आदमी के सामने दो सबसे बड़ी समस्याएँ हैं- बेरोज़गारी और महँगाई

दिल्ली में हमने पिछले 7 साल में 12 लाख लोगों को रोज़गार दिए हैं। अब अगले 5 साल में 20 लाख नई नौकरियाँ देने का लक्ष्य रखा है। pic.twitter.com/L1tKD5zVau

— Arvind Kejriwal (@ArvindKejriwal) March 26, 2022
However, the very next day his claim of 1.78 lakh Delhi govt jobs was dismantled by BJP leader Kapil Mishra. Kapil in a tweet shared the RTI reply of various departments of the Delhi government that showed only 3980 jobs were given during the 7-year tenure of Kejriwal.
In the reply to RTI filed by BJP leader Tajinder Singh Bagga, "only 1 person got a job in 2017, 267 people got jobs in 2019 and 23 got jobs in 2020 in various departments of Delhi Government."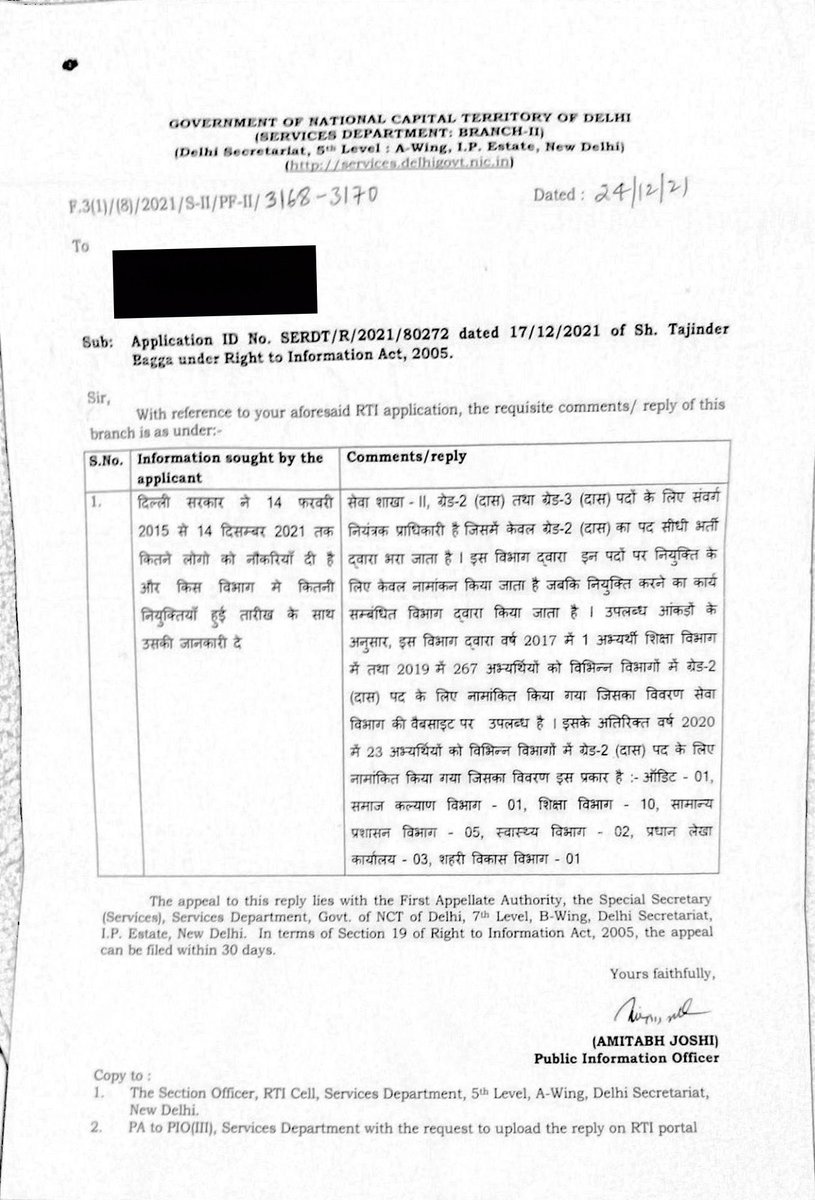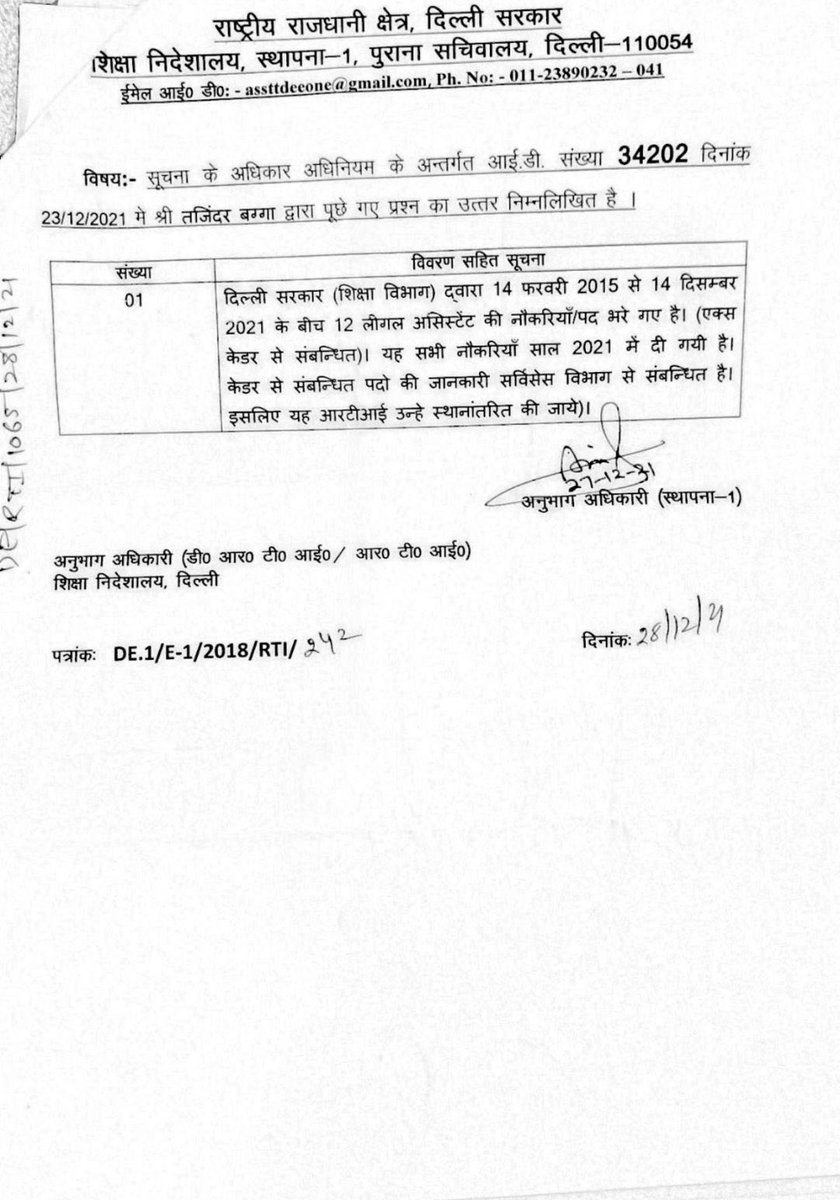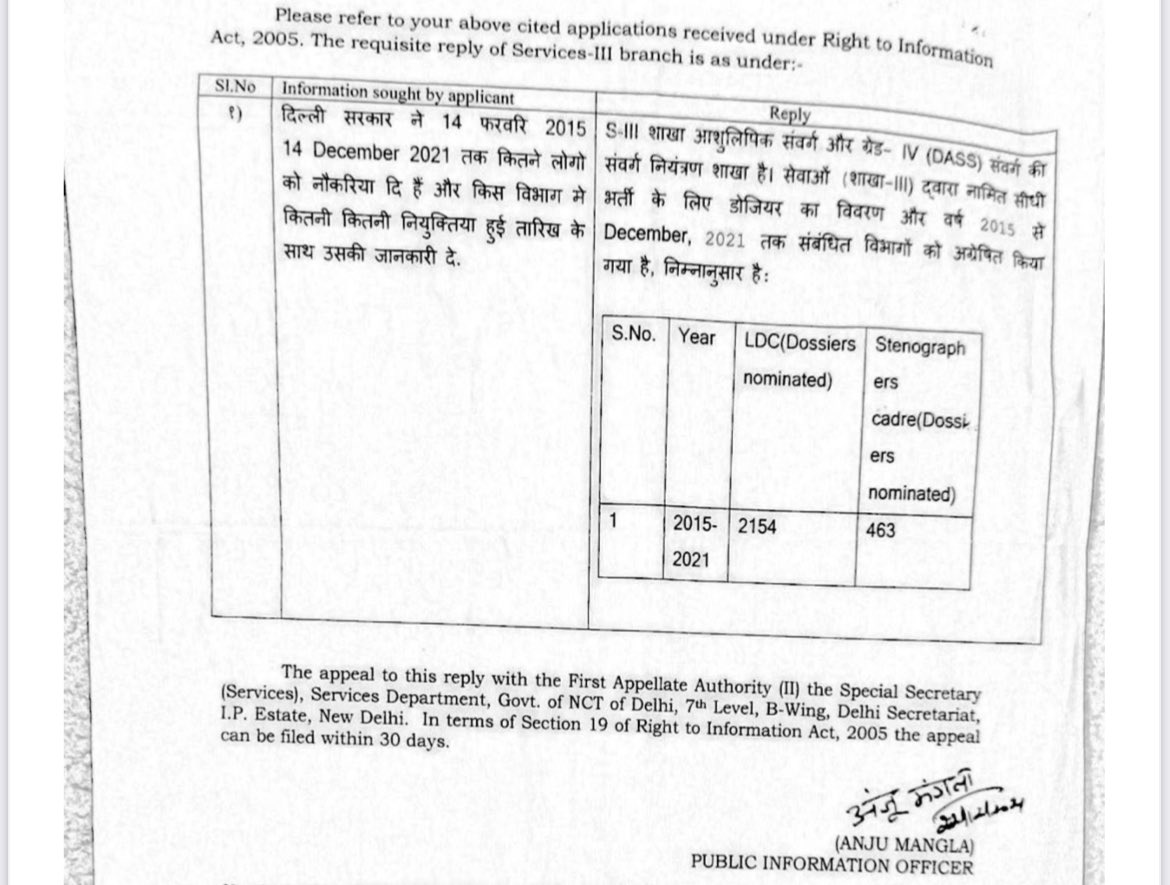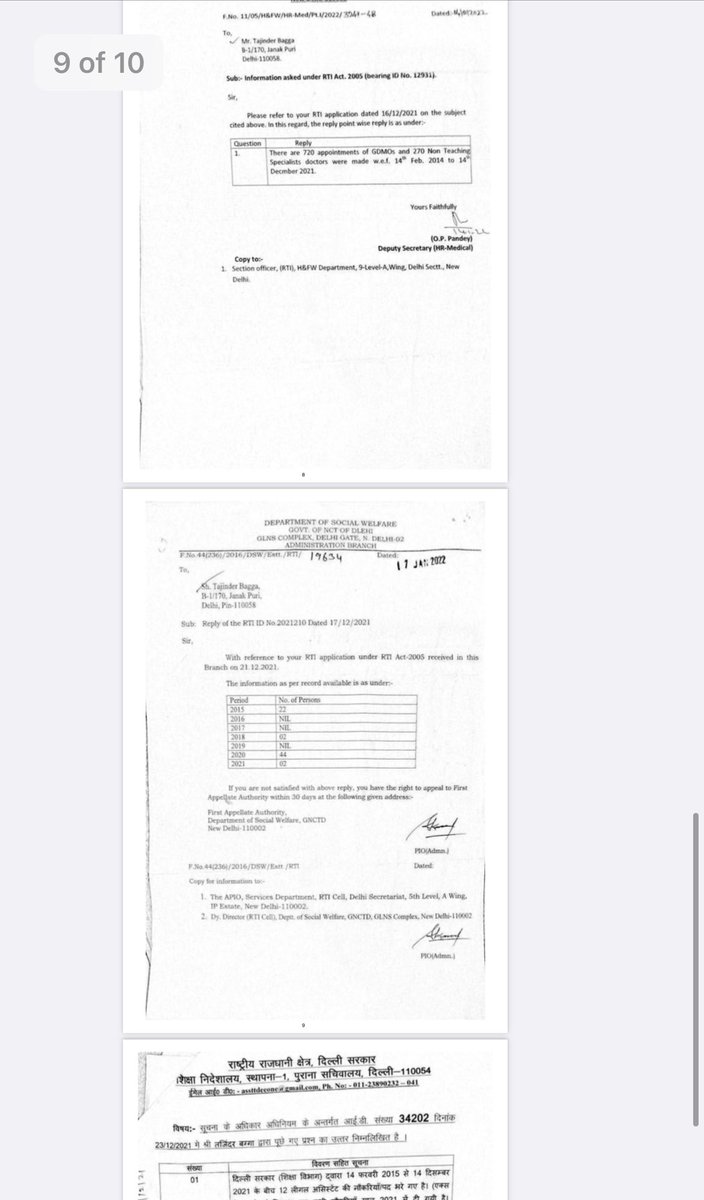 From 2015 to 2021, 12 jobs were allotted in the Legal Department, 2154 Lower Division Clerks, and 463 stenographers were appointed. In addition to that, 720 General Duty Medical Officers, and 270 non-teaching specialist doctors were appointed. In the social Welfare Department, a total of 70 appointments were made between 2014 to 2021.  
When asked about these numbers, Kejriwal surprisingly dismissed the data of his own government's department saying "RTI may be false. The data from RTI is not absolute as it comes from several ministries, offices, and different levels of the government." 
As per RTI only 440 got Delhi govt jobs
Delhi CM Kejriwal during an election rally in Uttar Pradesh earlier this year boasts about giving 10 lakh jobs to the youth of Delhi. He said that all the data about the job is available on the website http://employment.delhigovt.nic.in/ but the website was last updated in 2018.
The RTI reply dated 06/04/2021 stated that a total of 440 people received employment against 15,34,384 applicants.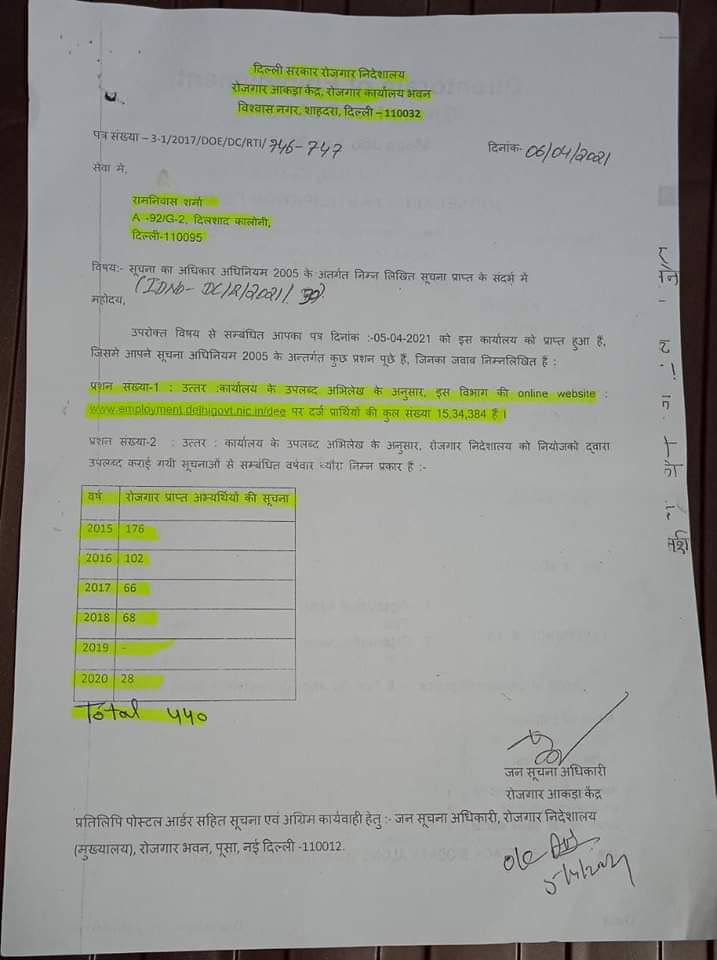 At that time, Anil Chaudhary of Congress took a dig at AAP that this government promised 8 lakh govt jobs but gave only 440. He also asked Kejriwal to tell that out of 440 youths in Delhi, how many were from Uttarakhand?
अरविंद केजरीवाल ने अपने घोषणा पत्र में 8 लाख युवाओं को रोजगार देने का वायदा किया था, जबकि R.T.I के अनुसार दिल्ली में 7 वर्षों के शासन में केवल 440 नौकरियां रोजगार विभाग ने दी।

केजरीवाल बताऐं कि दिल्ली में 440 युवाओं में से कितने उत्तराखंड के युवाओं को रोजगार दिया गया? pic.twitter.com/M5w6NLuFg2

— Anil Chaudhary (@Ch_AnilKumarINC) September 20, 2021
Ramvir Singh Bidhuri, Leader of the opposition in the Delhi Assembly during the budget questioned the AAP government regarding this RTI. Bidhuri asked why the AAP claimed that 20 lakh jobs were generated when only 440 jobs were provided during 2015 – 2020.
दिल्ली में 7 साल में दे पाए सिर्फ 440 सरकारी नौकरियां और दावा कर रहे हैं 20 लाख नौकरियां देने का! विधानसभा मे नेता प्रतिपक्ष रामवीर सिंह बिधूड़ी ने उठाया सवाल तो नहीं था केजरीवाल के पास कोई जवाब!@narendramodi @JPNadda @AmitShah @blsanthosh @PandaJay @BJP4Delhi pic.twitter.com/9RtDrcpeqp

— Ramvir Singh Bidhuri (@RamvirBidhuri) March 30, 2022
False claim of creating 10 lakh jobs from 'Rozgaar Bazaar' Portal
Deputy CM of Delhi, Manish Sisodia claimed that until June 30, 2022, A total number of 10,21,303 verified jobs across 32 job categories have been generated in Delhi.
He said, "The official figures from Rozgaar Bazaar show that over 10 lakh jobs have been generated in Delhi in the past two years."
"Everyone will see very soon how Chief Minister Arvind Kejriwal lives up to his promise of providing another 20 lakh jobs in Delhi as announced in our Rozgaar Budget this year," Sisodia added. 
This claim of the AAP government was shattered by an investigative report in  The Hindu. As per the data accessed by the newspaper, over 10.1 lakh active jobs were  posted on the portal till May 1. But the people who got "screened" for these jobs were only 76,676 and out of these only 12,588 candidates were "selected". The government has never made this detailed data public.
"Details about 10 lakh jobs are there in Delhi government's web portal… Go and check in Delhi government's Rozgar portal," Mr. Kejriwal had said in an interview with India Today in March. But the portal does not have any details on the number of jobs provided.
The article in The Hindu also shares the details, how Kejriwal and Sisodia are vaguely using this 10-lakh employment claim at various places on various occasions differently.
Guarantees in Gujarat but higher unemployment rate in Delhi
Arvind Kejriwal, in the race to woe the voters promised that he will give employment to every Gujarati in 5 years. He also promised Rs. 3000 per month to the unemployed youth of Gujarat.  
However, no such allowance is given in AAP-ruled New Delhi, where as per CMEI data an unemployment rate was 8.9% as of July 31, contrary to which Gujarat only had an unemployment rate of 2.2% which is, much lesser than that of Delhi. 
Earlier also during the Uttarakhand Election campaign, Kejriwal promised Rs 5000 to the unemployed people. Even at that time in December 2021, the Unemployment Rate of Delhi was 9.8% as compared to 5% in Uttarakhand. 
Other than Delhi, AAP is also in power in Punjab, where unemployment rate is 7.7% in July. This again is higher than the unemployment rate in Gujarat, So one must wonder that does Kejriwal only promises the unemployment allowance as election baits as he does not provide any such funds to the youth of the states that his party rules.
DeshGujarat