22 IAF choppers participating in flood relief/rescue operations, aerial survey in Banskantha by C-in-C of SWAC
July 28, 2017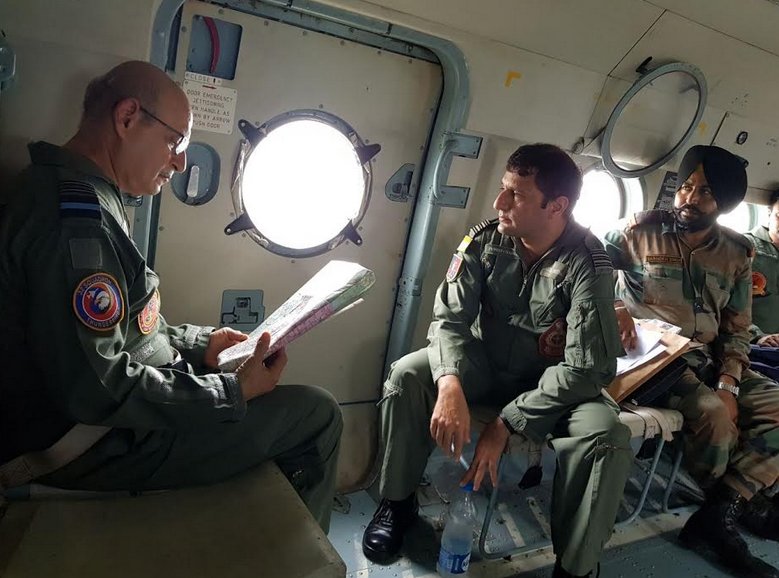 Gandhinagar/Palanpur:
22 Air Force choppers are participating in the flood relief and rescue operations in Gujarat and a dedicated round the clock Humanitarian Assistance. Disaster Relief (HADR) Cell has been activated at South Western Air Command (SWAC), Gandhinagar to monitor the relief operations .Air Marshal R K Dhir Air Officer Commanding-in-Chief of the command undertook an aerial survey today to assess and inspect the damage done by the flood/rain in worst hit Banaskantha district.
Defence spokesperson Wing Commander Abhishek Matiman said that presently 20 Mi-17 V5 and 02 Chetak helicopters have been deployed at various locations of the state. A radar has been operationalized at Deesa for communication which was specially transported by an AN-32 aircraft till Ahmedabad and thereon by road. A base has also been setup at Mehsana wherein 02 Mi-17 V5s have been deployed.
Air Marshal Dhir, undertook an aerial survey to assess and inspect the damage at Deesa and other parts of Banaskantha. Despite inclement weather this morning, sorties were undertaken towards rescue and relief operations. Considering the gravity of the situation the Air Marshal is personally overseeing rescue operations and has ensured that the Air Force and South Western Air Command is fully geared up for any unforeseen situations, he said.
Air Marshal boarded an IAF Cheetah to reach Mehsana which has been one of the launching bases for IAF operations. He did an aerial survey of flood situation in Banaskantha and Patan Dist by an IAF Mi-17 V5 helicopter. and also interacted with the Air Force Task Force at Deesa. He was also briefed by Civil Officials at Deesa.
DeshGujarat