Gujarat ATS busts IKSP module; Arrests 3 Kashmiri youths from Porbandar and a woman from Surat under UAPA radicalized by handlers abroad
June 10, 2023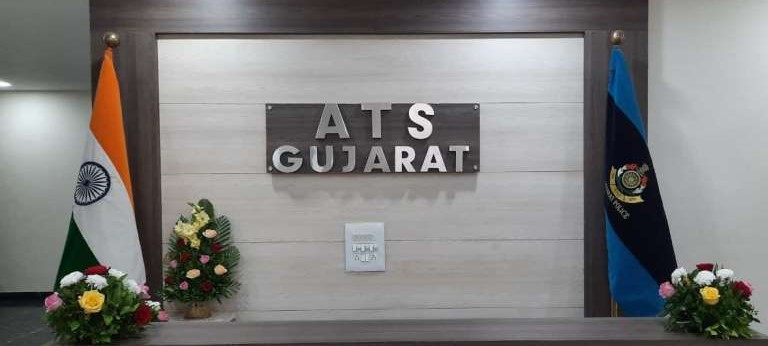 Porbandar/Surat: Gujarat ATS had received information that the banned terror organization Islamic State of Khorasan Province (ISKP) linked three radical youths were planning to leave India through the Porbandar coast in Gujarat. They were on their way to the Islamic Emirate of Afghanistan via Iran and had reached Porbandar.
On the basis of this information, early in the morning on 9 June, the Gujarat ATS team kept watch at Porbandar railway station and identified and detained three youths for questioning. The youths are Ubed Nasir Mir (resident of 90 ft road, Shah Faisal colony, Saura, Srinagar), Hanan Hayat Shol (resident of same locality), and Mohammad Hajim Shah (resident of same locality). When questioned, they said that they were radicalized by their handler Abu Hamza and they had joined ISKP).
In detailed questioning they said that two more persons Zubair Ahmed Munshi(Amira Kadal, Srinagar) and Sumerabanu Mohammad Hanif Malek (102, Baig e fiza apartment, Saiyadpura, Surat) were also members same module of ISKP and linked to this three-person). On the basis of this information, Gujarat ATSS and Surat Crime Branch teams raided Sumerabanu's house in Surat and in the presence of independent witnesses conducted a search in which ISKP's various radical publications such as Voice of Khorasan etc were recovered. When questioned in detail, Sumerabanu revealed that she was in contact with the handler and also with Kashmiri person Zubair Ahmed Munshi. The material in which she pledged loyalty to the ISKP leader was also found in her house.
Meanwhile, those three Kashmiri youths detained in Porbandar were carrying bag. When checked, ATS found personal ID documents digital communication equipment such as mobile phone, tablet and sharp knife etc. In the presence of independent witnesses, when the cloud storage account was accessed, ATS found photographs of these persons with ISKP banners and flag, videos of four Kashmiri youths taking the pledge for Amir Ul Mominin (Commander of the faithful or leader), audio clips of Bayah(pledge of loyalty) and files showing refuge in Khorasan. When asked further, the youths said their handler Abu Hamza had asked them to reach Porbandar. They were to take job as laborers in fishing boats here and later reach the desired GPS coordinate in the sea, from where they were to be taken to Iran in Dhow (a wooden ship). They were to get a fake passport then, using which they were going to reach Khorasan via Herat. They were to participate in terror act in the Islamic Emirate of Afghanistan on behalf of ISKP and achieve martyrdom. Later their handler was to use pre-recorded statements, photos, videos, and documents to declare them martyrs.
On the basis of these oral and physical facts and other collected evidence, Ubed Nasir Mir, Hanan Hayat Shol, Mohammad Hajim Shah, Zubair Ahmed Munshi, and Sumerabanu Mohammad Hanif Malek are booked under the suitable sections of the unlawful activities prevention act (UAPA).
ATS has arrested the accused Ubed Nasir Mir, Hanan Hayat Shol, Mohammad Hajim Shah of Srinagar, and Sumerabanu Mohammad Hanif Malek of Surat. ATS searches are for the other accused Zubair Ahmed Munshi of Srinagar. DeshGujarat