Narendra Modi's Hat-trick and Global Impact for India
January 01, 2013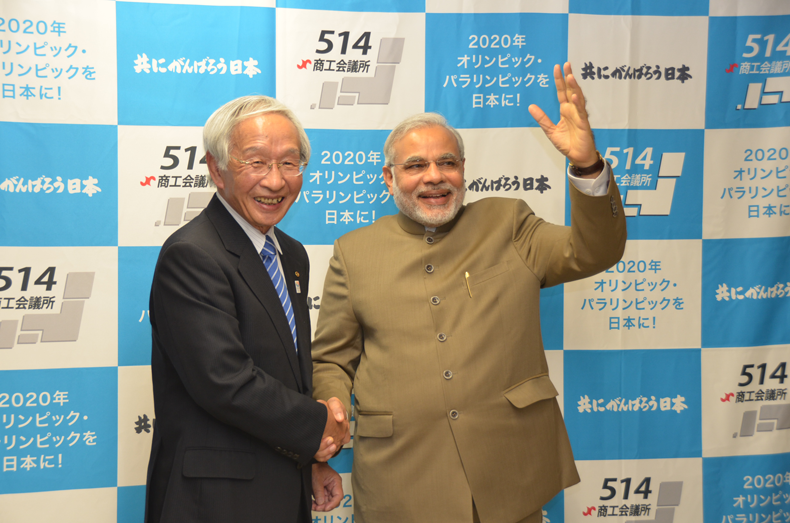 By Somindu.S.
Ahmedabad, 1 January 2013
As 2012, ended on gloomy note, suddenly there were many questions raised in negative tone about India. The Govt of the day is also concerned with the image outside. In this backdrop, it was heartening to read a 939 worded Japanese article on India in Nikkei Newspaper last week. For the starters, The Nikkei is one of the most read newspapers of Japan and trusted as far as global news with economic impact are involved. It is important to recall that just before Gujarat chief minister Narendra Modi embarked his journey to Japan; it was Nikkei that set the tone with an article even announcing Japan's Red Carpet Cabinet Rank welcome to him. (Please read here more on the article; Yokoso; Swagatam all over again)
The dust is settling down on recently concluded elections in Japan where as predicted Mr. Shinzo Abe a good friend of Narendra Modi and India won massive mandate. (Please read about Abe and Modi here). Japan with new Government at the helm is busy choking out their growth plan for future. India plays a very important role. This was all the more evident as When Abe spoke to leaders of very few countries after taking over, India was one of them. Hence all the more important to know Nikkei's view which in turn forms opinion of the opinion makers in Japan.
So When Nikkei runs an article which sets tone for Japan's opinion for coming years, it does not focus on the negatives of India nor toes myopic Indian media line. It rather focuses on the "Hope of India" in the form of one man, Mr. Narendra Modi. To be precise, Nikkei focuses on the obvious which citizens can see and mainstream media will ignore. Their topic is excitement about Gujarat Chief minister among global power nations. Even though, Japan will be sending largest contingent for VibrantGujarat, headed by Govt officials from METI, Nikkei chose to write a long article on Modi's advent as strong contender to lead India in future and how world powers are viewing.
You may visit original link in here. http://www.nikkei.com/article/DGXNASGM25005_Y2A221C1FF1000/ Below please find translation of the article.
—-
US/UK/Russia set their eyes on Opposition PM Candidate: Staring at Regime Change in India?
by Nikkei on 29-12-2012
US, UK and Russia are paying close attention on the advent of one man from India. The chief minister of Gujarat, who is undisputed top contender of Prime-ministerial post from the largest opposition party in India namely BJP, Mr. Narendra Modi is the center of attention globally. India will be bracing for general election in 2014 and BJP will be looking to form Govt after a gap of 10 years. There is a huge expectation for Modi's development model to be replicated in whole India.
We usher in New age: Led by Narendra Modi, BJP registered comprehensive win on the 20th December at Gujarat. His victory speech was not in Gujarati, the local language but in chaste Hindi which is national language and understood by far many people. This gesture has set the rumor mills going about his influence on national political scene.
THAW in Relationship: Modi has successfully wooed Ford of USA and India's largest car Maker Maruti-Suzuki. From Roads, Power to Ports, his success has been on the backbone of creating right infrastructure. In highly "Regulated" India, this is such a rare feat that global powers are awestruck in admiring Modi's ability. In a rare gesture, Russian Govt rushed congratulatory message on BJP's victory in Gujarat.
On the other hand, UK's ambassador met with Mr. Modi. UK was one of the countries that criticized Mr. Modi for his tacit inaction regarding Hindu-Muslim riots which saw 1200 people lose their life in Gujarat. Since then UK had cut off all the relations. However sensing "Modi Government" taking shape, they decided to improve relations.
Not far behind, USA is also searching for opportunity to restore relationship. After 02 riots, Modi was denied visa for USA and US ambassador refrained meeting Modi publicly. However sensing Modi's advent in National Politics, they could not remain mute spectator. In Oct 2012, Mr. Robert Blake, Assistant Secretary of State on his visit to India, did make a statement that Mr. Narendra Modi is free to apply for USA visa. It was an evident turnaround in the stance. Japan on her part, invited Mr. Modi with a cabinet Rank reception on his July visit.
Risk of Religious confrontation: With huge victory in Gujarat, Mr. Modi's contender ship for prime-minister for BJP has increased. However, BJP has background of favoring Hindus over other religious people and in reality increased their support base on the religious sentiment. In case "Modi Govt" takes shape, there are people who fear one more religious confrontation in India. Everyone will be watching how Modi tackles this issue.
—
Unlike western media, Asian media are not biased and see the truth from Asian Values. With rising middle-class at increasingly young nation, it seems locally the Gujarat chief minister is the only one who understands the pulse.
What global powers are looking to India is also some visionary who can be good not only for India but also for World. Interestingly both these forces converge in their search. 2013 promises to be exciting time for India.
Read all stories of SominduS on this link
Follow SominduS on Twitter on this link