Bharuch likely to have a flood like situation; Water level at Golden bridge crosses danger mark
September 17, 2023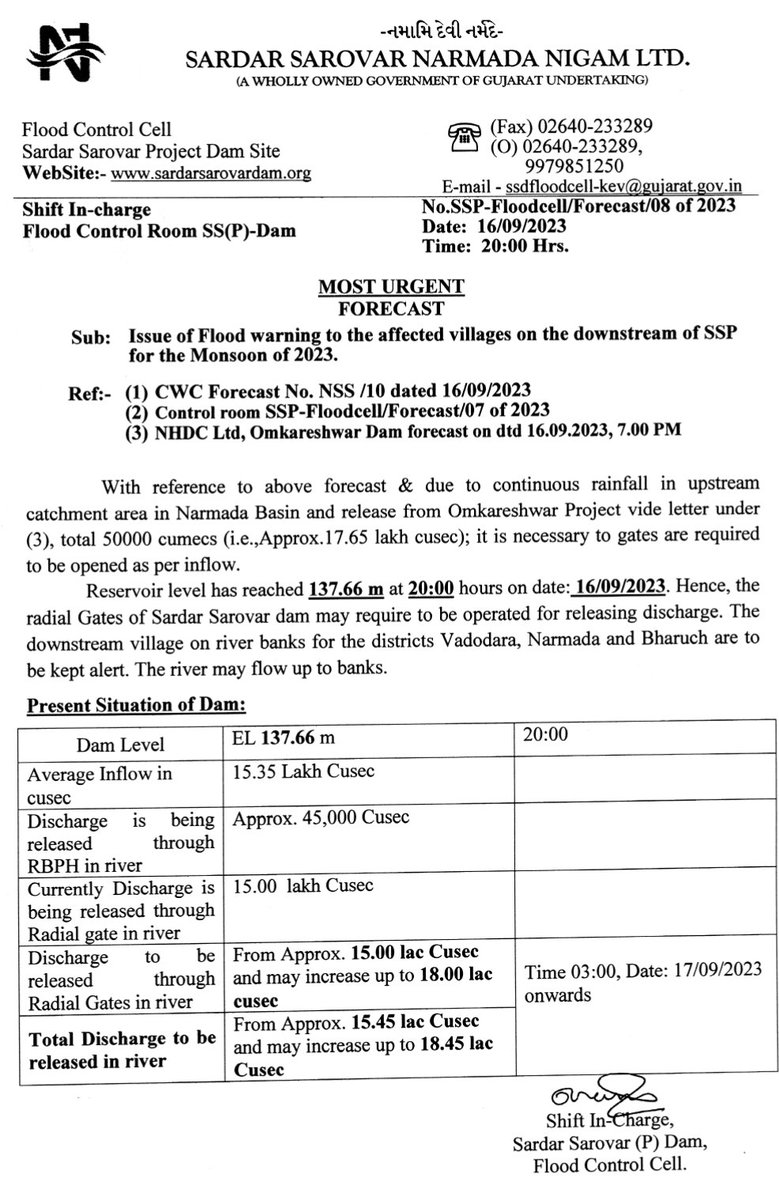 Bharuch: The areas of Bharuch may witness flood-like situations as over 17.50 lakh cusecs water has been released from the Sardar Sarovar Narmada dam post 4 am. The water level at Golden Bridge which is located between Bharuch and Ankleshwar over river Narmada has crossed the danger mark of 24 ft post 4.30 am. As of 5 am, the level is above 25 ft and rising speedily. The warning level of 22 ft was crossed earlier. Typically in the case of the level of 30 ft, there will be a situation in which a few thousand people would need to be evacuated from Bharuch city and around a dozen villages.
Sirens at Gurudwara Chadar Saheb in Maktampura, Swaminarayan Mandir in Old Town, Water tank at Old Town, Sardar Smarak school in Maktampu r and Old Bahuchar mata mandir were activated post 4.40 am by the administration.
Water release from Narmada dam started at noon on September 16 in the size of 1.45 lakh cusecs but gradually it increased to 17.42 lakh cusecs as of 4 a.m. on September 17, against an inflow of 19.53 lakh cusecs. The dam was 99.93% full at 138.66 m level against the highest 138.68 m at 4 a.m. Gujarat Chief Minister Bhupendra Patel is going to visit the dam at 8.00 a.m. to celebrate the full level of the dam which is considered Gujarat's lifeline.
Meanwhile, the gates of Kadana dam in Mahisagar district were opened for the release of over 56,000 cusecs of water post 4 am today against the inflow of over 7.77 lakh cusecs of water. The release rose to over 1.67 lakh cusecs post 5 am. The dam was nearly 75% full as of 4 am and over 78 percent at 5 am.DeshGujarat