Tourism:Five things that make Tarnetar fair worth visiting
September 02, 2008
Tourism:Five things that make Tarnetar fair worth visiting
By Japan K Pathak
Ahmedabad, DeshGujarat, 2nd September, 2008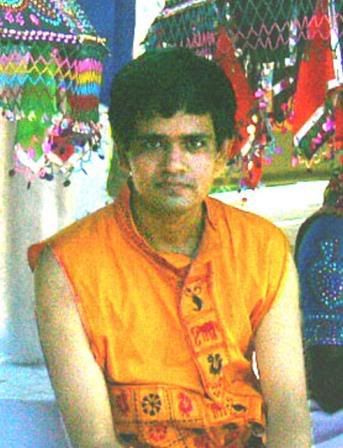 After visiting Tarnetar fair for twice, I have come to the conclusion that this three day long fair, one of the biggest in Gujarat is good destination only for one day visit. Keep water bottle, sun cap, goggles with you and wear shoes that you are comfortable enough to walk with. Contacting Gujarat Tourism office in advance for an inquiry about other facilities available at the fair is best idea. Be Surely ready to buy traditional embroidered male jacket from the fair if you can(and if it is available there). Such jacket would impress people around you when you dress it in Navratri. Apart from different activities at stalls, tents and temporary shops, five things are worth enjoying in Tarnerar fair according to me. Here they are…
1.Trinetrishwar Mahadev Mandir's long religious flag
It's a long, thin and unique saffron flag. Flag is carried in a procession to the Trineteshwar Temple. It is then unfurled by main priest of Paliyad village temple. After flag hosting, people take the other end of this flag in their hands and worship it.
2.Traditional local colorful male dresses
Wonderfully embroidered colorful male jackets of shepherd gents are worth seeing, and if you can manage, worth wearing too. Shepherds-Cow keepers wear green or blue dhoti, Silver belt, Silver bracelet, Two or three types of ear rings, turban on head, colorful tight t-shirt like top on chest and over that they wear embroidered colorful jacket. Surendranagar District administration has initiated efforts to encourage the villagers for wearing traditional dresses when they visit Tarnetar fair by rewarding them cash.
3.Hudo folk dance
Try to spot an original 'Hudo' folk dance in Tarnetar fair. Males and femals from shepherds community gather to perform this dance in it's original form near the main temple more than once during the five day long fair at unscheduled times. If you can't spot the original, you can surely watch organized Hudo dance performed by a professional group on the stage set by Gujarat Tourism .
From Tarnetar fair, 'Hudo' has reached urban Gujarat too in recent years. It is one of the most popular and fashionable folk styles of dancing in urban Gujarat's Navratri festival. Modern and fashionable girls from colleges and schools of Gujarati dominating cities like Ahmedabad and Mumbai spend thousands of Rupees to learn original and authentic dance styles of Garba, Dandiya and Hudo before Navratri festival.(Clicke here to watch video of Hudo performed at Royal Albert, London)
4.Embroidered umbrellas
Tarnetar fair is celebrated on large open ground. Atmosphere happens to be humid, hot and sunny in day time during the fair. Some of the villagers from surrounding villages bring umbrellas with them therefore. Umbrellas are well decorated with excellent mirror work and traditionally designed embroidery. colorful Handkerchiefs are tied along the periphery of umbrellas. Such decorative umbrellas have become identity of Tarnetar fair. Gujarat tourism promote this activity and organize umbrella decoration competition too for encouragement.
5.Rural Olympic
Races of decorated bullock carts, camels, horses and competitions like rope pulling are organized by Gujarat tourism as part of rural Olympiad in Tarnetar fair for last some years.
Gujarat Tourism has initiated efforts to promote Tarnetar fair as Rural Tourism destination. Excursion trips are organized this year by Gujarat Tourism to surrounding villages for tourists to cater them tastes of tradition of local area including rural houses, lifestyle, animal husbandry etc.