Dahej – Ghogha ro-ro ferry project kicks off:Details with pictures and maps
January 25, 2012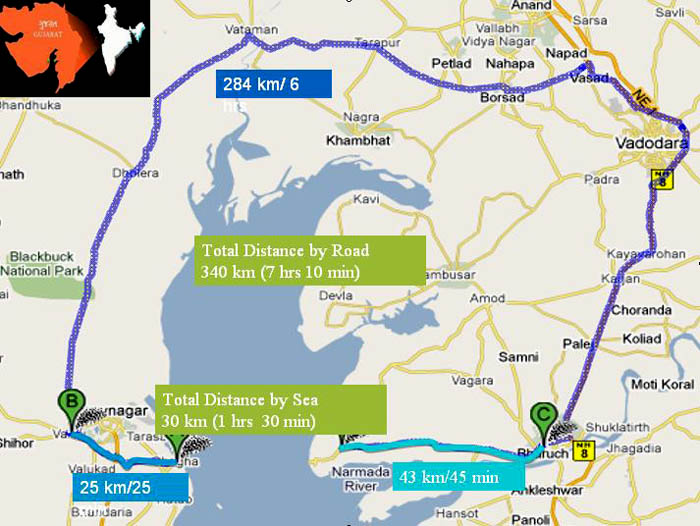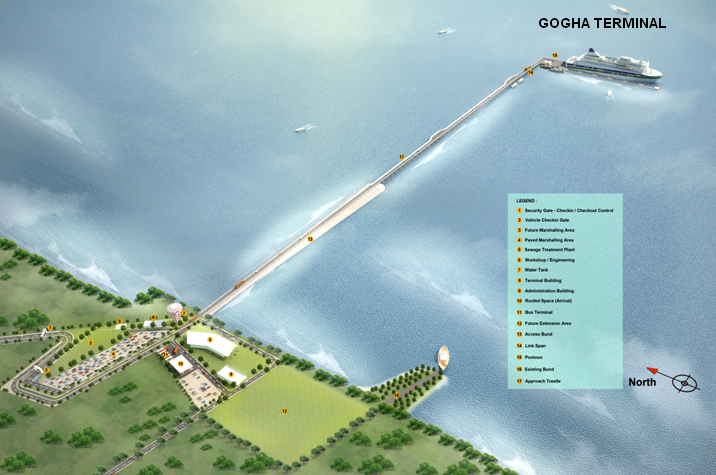 Proposed Ghogha terminal of Dahej-Ghogha ferry project


Ahmedabad, 25 January 2012
Gujarat Chief Minister Shri Narendra Modi will today perform ground breaking of Rs 296-crore Dahej-Ghogha roll on-roll off (ro-ro) ferry project terminal at Bhavnagar district's Ghogha coast. The project that would connect south Gujarat and Saurasthra regions of the state through the Gulf of Cambay is being developed by the Gujarat Maritime Board (GMB).
The project is expected to be implemented in 15 months. After construction of the two terminals at Dahej and Ghogha, GMB plans to run two or three ferry vessels daily, to begin with, for which it would invite bids from ferry operators.Special vessels will carry loaded road vehicles, including buses and trucks, through the sea route.
The much awaited project has been awarded to Essar which was the lowest bidder. The EPC(engineering, procurement & construction) contract to Essar involves construction of both terminals.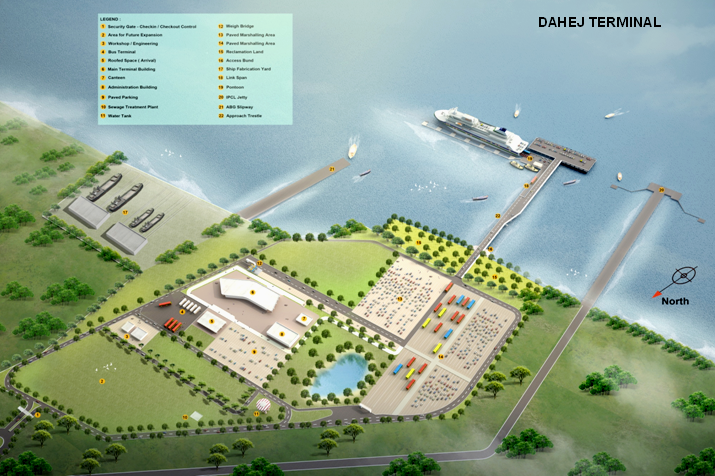 Gujarat Maritime Board has 16 hectares of land at Ghogha( and 14 hectares of land at Jageshwar-Dahej) over which construction of security gate – checkin/checkout control, vehicle checking gate, future marshalling area, paved marshalling area, sewage treatment plant, workshop/engineering, water tank, terminal building, car parking, access trestle, administration building, roofed space(arrival), bus terminal, future extension area, land reclamation, access bund, link span, passenger amenities, pontoon, existing bund, approach trestle will be witnessed over next one year by Essar infrastructure. About 1 cum dredging in Ghogha and 3 cum dredging at Dahej is expected and dredge material is proposed to be filled in low lying area. No cargo will be handled at both the terminals.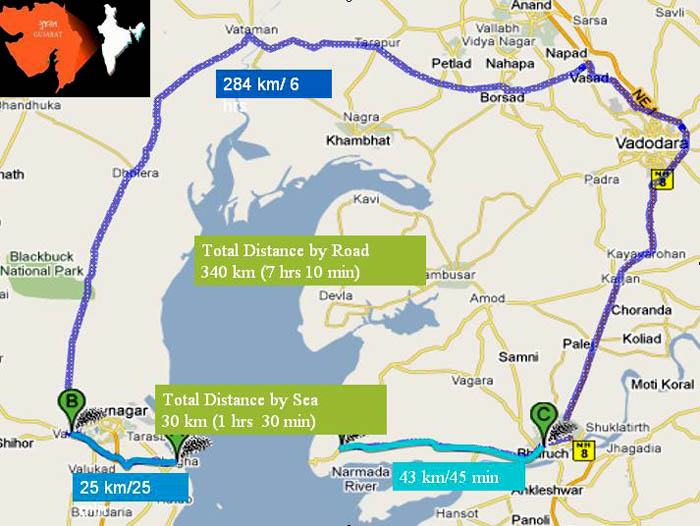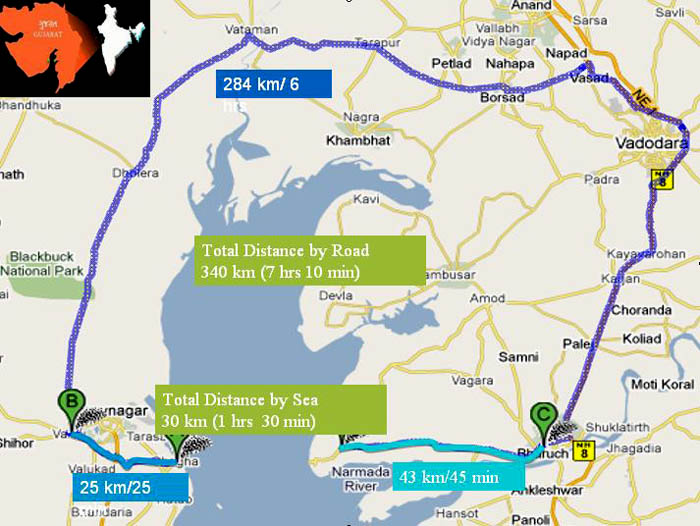 The ferry distance between Dahej and Ghogha two terminals will be 17 nautical miles or 32 km. Total distance by road between Bharuch and Bhavnagar via Vadodara, Borsad, Tarapur and Vataman is 340 km which takes 7 hours and 10 minutes. Compare to this the journey between Bharuch and Bhavangar through Dahej-Ghogha ferry service will take 2 hours and 30 minutes in ideal condition. This includes 43 km/45 minutes journey from Bharuch to Dahej, 30 km/1 hour and 30 minutes journey from Dahej to Ghogha by sea, and 25 km/25 minutes journey from Ghogha to Bhavnagar.
Relevant traffic moving eastbound via Bagodara relevant to Ghogha terminal was 1350 vehicles/day while non Bagodara traffic was 936 vehicles.day as per the Beckett Rankine survey. Relevant traffic moving westbound via Vataman relevant to Dahej terminal was 2379 vehicles per day as per the same survey. Relevant traffic for Ro-Ro project as per this survey which was done in November 2008 was 1059 cars, 122 government buses, 655 private buses, 367 light commercial vehicles, 2018 trucks and 444 multi- exl vehicles per day. Potential traffic volume at Ghogha and Dahej each terminal was figured out at 600 vehicles per day. Of them 60% trucks, 10% buses and 30% cars.
Ropax ferry type vessel with carrying capacity of 500 passengers and 100-150 vehicles needs maximum draft of 4.50 m while service speed would be 22 knots(40 km/hour). Total sailing time would be 90 minutes, while birthing and unberthing would take 10 minutes. Loading/uploading time would be 40 minutes. Turnaround time would be 280 minutes. Making this simple, suppose you are at Ghogha, then deberthing of passengers from Dahej would take 5 minutes, loading/unloading of vehicles would take 40 minutes, and berthing would take 5 minutes. Then the ferry would take 90 minutes to reach Dahej, where again your deberthing would take 5 minutes, loading/unloading 40 minutes, and berthing of new passengers from Dahej would take another 5 minutes.
If there's a volume of 600 vehicles per day, and vehicle carrying capacity is 100 vehicles, the vessel can have 6 departures per day. Similarly for 120 vehicles, 5 departures and for 150 vehicles there can be 4 departures per day. GMB has decided to opt for 150 vehicles per trip and four departures per day.
Gujarat Maritime Board has planned few other ro-ro ferry projects for future. The list includes Mumbai-Porbandar, Mumbai-Ghogha, Mumbai-Dahej, Mumbai Hazira, Mumbai-Pipavav, Hazira-Pipavav, Pipavav-Porbandar, Porbandar-Okha and Okha-Mundra.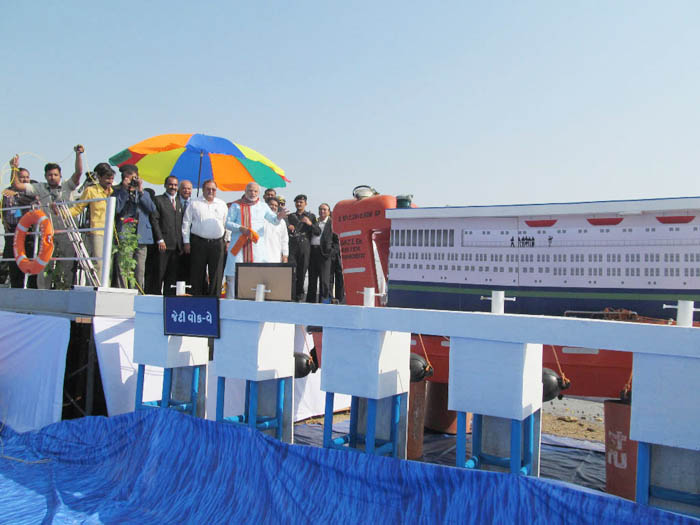 Gujarat Chief Minister Narendra Modi, Minister of state Saurabh Patel and Parshottam Solanki at Dahej-Ghogha ro-ro ferry project's ground breaking ceremony. Construction of Ghogha terminal kicked off today morning. The work is targeted to complete in next year. Chief Minister Modi on this occasion said that till now Ahmedabad and Vadodara were the centre of development in Gujarat, but now Saurasthra will led the state in development, and Rajkot, Bhavnagar and Jamnagar will become major centres. Modi reiterated state government's commitment on implementation of Kalpsar project. "We have performed ground breaking ceremony, and we only will inaugurate the project," Modi said. The state government is also planning to construct approximately 6.5 km four-lane rigid pavement connecting Ghogha ferry terminal from the state highway.(photo by Mukesh Pandit in Bhavnagar).