Youtube deletes Rahul Gandhi spoof video, maker sings a song in reaction
January 25, 2014
Rupang Bhatt, Ahmedabad, 25 January 2014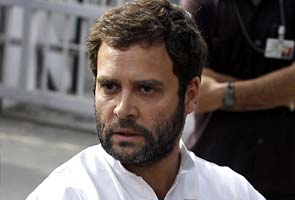 It was 20th May 2009, when Aumprakash, a YouTube channel owner mailed DeshGujarat to tell that his channel was disabled due to posting of Rahul Gandhi video. Following is the full text of Aumprakash's mail.
Aumprakash wrote:
my account has been disabled in You tube, i wont be able to login in to my
account till June 2nd, youtube claims the rahul gandhi IQ video is against its
community guidelines 😀
Aumprakash later discontinued updates on his channel. So Youtube lost one sincere Youtuber. Aumprakash's channel is very much there on Yutube, but without Rahul's video. The last video on Aumprakash's channel was posted on April 2009.
Soon after a video uploaded by Aumprakash was deleted by Youtube, some more people uploaded same video on their own Youtube channels, and now the video enjoys over one million views!
Some time back DNA cartoonist Manjul complained that his cartoon on Rahul Gandhi was deleted by Twitter. More details on that episode are available here in this DNA article.
But the latest incident of removal of Rahul Gandhi related stuff is just 24 hours old!
One young boy Rohit Iyengar picked up Rahul Gandhi's recent Congress national council meeting address and spoofed it musically. He uploaded it on Youtube titling it as SPR productions creation. He mentioned in the video that "Words in the speech have been taken out of context for comic purposes". In less than a week time the video enjoyed two lakh views. The video also went viral on twitter, facebook, emails and whatsapp through different accounts.
Then what? Youtube removed the video yesterday. Reacting to this, Rohit on his Facebook page said yesterday:
The Rahul Gandhi Parody has been taken down on YouTube. I can hereby declare that there is no freedom of speech in India. We have become a censorship state.
Rohit also posted an apology song video for Rahul Gandhi which is presented below with lyrics.
Mr. Rahul Gandhi
I made a little parody
I took your greatest speeh
and turned it in to a posinous leech
You probably got pissed off
You got the video taken off
200,000 views
was too much exposure for you
So in this song I would like to make
A sincere apology
S O R R Y
Mr. Rahul Gandhi
you probably think I'm BJP
or maybe even AAP
but to tell you the truth Sirji
I'm just a nobody
Just spreading a few little laughs
using one of my numerous crafts
Now I understand Mr. Gandhi
You can't tolerate comedy
So in this song I would like to make
A sincere apology
S O R R Y
Mr. Rahul Gandhi
Mr. Rahul Gandhi
Mr. Rahul Gandhi
Want to watch Rohit's deleted song? It is embedded below via Facebook.